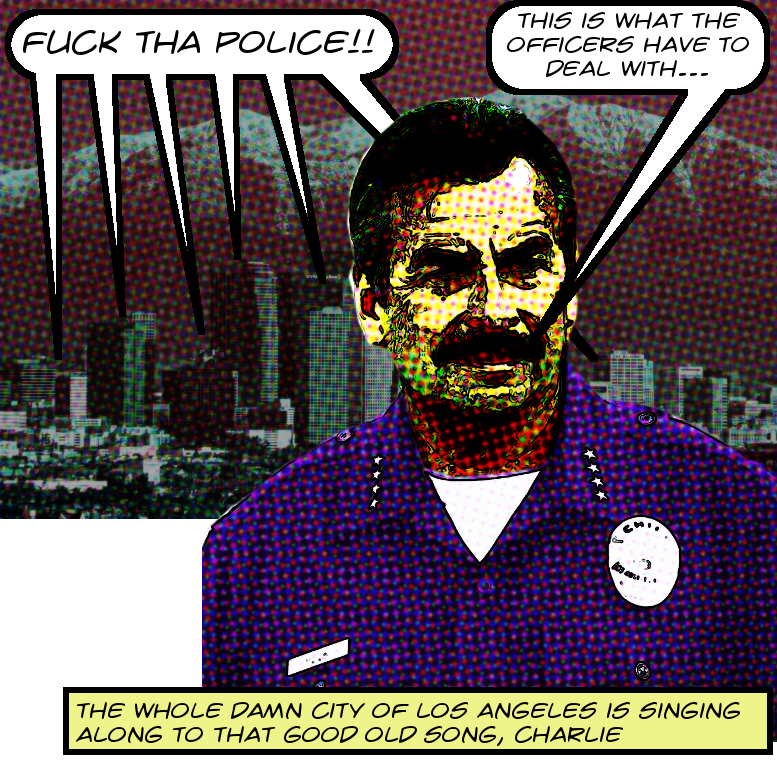 If you're interested, here is the soundtrack to this evening's post.
If you recall, Pete White filed suit against the City of Los Angeles in May 2017. The issue is that the LAPD arrested him for lawfully videotaping them interacting with homeless people on Skid Row in 2016, and you can find a generous selection of the pleadings here on Archive.Org. Not much has been happening with the case recently, but this afternoon, a whole bunch of motions and a declaration in support hit PACER and moved me to write this post.
The four motions are so-called motions in limine, which is to say that they're asking the judge, James Otero, to exclude certain evidence that the City of Los Angeles is insisting on presenting at trial. There's also a declaration by plaintiff's attorney Catherine Sweetser explaining the course of negotiations between the parties with respect to the evidence. Here are links to the documents and brief descriptions. Turn the page for a transcription of one of the motions.
↪ Motion to exclude evidence of past arrests
↪ Motion to exclude evidence of past lawsuits
↪ Motion to exclude defendants' bodycam evidence — This is technically interesting. The plaintiffs actually want to have the cops' bodycam evidence introduced, but the cops won't let them see it in advance because they claim it's privileged. If I understand the issue correctly, and I probably don't, the claim is that if the City won't let the plaintiffs see it in advance it can't be introduced at trial.
↪ Motion to exclude evidence of plaintiff's cursing — This is both the most trivial and the most interesting to me of the four motions. Evidently Pete White told the arresting officer that he was a piece of shit for arresting him. The City wants to present this evidence to the jury because it illustrates "what the officers had to deal with." To me it illustrates the shockingly low level of maturity and professionalism to be found among some LAPD officers, not to mention their implausible claim that being called names by people is somehow strange, unusual, unprecedented. They've had decades to get used to it, after all.
↪ Declaration of Catherine Sweetser — Here one of the plaintiff's attorneys explains what the City thinks this evidence means and gives various other reasons in support of its exclusion. This is the most essential item if you're only going to read one.

Transcription of the declaration of Catherine Sweetser:

I, Catherine Sweetser, declare as follows:
1. I am an attorney for the Plaintiff in this case, and can testify to the following of my own personal knowledge.
2. On July 12, 2018, Plaintiff's counsel and Defendants' counsel met and conferred about motions in limine. Plaintiff outlined five potential motions they were considering bringing. Defendants outlined four potential motions they were considering.
3. Plaintiffs and Defendants were unable to agree on exclusion of past arrests and convictions and past lawsuits. Plaintiff outlined the past juvenile conviction of one witness and identified and discussed that witness with Defense counsel. Defendants were unwilling to agree that juvenile convictions were irrelevant and unduly prejudicial in a civil case.
4. Plaintiff also discussed with Defendants the past arrests and lawsuits of Plaintiff and of his organization concerning First Amendment activity. Defendants took the position that these arrests and lawsuits should come in. Plaintiff's position is that they are irrelevant.
5. Plaintiff also discussed with Defendants the videos which Defendants are withholding. Although these videos were taken on a public street at a time when Plaintiff was also videotaping, Defendants have taken the position that they cannot be produced without a protective order in place.
6. Plaintiff stated to Defendants that as trial exhibits will not be sealed or confidential, the parties should exchange video trial exhibits this week. Plaintiffs reiterated that although they did not believe a protective order was warranted as to the videos, they are ready to exchange the relevant videos whenever Defendants are. Defendants confirmed that they intend to play video footage at trial and stated that they were not ready to commit to exchange video exhibits at this time.
7. Finally, Defendants stated that they believed Plaintiff's cursing was relevant as it illustrated "what the officers had to deal with." Plaintiff reiterated that swearing was protected speech and was irrelevant as it happened after the arrest.
I declare under penalty of perjury of the laws of the State of California that the foregoing is true and correct.
Executed on July 17, 2018, at Los Angeles, California.
Catherine Sweetser


Image of Charlie Beck not really enjoying the singalong is ©2018 MichaelKohlhaas.Org and is a mash-ma-totamous of this Charlie Beck and this City of Los Angeles.