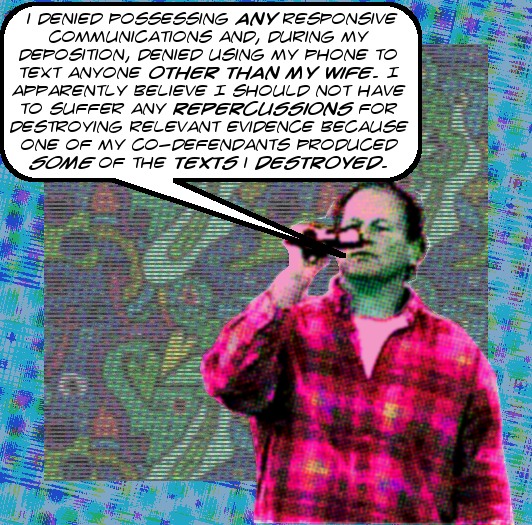 For background take a look at this excellent article from the Times on this lawsuit. Also see here to download all pleadings in this case. You can also read all my posts on the case.
Here's an update of what's going on with the Bay Boys. Most crucially Judge Otero has moved the trial date from next month out to February 6, 2018. Here's a copy of the order he filed the other day.
We also have the Ferraras filing their objection to the fairly heavy sanctions against them recommended recently by Magistrate Judge Rozella Oliver. If you recall, back in August Judge Otero specifically granted her the authority to rule on this stuff and given the moderate nature of her recommendations it seems unlikely that he's going to ignore her thoughtful work just because a bunch of Ferraras ask him to. But of course we'll see what we see.
Most interestingly, I think, we have this Plaintiffs' reply to Blakeman's opposition to their ex parte application for relief from Blakeman's and the City's spoliation of evidence. Blakeman filed this whiny-baby opposition a while ago, but the plaintiffs' response is well worth your time. There are transcribed selections after the break.
Best of all, though, is the fact that as part of this pleading, the plaintiffs filed this transcript of the hearing held before Rozella Oliver on October 12, which attended and reported on, but how much nicer to have the transcript. Read the whole thing, please! Oliver's dry humor is just lovely. I wish I had time to transcribe the whole thing for you, but I don't.

Selections from Plaintiffs' reply to Blakeman's opposition:

Blakeman attempts to lessen the severity of his misdeeds by claiming Plaintiffs did not request the destroyed evidence and that there is no prejudice because Plaintiffs acquired some of the missing information from a co-Defendant, albeit after the close of discovery and after Defendants filed their summary judgment motions. But Plaintiffs indisputably served discovery requests in September 2016 to which Blakeman lied in response and then wit hh eld critical evidence. Plaintiffs incurred substantial expense opposing Blakeman's ill- conceived summary-judgment motion, and will continue to suffer prejudice at trial.
…
While completely ignoring the discovery requests that Plaintiffs propounded at the outset of discovery to both the City and Blakeman, Blakeman claims that Plaintiffs are responsible for being in a "precarious position" and needing ex parte relief from the Court. In essence, Blakeman argues that Plaintiffs somehow are to blame for Blakeman's unethical discovery gaffes. This argument misses the mark for several reasons.
First, throughout the course of discovery, Plaintiffs specifically requested Blakeman's communications – including text messages – related to the allegations in this lawsuit. … Blakeman's argument that "Plaintiffs never asked to examine Blakeman's phone and [] never requested an extraction report' is immaterial given Plaintiffs' targeted requests for his relevant communications. Any request for an inspection of Blakeman's cell phone and an extraction report would have been unnecessary, redundant, and arguably overbroad.
Second, there is no amount of blame-shifting that can excuse Blakeman's failure to provide truthful discovery responses. Plaintiffs specifically requested Blakeman's text messages with other local surfers related to their efforts to prevent others from surfing at Lunada Bay. Blakeman denied possessing any responsive communications and, during his deposition, denied using his phone to text anyone other than his wife. Given these responses, there would have been no basis for Plaintiffs to compel the production of evidence which Blakeman attested under oath did not exist. Moreover, Plaintiffs had no knowledge of the texts he exchanged with co-Defendant Papayans until they were produced by Papayans on October 2, 2017 nearly two months after the close of discovery.
Finally, Blakeman's claim that he had no obligation to "immediately clon[e] the phone and obtain[] an extraction report sua sponte," further underscores his misunderstanding of his obligations under the Federal Rules. Blakeman's duty to preserve relevant evidence arose at the outset of this litigation and existed irrespective of any request by Plaintiffs (though Plaintiffs did send Blakeman's counsel a document preservation letter before discovery commenced, and later followed up with specific document requests seeking this information). … Had Blakeman attempted to preserve relevant evidence at the outset of this litigation, it is likely the missing evidence would have been recovered.
Even setting aside his initial preservation duty, Blakeman was obligated to provide this information in response to Plaintiffs' discovery requests. But instead, he chose to lie in response to written requests and at his deposition, twice denying the existence of relevant (and incriminating) evidence. Blakeman's flouting of the Federal Rules only highlights the need for intervention.
…
Blakeman apparently believes he should not have to suffer any repercussions for destroying relevant evidence because one of his co-defendants produced some of the texts he destroyed. But this argument ignores the enormous ethical lapse of destroying critical evidence, and then arguing for summary judgment on the basis that "[t]here is simply no evidence linking Blakeman's conduct relating to Spencer or Reed to a conspiracy, or others defendants' alleged conduct to Blakeman." Notwithstanding Blakeman's duty of candor to the Court, no mention was made of his destruction of the very evidence he claimed did not exist. … Plaintiffs incurred substantial expense opposing a motion that never should have been filed in the first instance, given his destruction of incriminating evidence.
Further, four texts that Blakeman exchanged with Defendant Lee have not been recovered or produced by either party. As Magistrate Judge Oliver recently stated with respect to this missing evidence, "[t]he Court finds that Plaintiffs have already been prejudiced in having to oppose motions for summary judgment without this potentially relevant evidence . . . [and] will be prejudiced at trial by not being able to present or rely on the contents of these text messages." This Court has already found prejudice stemming from the Defendants' destruction of evidence – the question remains how to remedy their prejudice.
Finally, Blakeman himself demonstrates additional prejudice that Plaintiffs will suffer. He argues the incriminating messages recently produced by co-defendant Papayans "cannot be authenticated" and therefore "plaintiffs cannot show any admissible evidence of text messages." Not only should Blakeman be precluded from challenging the authenticity of the very documents he sought to destroy, but his summary-judgment motion should be denied and the jury should be instructed that the additional (and unrecovered) texts Blakeman exchanged with Sang Lee were likely to contain evidence that was unfavorable to Blakeman.
…
Notwithstanding his destruction of evidence and untruthful discovery responses, Defendant Blakeman argues Plaintiffs should nevertheless be denied the opportunity to seek relief for the prejudice caused by his spoliation of evidence. But Blakeman ignores the prejudice Plaintiffs suffered in having to respond to his inappropriate summary-judgment motion, and will continue to suffer at trial, where he apparently intends to question the authenticity of the very evidence he sought to destroy. Blakeman also ignores that additional evidence – the four text messages he exchanged with Defendant Lee – remain missing. Blakeman has failed to articulate any basis for the denial of Plaintiffs' request, and Plaintiffs therefore request that this Court grant Plaintiffs' ex parte request and hear their motion on its merits.

Image of Brant Blakeman is ©2017 MichaelKohlhaas.Org.