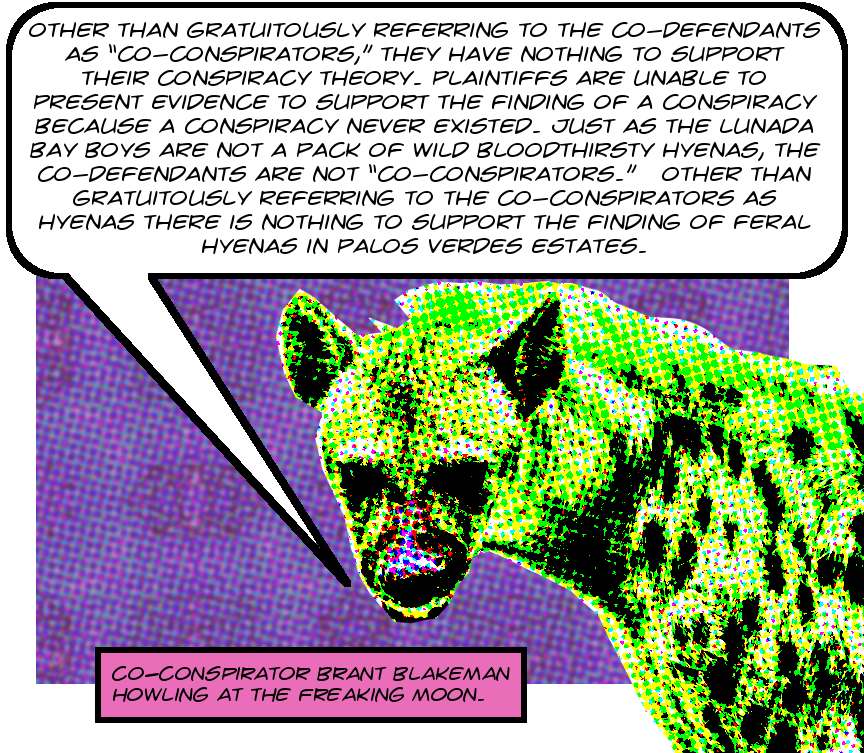 For background take a look at this excellent article from the Times on this lawsuit. Also see here to download all pleadings in this case. You can also read all my posts on the case.
OK, so the Lunada Bay Boys plaintiffs filed a motion for sanctions against defendants Brant Blakeman, the City of PVE, and some others. The motion is here. And a couple weeks ago Judge James Otero ordered all relevant parties to brief Rozella Oliver, the magistrate judge in the case, on the issues. She turned around and set a briefing schedule and a hearing, which will happen in her courtroom on Spring Street on Wednesday, December 6, at 1:30 p.m.
That order required Blakeman and the City defendants to file briefs in opposition by November 27, which they did, and which are the reason for today's post.1 The issue is, of course, whether these particular defendants destroyed evidence, mainly text messages, after they had a legal duty to preserve it. No one seems to deny that they did destroy the texts, so the argument is mostly about precisely when their duty to preserve evidence was activated.2
You might recall that at some point various Ferraras argued that their duty to preserve only attached when they were served with papers in the suit, but Rozella Oliver wasn't buying it. She said that because Frank Ferrara had been interviews by the Daily Breeze prior to service he knew about the suit and ought to have not destroyed his texts. Well, Blakeman turns that argument to his own account by asserting that because he wasn't interviewed by the paper, there's no evidence that he knew about the suit prior to service.
Anyway, here are the briefs filed, and there are selected transcriptions from Blakeman's pleading after the break:
Selections from Blakeman's Opposition:

Plaintiffs bring this motion for sanctions under Federal Rules of Civil Procedure section 37(e) accusing defendant Brant Blakeman of the destruction of Electronically Stored Information ("ESI"). The only ESI at issue are four text messages dated March 25, 2016, and April 12, 2016, that appeared on co-defendant Sang Lee's cell phone records. Although plaintiffs discuss at great lengths text messages retrieved from co-defendant Michael Papayans' phone dated February 5, 2016, those messages cannot form a basis for Rule 37(e) sanctions because they were "restored or replaced through additional discovery." The mention of these text messages is mere surplusage.
Plaintiffs claim the "absence of four text messages that Blakeman exchanged with Defendant Lee" will cause them prejudice at trial. Plaintiffs are seeking three types of relief: 1) a negative inference that the contents of the text messages were unfavorable to Mr. Blakeman, 2) the denial of Mr. Blakeman's meritorious motion for summary judgment, and 3) monetary sanctions to cover the cost of this motion.
The evidentiary and issue sanctions requested are vital to the plaintiffs because, other than gratuitously referring to the co-defendants as "co-conspirators," they have nothing to support their conspiracy theory. Plaintiffs are unable to present witnesses, documents, or ESI to support the finding of a conspiracy because a conspiracy never existed. Just as the Lunada Bay Boys are not a criminal street gang, the co-defendants are not "co-conspirators." The relief requested reflects plaintiffs' belated attempt to overcome summary judgment without presenting any actual evidence of a conspiracy.
Plaintiffs claim that defendant Brant Blakeman "failed to take reasonable steps to preserve" text messages on his phone. Mr. Blakeman contends that he had no duty to preserve text messages sent prior to being served with this lawsuit and the steps plaintiffs claim he failed to take, such as submitting his phone to a forensic expert for the "most expensive extraction" available upon being served, are unreasonable. Thus, plaintiffs cannot meet the threshold requirements of Rule 37(e).
Moreover, plaintiffs are requesting Rule 37(e)(2) sanctions that require an "intent to deprive" without making any evidentiary showing whatsoever of such an intent. Plaintiffs fail to even argue that Mr. Blakeman had an "intent to deprive," let alone justify the application "harsh" issue-related remedies with actual evidence. Their requests for subsection (e)(2) sanctions are without merit.
Overall, plaintiffs have failed to request any appropriate relief that would cure their alleged prejudice, if any, from the four "lost" text messages. As such, Mr. Blakeman respectfully requests this court deny plaintiffs' motion in its entirety.


Image of Brant Blakeman is ©2017 MichaelKohlhaas.Org and is naught else but a heavily modified version of this incredibly freely licensed lil pupper right here.

Obviously this post is four days late, for which I apologize. I've been terribly busy with a few matters less entertaining than blogging but also less avoidable. I hope it won't happen again, but it probably will!