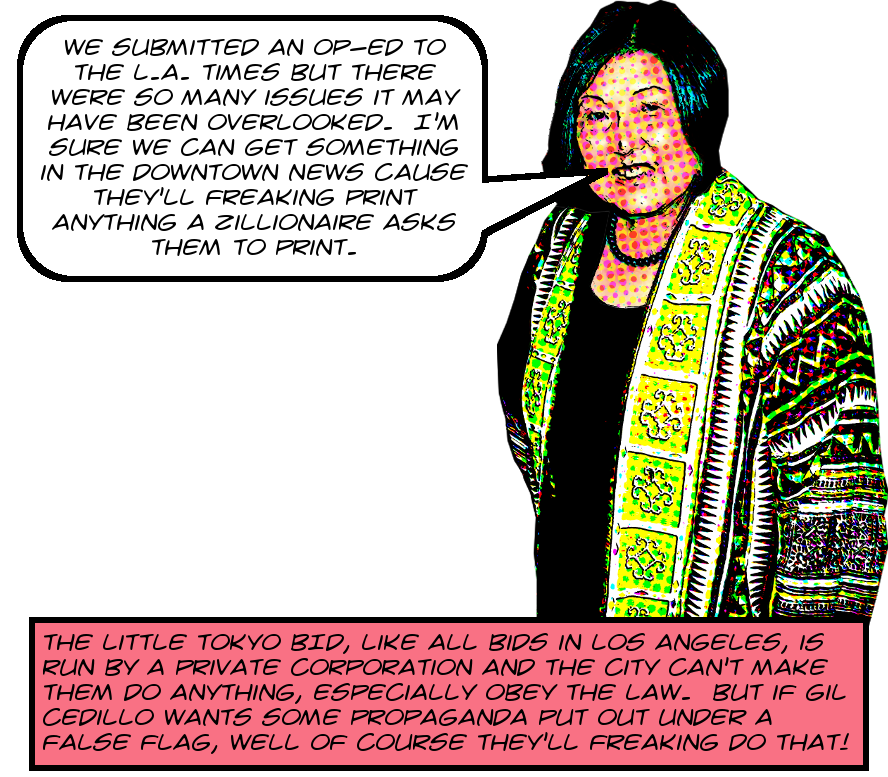 I recently wrote about the process whereby in 2017 José Huizar's staff arranged for an ersatz show of community buy-in with respect to the demolition of Parker Center in what the putative buyers-in at least saw as a quid pro quo deal. And for reasons that remain unclear Gerald Gubatan, who is Gil Cedillo's senior planning deputy, also participated in the ginning-up-of-support process, advising the astroturfers in embarrassingly painstaking detail on the ways and means of astroturfing.
Some newly obtained emails between Gubatan and various people in the Little Tokyo business community show that his advice extended further than previously known, to the point where he was suggesting that they write an op-ed for the L.A. Times pushing Cedillo's view of Parker Center demolition and that they coordinate its appearance with Council hearings on the matter.
Certainly Gubatan or even Cedillo could write their own op-eds for the L.A. Times. A search in Proquest's LA Times database shows that Cedillo's published nine over the years.1 But of course, that wouldn't have had the desired effect, not least because it would require Cedillo to reveal that he'd already made up his mind before the vote. It certainly wouldn't have created and maintained the illusion of community buy-in on the creation of which CD1 was working so hard. Thus, if op-eds were to be written, it was imperative to find authors apparently independent of Cedillo's office.
As this February 2017 email conversation shows, Gubatan chose his friends in Little Tokyo, Dean Matsubayashi of the Little Tokyo Service Center and Joanne Kumamoto of the Little Tokyo Business Improvement District to hit up for an op-ed. And Gubatan didn't just tell them to write an op-ed, he told them that "ideally [it should] be timed with the City Council vote."
Here's that entire email. After the break find transcriptions of the rest of the conversation, along with more emails about an interesting 2016 episode involving the Little Tokyo Service Center a preschool that couldn't get a fire permit and how Gerald Gubatan interceded with the Fire Department on behalf of the LTSC.

Gerald Gubatan <gerald.gubatan@lacity.org> Wed, Feb 8, 2017 at 3:47 PM
To: Dean Matsubayashi <DMatsubayashi@ltsc.org>, Joanne Kumamoto <jkumamoto@aol.com>
Dean, Joanne,
When one Googles "Parker Center," the narratives which appear are mainly by the LA Times, JD Waldie, the LA Conservancy.
One does not find the perspectives articulated at the recent PLUM Committee hearing.
If there is a good, knowledgeable and articulate writer who has the time and energy to author such a perspective and forward the LA Times for publication, ideally to be timed with the City Council vote, I believe the narrative could fill an informational gap in the larger civic engagement.
Just a thought,
Gerald
Gerald G. Gubatan
Senior Planning Deputy
Office of Council Member Gilbert Cedillo
Council District 1
City Hall, Room 460
Los Angeles, CA 90012
Tel: 213.473.7001
gerald.gubatan@lacity.org
http://cd1.lacity.org/

Continue reading Not Only Did CD1 Senior Planning Deputy Gerald Gubatan Organize Little Tokyo Business Interests To Attend Council Meetings And Give Public Comment In Favor Of Parker Center Demolition But He Also Told Them They Ought To Place An Op-Ed In The Times As Part Of The Campaign — Of Course As A Member Of Gil Cedillo's Senior Staff He Could Write An Op-Ed Himself — Or For That Matter Cedillo Could Write One — He's Done It Before — But That Wouldn't Contribute To The Illusion Of Community Buy-In — Hints Of The Connection Between Gubatan And Little Tokyo — A Preschool Couldn't Pass Fire Inspection — Gubatan Helped Fix It →