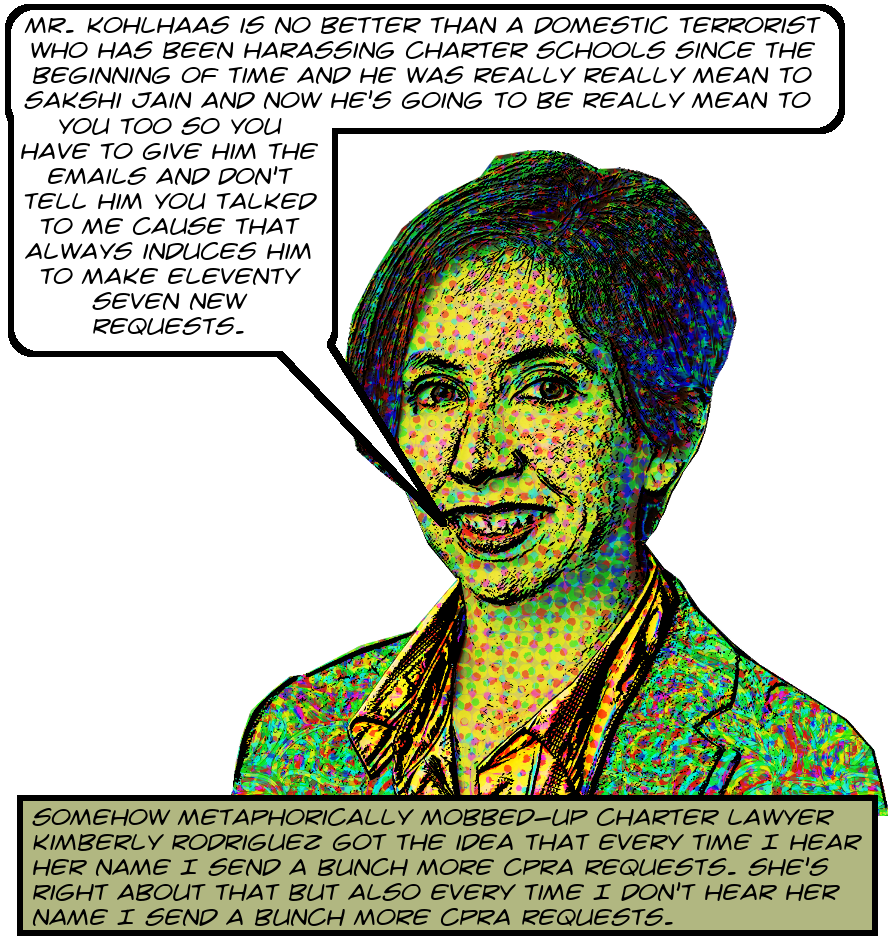 In October 2018 I sent a California Public Records Act request for a bunch of emails to Ruben Alonzo, self-proclaimed founder of Excelencia Charter Academy, a creepy co-locating conspiracy currently occupying the Boyle Heights campus of Sunrise Elementary School. And about six weeks later, at the end of November, Alonzo handed over a suprisingly complete set of responsive records. And what important material it turned out to be.
From it we learned about a demand letter that the United Teachers of Los Angeles sent to Excelencia in June 2018 alleging violations of the Brown Act. And about how insidious privateer brigade the California Charter School Association provides free lawyers to charters to help them co-locate on the campuses of actual public schools. And about how charter school operators use all kinds of shenanaganistic financial maneuvers to skim money from the public funds they receive and funnel it into the coffers of their zillionaire sponsors. And about how Ruben Alonzo is a whiny crybaby stalker who hates democracy and freedom.
And not only was all that stuff revealed but Alonzo was kind enough to produce a set of emails between him and a couple of lawyers, Sarah Kollman and Kimberly Rodriguez, from metaphorically mobbed-up charter school law conspiracy Young Minney & Corr advising him on how to respond to my request and giving him apparently illegal suggestions for how to delay my access to the records. I'm exceedingly familiar with the end result of the anti-CPRA machinations of public agencies, but it's rare, and very interesting, not to mention useful in deciding how to respond and proceed against them, to get a glimpse of the little folks behind the curtain who create the responses sent out over the signatures of their feckless clients.
The emails also include a series of weirdly puerile and self-serving theories on my thoughts about charter schools and my motives for requesting records and related matters, thereby revealing that evidently I myself am an object of investigation and intelligence-sharing1 amongst the local charterites. For instance, in one email to Alonzo, Sarah Kollman says about me that "This guy is a "community organizer" and has made it his mission to harass charter schools across LA."2 At one point, Ruben Alonzo identifies me in an email to his tech department as "the same blogger who was attacking Sakshi and Ganas." Which of course is true, see the story here at the tag archive, and isn't validation nice!
As I said, the story begins with my October 13, 2018 request for access to some of ECA's emails. It's really important to provide as specific a description of what one wants as is practicable,3 and here I asked for 2018 and 2019 emails that:
Continue reading Emails Between Excelencia Charter Academy Founder Ruben Alonzo And Various Lawyers At Powerhouse Privatizing Law Firm Young Minney Corr – Discussing How To Respond To My Request For Public Records – Reveal Strategies Of Obstruction And Delay – And Hint At A Coordinated Campaign Of Intelligence-Gathering And Investigation Of Me – Including Idiotic Interpretations Of My Motives And My Place Of Employment – Pretty Creepy Stuff On Which To Be Spending Public Money Meant For The Education Of Children – But Not Especially Surprising →