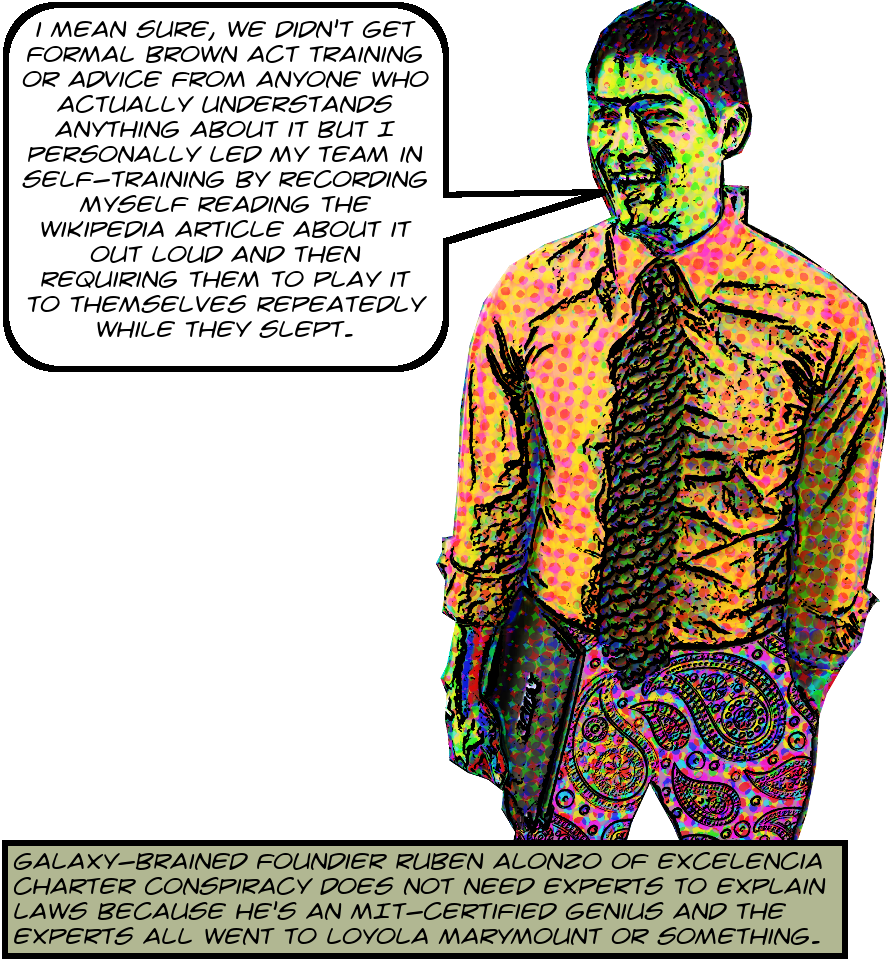 It turns out that in June 2018 the United Teachers of Los Angeles sent a letter to Ruben Alonzo, galaxy-brained creepy-stalky founder of the co-locational privatizer conspiracy known as Excelencia Charter Academy, demanding that his organization cease, desist, and cut it the heck out with all the Brown Act violations they had been getting up to. This story is revealed by a collection of emails I recently obtained from Excelencia via the California Public Records Act, which are available here on Archive.Org.
UTLA accused Excelencia, with good reason, of "engag[ing] in a pattern of secrecy by holding meetings at locations inaccessible to the public," specifically to do with, among some other things, board members teleconferencing into putatively public meetings, a practice which is allowed by the Brown Act but only in a highly constrained way.1 In addition to demanding that Excelencia cut it out, UTLA also demanded that they fix some of the errors and additionally publicly promise never to do those things again.2 They also sent a copy of the letter to LAUSD's Charter School Division.
On receipt Alonzo's first move was to forward the letter not only to his board members, but to Keith Dell'Aquila and Josue Cofresi, a couple of flacks at the California Charter Schools Association, to ask their advice. Which was, obviously, to ask a damn lawyer. Alonzo proceeded to hit up this blog's old friend Wayne K. Strumpfer, of counsel3 to privatizing law powerhouse Young Minney Corr. Strumpfer didn't take anywhere near the statutorily allowed 30 days to drop a letter on UTLA containing complete and utter concessions to their list of demands.
And most interestingly from my point of view, seeking as I always am, seemingly in vain, nonjudicial remedies for outlaw charter school behavior,4 the Charter School Division sent a letter to Excelencia demanding that they respond in detail to UTLA's allegations. And Excelencia did take this requirement seriously. I have also complained to the CSD about various charter school violations and they brushed me off, but nevertheless I am glad to learn that there is some kind of channel for LAUSD to handle such complaints.
And after much back and forth Strumpfer wrote a letter for Excelencia Board President Ana Lasso to sign her name to capitulating to their demands in that way lawyers for outlaw government agencies have of agreeing to stop breaking the law even as they assert on every possible level that they have never actually done anything wrong.
That's the short version, but the emails themselves reveal a lot of detail about the process that Excelencia went through in responding to UTLA's demands. This is important in itself because, as we know, these charters can not, will not, follow the law if left to their own devices. I've sent a number of these demands, including two to The Accelerated Schools which are still pending,5 and it's interesting to get some insight into what kinds of things are going on behind the scenes. Read on for the long version of the story with links and transcribed selections!

The story begins on June 7, 2018, with an email from Ruben Alonzo to CCSA flacks Keith Dell'Aquila and Josue Cofresi, announcing his receipt (and attaching a copy of) this demand letter from UTLA. It's

Subject: FW: Brown Act Violations.PDF
From: Ruben Alonzo <ralonzo@excelenciacharteracademy.org>
Date: 6/7/18, 6:10 PM
To: Josue Cofresi <jcofresi@ccsa.org>, 'Keith Dell'Aquila' <KDellAquila@ccsa.org>
CC: Ana M Lasso <ana.lasso@gmail.com>
BCC: Rodolphus Bethea <rudybetheajr@gmail.com>, Noramay Cadena <noramay.cadena@gmail.com>, Jonathan Myers <jonathan.jm.myers@gmail.com>,"dbmcl1974@gmail.com" <dbmcl1974@gmail.com>, Cristina Lowry <clowry@equitasacademy.org>, Matt Gethers <mattgethers@gmail.com>, Marco Ramirez <marco.ramirez12@gmail.com>
Hi Keith and Josue,
I just received this letter from the Law Office of Bush Gottlieb. It outlines perceived Brown Act Violations. More importantly, it claims that our April vote on the Prop. 39 FUA should be invalidated.
I have Cc'd our Board Chair, Ana Lasso.
Can you please review and let us know how to best proceed? Have other schools being protested received similar letters? Would love to hear how they addressed the matter.
I will also be forwarding this letter to our legal counsel at YMC.
Sincerely,
Ruben

And the demand letter, composed on UTLA's behalf by Joshua Adams of powerhouse SoCal union law firm Bush Gottlieb, is a really nice piece of work. Here's a taste of the less technical bits, but if you're interested in how the pros handle these matters read the whole thing:

This office represents United Teachers Los Angeles ("UTLA"), and we are writing on its behalf to demand that the Board of Education, Excelencia Charter Academy ("Board") cure violations of the Brown Act and make an unconditional commitment to avoid future violations of the Brown Act. It is UTLA's understanding that over the past nine months, the Board has engaged in a pattern of secrecy by holding meetings at locations inaccessible to the public. Specifically, it has held meetings and conducted teleconferenced meetings at locations closed to the public and/or the disabled, such as at private homes and at private businesses such as Netflix, and also at businesses that require purchase or payment to be present, such as at Starbucks. By preventing the public from physical access to its meetings—and aggravating this injury by failing to post meeting minutes and provide a translation of its meeting agendas and minutes in Spanish, which the majority of parents who are interested in the proposed charter school speak – the Board has failed to promote public participation and appears to have violated the Brown Act in several ways.

And after some more chit-chat with the CCSA minions, mildly interesting due to Dell'Aquila's statement in this particular email that he hadn't heard of UTLA sending such demands before, Alonzo forwarded a copy of the demand letter to Excelencia board member and Netflix attorney Ben McLean6 whose response exemplifies the dismissive way zillionaires think of the Brown Act and the obligations it imposes on them, that it's all meaningless formalism and gotcha nonsense:

Subject: Re: Brown Act Violations.PDF
From: Ben McLean <dbmcl1974@gmail.com>
Date: 6/8/18, 8:27 AM
To: Ruben Alonzo <ralonzo@excelenciacharteracademy.org>
Hi Ruben. I don't have direct experience with this, but let me dig in. At first blush, it seems these are formalities and they are trying to catch us on a foot-fault. There should be formal amendment / re-vote mechanisms to correct any kind of hiccup on procedure. I think our counsel should be able to guide us.
Maybe we can find some time to talk over the next few days and plot a course?
Ben

And I don't have the details of how it came about, but shortly after this exchange, on June 13, 2018, Wayne Strumpfer arranged for a letter of abject capitulation to be sent to UTLA's lawyer. Oh, it doesn't exactly sound abject, but you'll see that beneath all the superficial pushing back they've agreed substantially to every one of UTLA's demands as well as given notice of having cured and corrected relevant violations by redoing them at a compliant meeting:

Dear Mr. Adams:
Our office serves as general counsel for the Excelencia Charter Academy ("Excelencia"). The Exceliencia Board of Directors received your letter dated June 7, 2018, in which you allege possible violations of the Brown Act in general at Board meetings over the last nine months and likely specific violations of the Brown Act regarding the March 7, 2018 and April 26, 2018 meetings. Although most of your allegations are factually inaccurate, we have discovered that agendas were not posted at all teleconference locations for the meetings of March 7, 2018 and April 26, 2018. Therefore, we cured these technical violations by holding a Special Meeting on June 12, 2018, where the items acted upon during the March 7 and April 26 meetings were agendized, discussed fully, thoroughly reconsidered, and voted upon.
Your allegations that teleconferenced meetings have been held in locations inaccessible to the public is incorrect. No teleconferenced meetings were held at locations closed to the public, or non-ADA compliant. No meetings were held at locations that required purchase or payment to be present. Additionally, at all Board meetings, a majority of the Board were located within the District's boundaries. Also, the minutes to the meetings are in fact available on our website. The Brown Act violation we discovered in our review was that at the March 7 and April 26 meetings, not all teleconference locations had agendas posted properly. Excelencia makes a full commitment to post agendas at all teleconference locations for future Board meetings.
Please contact me if you have any questions.
Very Truly Yours,
Law Offices of Young.
Minney & Corr, LLP
Wayne K. Strumpfer
Attorney at Law
Ironically, it appears that Excelencia violated the Brown Act in the process of arranging for Strumpfer to send this letter. Surely such a commitment on the part of the school must be decided on by the Board of Directors. Surely no single person is empowered to make such a weighty decision alone. It must be made by the directors.
But the Brown Act forbids the directors from acting outside a public meeting. And yet Excelencia seems to have held only one meeting between June 6, 2018, when they received the letter and June 13, 2018 when Strumpfer capitulated. That was on June 12, 2018 and neither in the agenda nor in the approved minutes is there any mention at all of this letter. So where and how did the decision get made to send this letter? And by whom?
It's so messed up and yet so right on brand that Excelencia violated the Brown Act in the process of agreeing not to violate the Brown Act in the future. I don't know (yet) what happened over the next couple weeks, but on June 29, 2018 LAUSD's Charter School Division weighed in when Excelencia's assigned specialist, Jose Rodriguez, sent an email to board president Ana Lasso attached to which was a formal letter about UTLA's allegations:

Dear Board President Lasso
The Charter Schools Division (CSD) has been made aware of allegations of violation of the Brown Act via a correspondence from an attorney representing United Teachers Los Angeles. Please respond to the following by close of business on July 9, 2018, to facilitate the CSD's further review of this matter.
1. Provide a response to the allegations presented in the letter from United Teachers Los Angeles.
2. Please provide meeting agendas and minutes for all board, and committee meetings from June 2017 to June 2018.
3. Please provide evidence the Governing Board holds its meetings at a location(s) and in a manner that complies with teleconferencing, closed session, and access and Reasonable Accommodation requirements and the public has access to the meetings from a location(s) within the jurisdictional boundaries of LAUSD.
4. Please provide evidence the Board/school posts agendas for regular and special meetings in a timely manner and appropriate location(s) (agendas posted at least 72 hours for regular meetings and 24 hours for special meetings).
5. Please provide evidence the Board complies with closed session requirements.
Thank you for your attention to this initial inquiry. Please send your response via email to jrodri05@lausd.net. If you have questions, please contact me at 213-241-0432.
Sincerely,
Jose Rodriguez
Specialist
cc: Sharon Bradley, Senior Coordinator

Like I said above, I find it really interesting that LAUSD took UTLA's letter seriously enough to demand that Excelencia send over some evidence of compliance. In my experience CSD is not consistent about taking such measures, actually engaging in oversight, but knowing that they do it in some cases may be useful in convincing them to do it in others.7 And Lasso forwarded it to Alonzo, and Alonzo forwarded it to Wayne Strumpfer, their lawyer at Young Minney Corr, asking him to draft a response:

Subject: FW: Excelencia
From: Ruben Alonzo <ralonzo@excelenciacharteracademy.org>
Date: 6/29/18, 3:02 PM
To: "Wayne K. Strumpfer" <wstrumpfer@mycharterlaw.com>
CC: "Janelle A. Ruley" <jruley@mycharterlaw.com>
BCC: Ana M Lasso <ana.lasso@gmail.com>, Rodolphus Bethea
<rudybetheajr@gmail.com>
Hi Wayne,
We received this letter today from LAUSD – Charter Schools Division.
It's in response to the letter sent by Bush Gottlieb on behalf of UTLA.
Can you please draft a response to the District based on our previous conversations? I can provide all minutes and agendas for Board and committee meetings dating back to June 2017. You can also find them here and here, respectively.
I apologize for the quick turnaround, but the District is requesting a letter by July 9.
Happy to hop on a call to discuss further.
Sincerely,
Ruben

Further emails reveal that Strumpfer was on vacation when Alonzo's cry for help came in, but by July 5, 2018 he was back in the office drafting the response and, at that time, emailed Alonzo to ask for information he needed to finish the letter:

Subject: RE: Excelencia
From: "Wayne K. Strumpfer" <wstrumpfer@mycharterlaw.com>
Date: 7/5/18, 5:26 PM
To: Ruben Alonzo <ralonzo@excelenciacharteracademy.org>
Hi Ruben,
Can you please tell me what type of business each of the following locations are in Los Angeles?
324 North McDonnell Ave
4538 East Cesar E Chavez Ave
1016 South Fresno Street
312 North Records Avenue
Also, is there a way to know which Board member was at what remote participation location for each of the Board meetings? This is not absolutely necessary, but it would offer a more complete response to LAUSD.
I have left a message with Jose Rodriguez at LAUSD and hopefully he will call me in the morning – I will be asking him what "evidence" he is looking for to show the Board complies with the Brown Act (#3-5). These are kind of odd requests and not sure what we can offer besides the minutes. I just want to make sure we provide what they are looking for so we can close down this inquiry.
I still fully expect to have the draft to you for your review tomorrow.
Thanks,
Wayne
Wayne K. Strumpfer​
Attorney at Law | Sacramento Office
Young, Minney & Corr, LLP
Young, Minney & Corr, LLP
655 University Ave, Suite 150, Sacramento, CA 95825
wstrumpfer@mycharterlaw.com
T: 916.646.1400 | F: 916.646.1300 | C: 916.494.9595

The addresses are of various locations from which board members teleconferenced in to meetings. Strumpfer needs this information because one of UTLA's allegations is that the teleconferencing locations weren't open to the public or were otherwise disallowed by the Brown Act. It's interesting to me that Strumpfer tells Alonzo that he finds Rodriguez's requests for evidence to be "odd."
On the one hand it's the kind of dismissive but ultimately meaningless characterization of the actions of perceived enemies that lawyers seem to enjoy so much. On the other hand it suggests that CSD's concern over UTLA's letter, the fact that they're independently investigating the allegations, really is unusual rather than merely outside of my own limited experience.
And after a bit more back and forth with Strumpfer quizzing Alonzo about the facts, he had another, more substantial question to ask in this July 6 email, which is did these Excelencians ever get any damn training in the Brown Act:

Subject: RE: Excelencia
From: "Wayne K. Strumpfer" <wstrumpfer@mycharterlaw.com>
Date: 7/6/18, 9:26 AM
To: Ruben Alonzo <ralonzo@excelenciacharteracademy.org>
Great! I am almost done with the draft letter. I am preparing for Ms. Lasso's signature under the school's letterhead. I always recommend that when the school is dealing with LAUSD's CSD. If you would rather it come directly from our firm, let me know and we can discuss. A couple final questions – 1) it appears you have not had a closed session in any meeting yet, is that correct? And 2) Have you had a Brown Act training or do you have one scheduled? It is always good to include that in a reply letter like this.
Thanks,
Wayne

It's also interesting that Strumpfer recommends that Lasso sign his letter and send it on Excelencia letterhead, that he says he always recommends that. I get a lot of letters from charter schools that are clearly ghostwritten by lawyers, sometimes even by Wayne Strumpfer. And sometimes the lawyers peel off the mask and write to me themselves, sometimes even Wayne Strumpfer. Wonder what the difference is?
But to Strumpfer's essential question about the Brown Act training, in an email sent a few minutes later Ruben Alonzo told Strumpfer that story every lawyer loves to hear from their client. They didn't have any formal training, but Ruben Alonzo did something he calls "self-training" with the staff. This is what the rest of the world calls "making stuff up":

Subject: RE: Excelencia
From: Ruben Alonzo <ralonzo@excelenciacharteracademy.org>
Date: 7/6/18, 10:21 AM
To: "Wayne K. Strumpfer" <wstrumpfer@mycharterlaw.com>
…
We did quite a bit of self-training leading up to our LAUSD authorization on June 13, 2017. I led most of the training using CCSA, ExED, and Public Counsel provided resources. We reviewed the Brown Act thoroughly and in detail since we knew it would come up in our capacity interview with the District. … We had a Brown Act training scheduled in May 2018, but had to cancel due to schedule conflicts. We have yet to reschedule but will prioritize a training before December.

And this was enough for Strumpfer to get done with his work. Just a few minutes later he emailed Ruben Alonzo with his draft of the reply to CSD, suggesting that perhaps Ana Lasso would like to personalize it up a little bit.8 I won't quote the whole thing because it's fairly tedious, but it's not at all tedious to see what, with Strumpfer's mendaciously magical touch, has become of Alonzo's admission that Excelencia hadn't had any formal Brown Act training but that he, Ruben Alonzo, had read a bunch of handouts to them instead:

I would also like to note that the Excelencia Board has had several training sessions on the Brown Act in 2017 and are scheduling a full training for all Board members later this year.

And here we are at the end of the story. Later that day Ana Lasso emailed Wayne Strumpfer's letter to Jose Rodriguez without having touched up her version at all other than to put it on Excelencia letterhead. It doesn't appear from the records I have that there were any further developments. What does it all mean? Not much, I guess.
The big revelation, whose significance I'm going to continue to investigate, is that CSD will on occasion actively oversee charters who have been credibly accused of violating the law. Now that we know they will do it the question becomes how do we induce them to do it when we want them to. Stay, as I realize now I always say at the end of these damn posts, tuned!

Image of galaxy-brained founding genius Ruben Alonzo is ©2019 MichaelKohlhaas.Org and of course you knew there was gonna be one-a these.