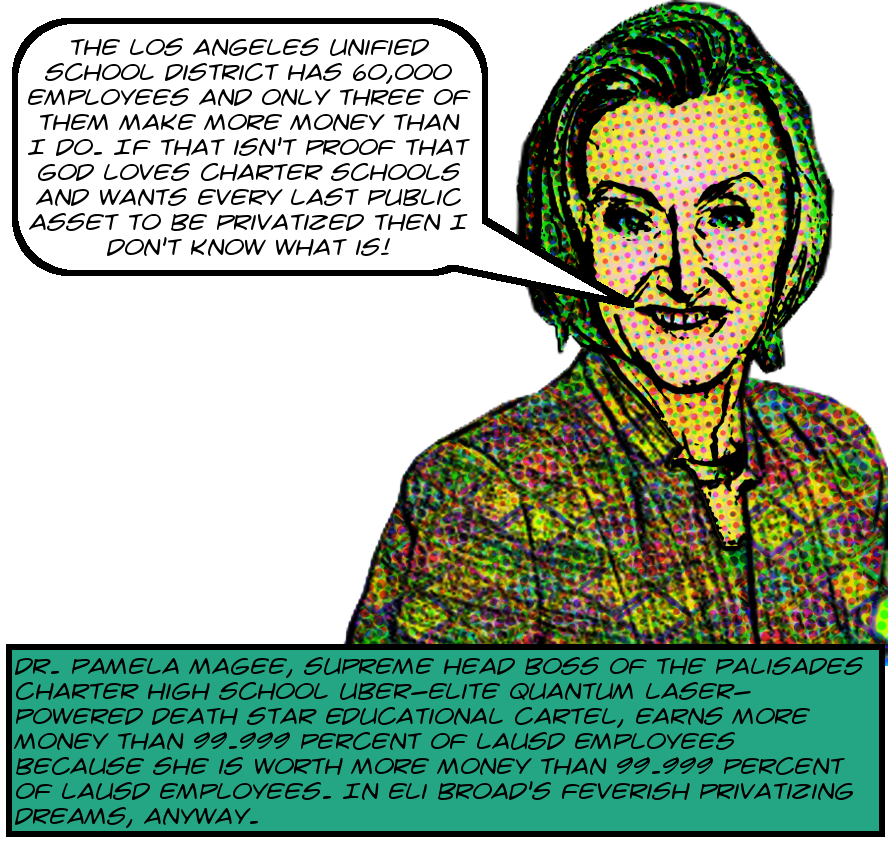 As you may recall I've been working on obtaining public records from charter schools in Los Angeles, with some success.1 And one of my prime targets presently is that spider's nest of privatizing privilege, the Palisades Charter High School. A few weeks ago, for instance, a small set of PCHS boss-lady Doctor Pam Magee's emails revealed some interesting and reprehensible shenanigans on the part of the interesting and reprehensible California Charter School Association.
And just yesterday the Palisadesean privatizers released another small batch of goodies, which you can get your hands on here on Archive.Org. This set consists of copies of the employment contracts of PCHS senior administrators as well as a list of all PCHS employees by name, salary, and total compensation. The contracts aren't that interesting, but there's some good info in the list of salaries, the utility of which is a little attenuated by the fact that for whatever reason2 PCHS Director of Human Capital Exploitation Amy Nguyen3 didn't include any of these folks' job titles.
I have a new request in for that essential information, but irrespective of that, we do learn the fairly stunning fact that Dr.4 Pamela A. Magee is paid $218,855 per year for her labors.5 Now, everything I know about salaries at charter schools I learned from this fine article by the incomparable Red Queen in LA. And the folks she talks about there make an awful lot of money. Cosmic money. More money than Doctor P.A.M.
But they're not actually running individual charter schools like Doctor Magee.6 So I thought I'd check out how much LAUSD pays its principals, you know, for the sake of comparison. A little Googlism7 revealed this LAUSD administrative salary schedule and this organizational chart. And what these documents reveal is pretty surprising. It turns out that there are only three LAUSD employees out of more than 60,0008 that earn more annually than Dr. Pamela A. Magee. Those are:
☆ Chief Academic Officer Frances Gipson — $255,000
☆ Deputy Superintendent Vivian Ekchian — $262,500
☆ Superindendent Austin Beutner — $350,000
So what does this mean? Well, I don't know. The familiar things about how charter schools suck public money out of public use and use it to enrich the already-rich, I guess. About how zillionaires, intent on destroying the public realm, pay their minions well. Whatever it means, though, it's a pretty nice illustration of one of the central paradoxes of value with LAUSD employees playing the role of water and Dr. Magee that of diamonds.
And here's my candidate for the non-sequiturish-segue-of-the-moment, which is that whatever it is that Dr. Pam Magee is doing out there in Northwest Zillionaireville9 to earn10 her bread in the sweat of her brow, she doesn't seem to have been able to put an end to a years-long series of despicable racist shenanigans directed against former PCHS teacher and current civil rights litigant Roya Saghafi by various PCHS employees and students and described in this complaint, filed in Superior Court in June 2018.11
And you know how we love lawsuits around these parts! I'm collecting pleadings from this one over here on the Archive. And not only that, but the trial is scheduled for July 29, 2019 at 10 a.m. in Department 72 at the Stanley Mosk Courthouse. I expect to attend, and maybe I'll see you there! Meanwhile, turn the page for some transcribed selections from the complaint.


COMPLAINT FOR:
(1) Intentional Infliction of Emotional Distress;
(2) Defamation per se;
(3) Hostile Work Environment Harassment in Violation of the FEHA;
(4) Retaliation in Violation of Public Policy (FEHA);
(5) Failure to Provide Timely Access to Employee Payroll and Personnel Records;
(6) Disparate Treatment (Discrimination) (FEHA); and,
(7) Failure to Prevent Harassment, Discrimination or Retaliation in Violation of the FEHA.
1. This is an action by ROYA SAGHAFI ("Plaintiff or "Ms. Saghafi"), an individual. PALISADES CHARTER HIGH SCHOOL ("Pali High" and "Defendant") is a corporation that operates a high school. Plaintiff is seeking damages resulting from Defendants' intentional, wrongful, deceptive, retaliatory, and malicious conduct.
PROTECTED STATUS
2. Ms. Saghafi, is over 40 years of age, female, Muslim, and from Iran.
…
21. In or about 2011 or 2012, after Dr. Magee became the school principle, Ms. Saghafi communicated that she looked forward to working with Dr. Magee. Ms. Saghafi also mentioned that she was concerned also about the bullying of minority students at the school.
22. After sharing with Dr. Magee that she believed that she had also been subjected to discrimination, Dr. Magee began referring to Ms. Saghafi as "Germaphobe" and publicly berated Ms. Saghafi for using a tissue to open door handles.
23. In 2012, Ms. Saghafi requested a different classroom after a teacher disclosed that one was becoming available. Again, in about June of 2013, Ms. Saghafi learned that Room G101 was becoming available, and Ms. Saghafi requested it. As a science teacher, Room G101 was desirable because it had a sink, which was needed for some lab assignments.
24. After requesting Room G101, Dr. Magee, ordered Ms. Saghafi to provide a list of all of the labs she intended to teach. Other science teachers were not required to provide a list of the labs they planned in order to be assigned to a room with a sink.
25. Around the time when Ms. Saghafi was requesting to be assigned to Room G101, Dr. Magee approached Ms. Saghafi and stated she'd received complaints and was told by unnamed third persons that Ms. Saghafi had told people she had a disability that prevented her from doing her job. Ms. Saghafi responded that the accusation was not true.
26. Ms. Magee accused Ms. Saghafi of requesting a classroom with a sink so that she could wash her hands when she wanted.
27. Ms. Magee stated that, if Ms. Saghafi wanted Room G101, she should ask the doctor to write a note that stated that Ms. Saghafi needed a classroom with a sink because she had Obsessive Compulsive Disorder ("OCD").
28. After continuing to complain about the unfair treatment, and after refusing to get a note from a doctor, Ms. Saghafi was eventually assigned Room G101.
29. About two weeks after the academic year had started, Mr. Howard entered Ms. Saghafi's classroom while class was in session, ordered her to come to a meeting that would begin in 15 to 20 minutes, and to bring a witness.
30. During the meeting Dr. Magee and Ms. Bush (the director of Special Education and AP) were present. Dr. Magee started the meeting by stating she had heard that Ms. Saghafi had caught several students of cheating and that the students who had been accused, do not cheat. Ms. Saghafi responded that she had caught three students copying other students' papers, which she considered to be cheating, and had given them a verbal warning. Ms. Saghafi reminded Dr. Magee that she had recently received an email from Dr. Magee, in which Dr. Magee specifically expressed that teachers were allowing too many students to cheat and that it needed to end.
31. Ms. Saghafi stated she was surprised that Dr. Magee was supporting the students who had cheated, instead of herself.
32. Ms. Bush then stated that she considered Ms. Saghafi to be a "danger" to students, due to Ms. Saghafi's practice of standing away from the students and not touching students.
33. Ms. Saghafi was so emotionally distraught after the meeting that she became physically ill and consulted her doctor.
34. On repeated occasions, administrators who worked at Palisades Charter High School communicated that they were concerned about Ms. Saghafi teaching because she was Iranian and Muslim.
35. Unlike other teachers, Ms. Saghafi was required to undergo yearly evaluations during which other teachers and aids where sent to watch Ms. Saghafi teach. Ms. Saghafi regards the yearly evaluations as being motivated by discrimination and by Pali High's intent to make her feel uncomfortable and to encourage her to quit.
36. Ms. Atlas, the Assistant Principle in charge of Science, told Ms. Saghafi that her sister believed that all Iranians should be bombed and killed.
37. Ms. Atlas told Ms. Saghafi that she knew that the Science Department was not treating Ms. Saghafi with respect, and if Ms. Saghafi did not feel comfortable, Ms. Saghafi should look for another place to teach.
38. In or about the spring of 2014, Ms. Saghafi's photo was placed on social media along with comments that she was a "prostitute," "nigger," "alien," and that she should go back to Iran. When Ms. Saghafi communicated with colleagues that she suspected that people from the photography class were behind the offensive posts, and was upset about them, Ms. Saghafi was advised to not make a "big deal" about it.
39. On Friday, November 7, 2014, before lunch, Ms. Saghafi was teaching her class when she heard the click of a camera. Ms. Saghafi looked up and saw two girls with cameras facing in Ms. Saghafi's direction. The girls were accompanied by others.
40. Ms. Saghafi asked the name of the closest girl.
41. After the girl refused to give her name, Ms. Saghafi asked for the camera so that she could have it checked by the photography teacher. The girl handed Ms. Saghafi the camera.
42. When Ms. Saghafi asked for the second girl's camera, instead of cooperating, the girl made rude and disrespectful comments, which the class heard.
43. Ms. Saghafi phoned the Dean's Office. Mr. Buckman picked up the phone. Ms. Saghafi informed Mr. Buckman that a girl was being disruptive and asked him to come to the classroom.
44. When Mr. Buckman arrived, the photography students were outside of the door of the classroom, with their cell phones pointed at Ms. Saghafi. Ms. Saghafi asked the students to put their phones away. Ms. Saghafi's class was in session.
45. After explaining that she wanted the remaining camera so that it could be checked by the photography teacher, Mr. Buckman obtained the second camera and handed it to Ms. Saghafi.
46. While Ms. Saghafi was holding the straps of the two cameras, Mr. Steil, the photography teacher, whom Ms. Saghafi had not met, and who is much taller than Ms. Saghafi, abruptly entered Ms. Saghafi's classroom without identifying himself. Mr. Steil forcefully grabbed Ms. Saghafi's upper arms so hard that she feared for her safety.
47. Frightened, Ms. Saghafi said, "Who are you?"
48. Mr.-Steil yelled, "What are you going to do about it? Refer me to the dean?!" He then laughed.
49. Mr. Steil then he pressed on Ms. Saghafi's wrists and pried open her hands and fingers to obtain the cameras.
50. Ms. Saghafi shook and cried following the incident.
51. After regaining her composure, Ms. Saghafi phoned Jim Shiffman ("Mr. Shiffman") and Russell Howard ("Mr. Howard") and reported the assault. Mr. Howard, along with Dean Loftus, subsequently came to Ms. Saghafi's classroom during the lunch period and asked if any students had seen anything.
52. After lunch was over, Mr. Howard asked Ms. Saghafi to email a report about the incident as soon as possible.
53. Ms. Saghafi rushed to write the email and entitled it "Complaint of Harassment and Assault."
54. During 7 th period, Mr. Shiffman entered Ms. Saghafi's class room and told Ms. Saghafi that she should not have filed a complaint. Ms. Saghafi explained that Mr. Howard had asked her for the report.
55. Ms. Saghafi was wearing a heavy long-sleeved jacket at the time of the incident and did not immediately realize that Mr. Steil had left bruise marks on her arms.
56. On or about Saturday, November 8, 2014, Ms. Saghafi sent pictures of the bruises on her arms to Mr. Howard and Mr. Schiffman.
57. On Monday, November 10, 2014, while in class, Mr. Shiftman came into Ms. Saghafi's classroom, had her go to the doorway, and instructed her to roll up her sleeves to show him her bruises.
58. Later, during 7 th period the same day, when Ms. Saghafi did not have a class, Ms. Shiftman and Mr. Howard came to Ms. Saghafi's classroom and escorted her to Mr. Howard's office, where she was asked to tell them everything that had happened. Mr. Howard asked Ms. Saghafi why she had not mentioned the bruises to her arms in the email on Friday, November 7, 2014, on the day of the incident.
59. On or about December 1, 2014, Chris Lee (who is not Iranian) announced over the school intercom that the Iranian Club was scheduled to meet the next day in Ms. Saghafi's classroom. He stated, "It will be DIVOONEH there tomorrow." The word "Divooneh" is a word in the Farsi language which refers to a seriously mentally ill person who should be institutionalized. Ms. Saghafi regarded the message as an insult directed at herself.
60. On or about Monday, December 1, 2014, after Ms. Saghafi continued to be subjected to bullying and realized that the school had taken no appropriate responsive action, Ms. Saghafi reported the assault to the police.
61. In a meeting on Wednesday, December 3, 2014, two days after reporting the incident to the police, Ms. Saghafi was presented with a written disciplinary warning which she was asked to sign and was told would be placed in her personnel file. After reading the letter, Ms. Saghafi stated that the letter's contents were not truthful and refused to sign it.
2. On December 19, 2014, a meeting was held to discuss Ms. Saghafi's allegations.Ms. Saghafi was later told that the purpose of the meeting to force Ms. Saghafi to withdraw and "rip up" her complaint, or to rewrite it with facts that were favorable to the school.
63. After the meeting, Ms. Saghafi repeatedly complained that the school had not taken her complaint seriously and was also not taking reasonable steps to protect students who were bullied due to being perceived as LGBTQ or as members of disfavored races or groups, Ms. Saghafi was subjected to rude and demeaning comments based on her race, national origin, and perceived religion.
64. During the spring semester, while in her classroom, Mr. Howard commented that Ms. Saghafi was "like Howard Hughes" because "she has OCD." Ms. Saghafi was offended by the comment.
…
77. In or about June of 2017, a 15-year-old African-American student reported seeing a picture of herself with a noose around her neck in the Chemistry Chat Room for Palisades Charter High School. The incident was widely reported on television news.
78. Despite the knowledge by school officials that abusive language and conduct was routinely directed at Muslims, including Ms. Saghafi, such conduct was ignored. Dr. Magee stated that the noose incident was an isolated occurrence and that the school had no problems with racism or discrimination.
79. Following news coverage about the noose incident, an open meeting was held in Pali High's cafeteria. During the meeting, which addressed the harassment of the African-American student, Ms. Kuper stated that she had heard worse statements at the school about the Muslims on campus.
80. On June 21, 2017, at 1:33 PM, Dr. Magee emailed the school's faculty regarding: "Hate incident follow up and next steps." The email invited faculty members to "share relevant experiences and provide input" for the purpose of developing new policies and procedures. The email promised that all responses would be anonymous.
81. On June 22, 2017, at 2:21 PM, Ms. Saghafi responded: "I have felt being the subject of hate myself for the longest time here specifically at Pali. It has made me feel I wish I was never born. Pali has been one of the very worst places I have seen in terms of cruel judgments hate, stereotyping and considering that certain people (based on age, country of origin, religion, political view, certain disability, gender, how one talks whether from language or disability)." In the same email, Ms. Saghafi stated: "until one has been the subject of hate themselves, they would not understand or feel or know how bad it is and how hurtful and damaging it is and even how to go about resolving and solving it." Ms. Saghafi closed the email by recommending that the school contact Barry Pogorel, who had done consulting work with UCLA, USC, and reputable corporations, concerning the abatement of discrimination.
82. On June 22, 2017, at 5:14 PM, Dr. Magee acknowledged receiving Ms. Saghafi's email and responded: "While as you said, I can't completely understand how you have been made to feel, I can offer empathy. I also want to make sure that there are no incidents that have gone unaddressed by Human Resources, the Dean's Office, or your department administrator. Please let me know if you have experienced an incident related to Pali that needs to be addressed."
83. Ms. Saghafi had previously communicated to the Assistant Principal that a student had told one of her Muslim and Iranian students: "You Iranians are terrorists and live in mud houses." After the Assistant Principal had ignored the report, Ms. Saghafi had reported the same incident to Dr. Magee, who also took no action.
84. Following the noose incident, Ms. Saghafi communicated that she was tired of being subjected to discrimination, harassment, and hate, and that she worried that students who were regarded as not fitting in due to their race, color, or sexual orientation, were being treated less favorably than others, and that complaints about such treatment were ignored and were not welcomed by the administration. Ms. Saghafi communicated that, because these issues being ignored, she was prepared to speak openly about these issues herself.
85. On the afternoon of June 23, 2017, Ms. Saghafi opened the door of her home to find police at her doorstep. Officer Acurin and Officer Costales asked Ms. Saghafi if she knew a person named Amy Nguyen ("Ms. Nguyen"). Ms. Saghafi responded "yes" and stated that Ms. Nguyen was Pali High's Human Resource Manager. The officers then informed Ms. Saghafi that Ms. Nguyen had reported Ms. Saghafi as being a "harm to herself or others" and had asked the police to make a report.
86. Ms. Saghafi regarded Ms. Nguyen's report to the police, which had prompted the officers' visit, as motivated by retaliation for communicating her intent to speak out about the bullying, discrimination, and harassment at Pali High.
87. Ms. Saghafi regarded Ms. Nguyen's report to the police as being made with intent to frighten her and to create a report that the school could later use to falsely claim that Ms. Saghafi was mentally ill and to terminate her.
88. After the police left Ms. Saghafi's home, Ms. Saghafi composed an email to Dr. Magee and wrote: "Every time, I have complained to the school, the school has turned around and made a case against me. The police were just here."
89. As 2017 progressed, Ms. Saghafi was subjected to increasing unfair scrutiny by Pali High employees for the purpose of finding an excuse to fire her.


Image of Doctor Pam Magee is ©2019 MichaelKohlhaas.Org and is slapped, flapped, and mapped up outta this lil Doctor here.