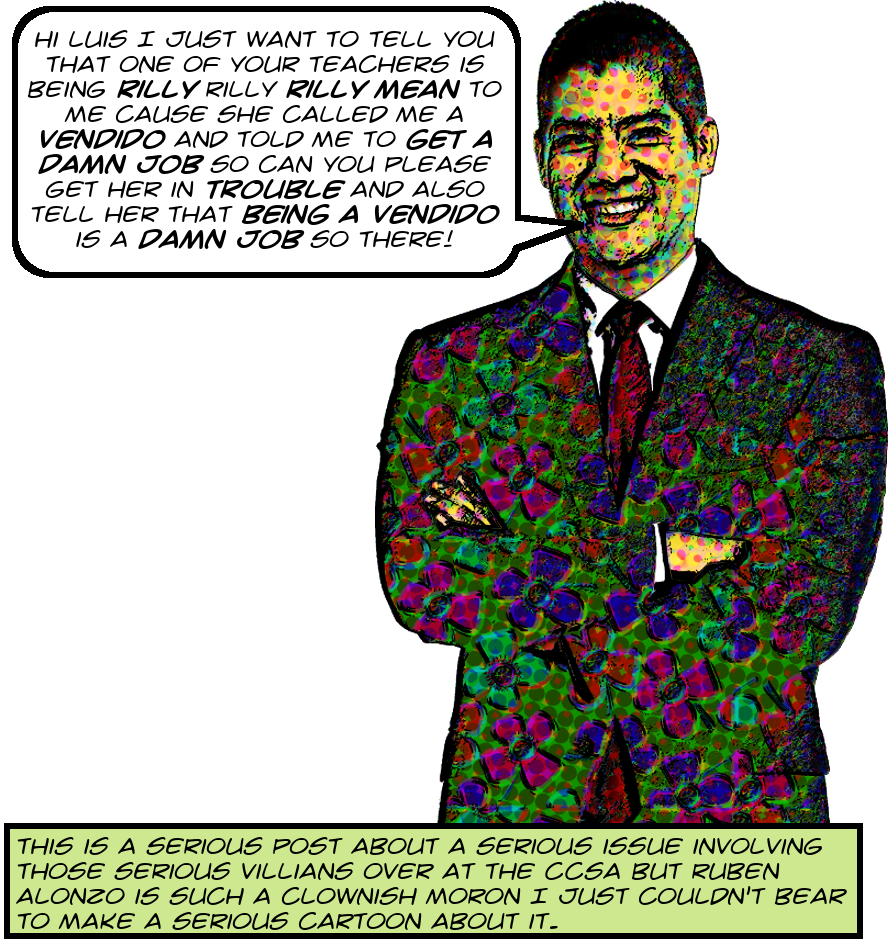 There are many, many, many problems with charter schools in Los Angeles,1 not least of which is this co-location nonsense they get up to, authorized by some malcriado state law known as Prop 39 which allows charter schools to vampiratically fasten themselves to the necks of genuine public schools and drain their life and vitality by aggressively colonizing their physical classrooms and school spaces.2
Everybody sane hates this, and it's the occasion for protests across LA Unified, like e.g. at Baldwin Hills Elementary School, and at Catskill Elementary in Carson, and at Sunrise Elementary in Boyle Heights. And while it is true that everybody sane hates this well, tragedy indeed, it's also true that not everybody is sane. In particular let us consider the California Charter School Association, about as unsane a gang of grievous grifters as can be.
These appalling privatizers not only want to use the next ten years to put every kid in the state in a damn charter school, but they openly3 scheme with self-proclaimed boy genius and lame duck school board member Nick Melvoin to further this scheme by weaponizing the already weaponized-by-design Prop 39. And not only that, but a set of newly released emails, obtained via the CPRA, shows that they also fund free lawyers to help charters navigate the apparently complex process of applying to colonize actual public schools via Prop 39.
The program pays for the first 5 hours from one of California's pre-eminent privatizing law firms, Young Minney Corr or Procopio. After that CCSA funds an additional 5 hours at the discount rate of $200 per. And there's other help available to new charters, this time, more surprisingly, from the famously leftish pro bono law firm Public Counsel, which seems to provide lawyers to charters to help them form their governing 501(c)(3) corporations.
Not sure what the deal is about this but it was fairly shocking news to me so I am sharing it with you here. Perhaps it's part of their low-income-serving non-profit formation program. Which makes about as much sense for charter schools as calling Dracula a local peasantry-serving aristocrat.
So anyway, read on for links to salient emails, transcriptions therefrom, and, if you can make it all the way to the end, a transcription of an amusing, revealing, childish, and fairly reprehensible email chain involving Excelencia Charter founder and head boss Ruben Alonzo, and Luis Barraza, principal of Sunrise Elementary School, host organism of Alonzo's vampirism, and Cynthia Kanagui who, in addition to being some kind of robotic lobbyist at robotic lobbying org Great Public Schools Now, is also Mrs. Ruben Alonzo.4 Alonzo is still angry that Sunrise Elementary teacher Mimi Duncanson is protesting his damn school and he cannot, will not, just stop whining about it.
By the way, this is the same Mimi Duncanson whose car Alonzo, in yet another of the overtop hissy fits for which he's infamous, tried to get towed by the LAPD but they wouldn't to it. In this email, transcribed below, Alonzo is all like "Luis she is really mean and called me a vendido!" And Luis is all like "don't worry I will talk to her!" And then Alonzo emails Kanagui at her personal Gmail address5 and is all like "oooOOOH! Mimi is in big trouble!" Because he's a childish whiny-baby; and also the kind of person that LAUSD seems to think is fit to educate and care for some actual human children.

the conversation about Prop 39 and CCSA started with this August 2017 exchange between Alonzo and Ebony Wheaton, employed by CCSA as a professional outside agitator. Alonzo wrote to Wheaton and was all like … well, read it for yourself:

From: Ruben Alonzo <ralonzo@buildingexcellentschools.org>
Date: Thursday, August 17, 2017 at 12:49 PM
To: Ebony Wheaton <ewheaton@ccsa.org>
Subject: Prop. 39 Form
Hi Ebony,
It was great seeing you again at Sandra's Public Hearing.
Josue suggested I reach out to you to regarding the use of LAUSD's Prop. 39 Intent to
Re/Enroll form.
Admittingly, this process is new for me and I want to make sure I make the best
decisions for the school.
Can you review our form and let me know if there's anything that you would flag?
My understanding is that we have to collect a minimum of 80 (our target is 130).
Sincerely,
Ruben

And Wheaton responded with what, to the best of my knowledge and belief, is the chronologically earliest mention known to me of the CCSA's Prop 39 pro bono program, among other nonsense:

Subject: Re: Prop. 39 Form
From: Ebony Wheaton <ewheaton@ccsa.org>
Date: 8/17/17, 3:03 PM
To: Ruben Alonzo <ralonzo@buildingexcellentschools.org>
Hi Ruben,
It was great seeing you as well! I'm happy to help guide you through the Prop. 39 process. I know that it can be somewhat daunting your first time around. But you're off to a good start, because the form you sent looks great. I compared the form that you sent with CCSA's sample "intent to enroll form" (see attached), and they are almost identical. (Please note, however, that the attached form was used by schools that submitted Prop. 39 requests last November, so the dates are a little off). That said, I think that you can go ahead and distribute the form that you put together to your families.
Also, I'm not sure if Josue mentioned this, but CCSA offers free legal assistance to member schools via our Prop. 39 Pro Bono Review Program. When you enroll in this program, you are assigned an attorney who provides individualized review of your Prop. 39 request, as well as legal guidance throughout the process. We have not yet begun enrollment for this year's Prop. 39 cycle, but if this is something that you might be interested, please let me know.
In the meantime, you're more than welcome to ask me any questions that you may have.
Ebony
—
Ebony N. Wheaton
Director, Facilities, Greater Los Angeles
California Charter Schools Association
E :: ewheaton@ccsa.org
C :: 213.393.1062

And here's a more general, much more descriptive, email from Ebony Wheaton to an undisclosed list of charter operators from a month later. Here Wheaton is also inviting them to sign up for the pro bono assistance as well as inviting them to a free workshop. Anyway, not worth transcribing, but it does show what they're up to with this program.
The story picks up again in October 2017 after the workshop, which Alonzo did attend. He sent an email to Wheaton with some fairly technical follow-up questions, and she told him to ask the free lawyer they were providing.6 For our purposes right now the most important thing in Alonzo's response to this advice is his statement that Annie Marquit, a lawyer from Public Counsel, was helping him form his 501(c)(3) corporation.
Anyway, that concludes the hard news in this evening's post. There are bunches more emails than I've discussed here, and many of them have interesting attachments. Take a look at the whole subcollection relating to this pro bono thing, and at the MBOXes that this material came from.
And now on to the fun stuff,7 which is Ruben Alonzo whining like a little baby about how Mimi Duncanson was being mean to him and calling him names and then cackling like a horrible hellbaby to his wife, Cynthia Kanagui, about Duncanson's impending carpet-calling. It's all contained right here in this email conversation, transcribed below! Note that he refers to Duncanson as "Descanson" because he's not only a whiny baby moron, he's also illiterate!

---
---
From: Ruben Alonzo <ralonzo@excelenciacharteracademy.org>
Sent: Thursday, March 28, 2019 8:13:42 AM
To: Barraza, Luis
Cc: Jasmine Banks; Adam Fletcher; Pawinski, Lori; Torres, Maryhelen
Subject: Disrespectful Language – K Teacher
Hi Luis,
My staff and I have been trying deliberately to avoid any contact or conversation with a specific Kinder teacher on campus.
However, I think it is necessary for you to have a discussion with Mrs. Descanson.
Two weeks ago she shouted and called me a "vendido" as she arrived to campus at 8am. I was simply standing at the entrance welcoming in students.
Today at 8am she accosted me and Ms. Banks as we stood waiting for a student arriving late. She aggressively yelled "Don't you have an office?! Why are you even here without kids?"
We would genuinely appreciate it if you can address this language and disrespect with Mrs. Descanson. Our community has only been polite and considerate toward your staff. We only ask the same in return.
Sincerely,
Ruben
Ruben Alonzo
213.880.3904
---
From: "Barraza, Luis" <lxb0937@lausd.net>
Date: March 28, 2019 at 8:22:53 AM PDT
To: Ruben Alonzo <ralonzo@excelenciacharteracademy.org>
Cc: Jasmine Banks <jbanks@excelenciacharteracademy.org>, Adam Fletcher
<adam.fletcher@partnershipla.org>, "Pawinski, Lori" <lap4521@lausd.net>,
"Torres, Maryhelen" <mtorre11@lausd.net>
Subject: Re: Disrespectful Language – K Teacher
Hi Ruben,
We are in agreement about the necessity for appropriate behavior. I will meet with her today.
Regards,
Luis Barraza
Principal
Sunrise Elementary School
(323) 263-6744
---
Subject: Fwd: Disrespectful Language – K Teacher
From: Ruben Alonzo <ralonzo@excelenciacharteracademy.org>
Date: 3/28/19, 8:35 AM
To: Cynthia Kanagui <cynthia.kanagui@gmail.com>
Ooooohhhh…Mimi is getting in trouble today…
Ruben Alonzo
213.880.3904
---
---

Image of clownish moron Ruben Alonzo is ©2019 MichaelKohlhaas.Org and here is a clownish moronic ancestor to boot. Like literally, boot it. That's what it's there for. Booting.