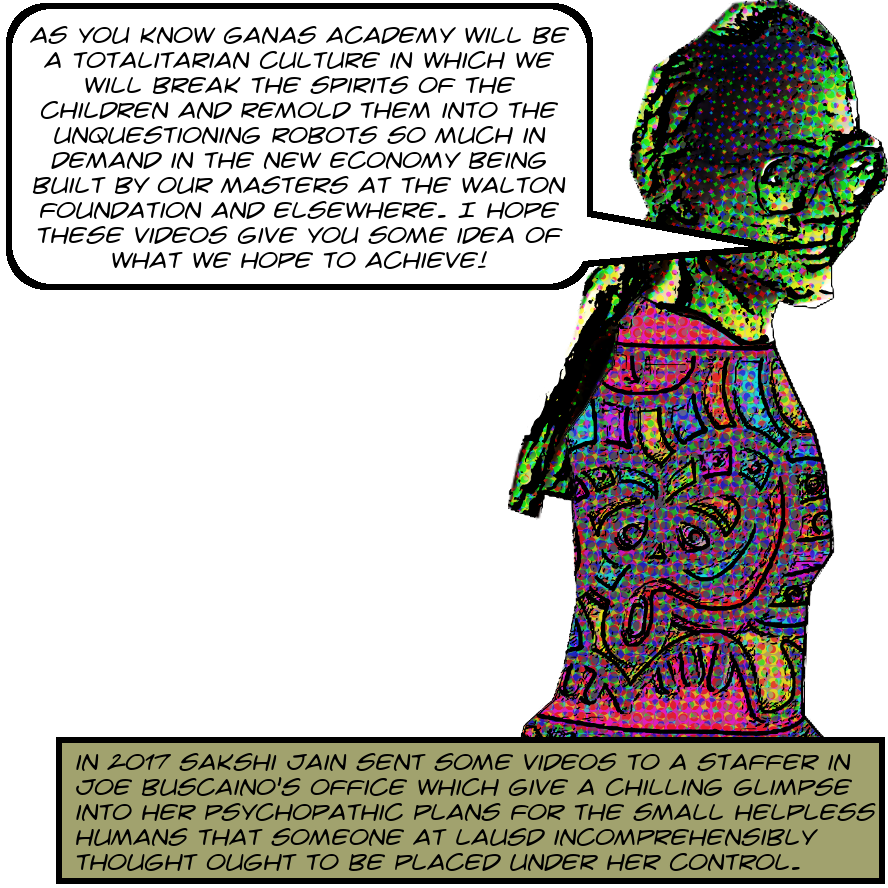 Sakshi Jain, yet another in a long line of nihilistic charter school scammers, once thought she would start a school, GANAS Academy, in the City of Carson, authorized by LAUSD and to be colocated on the campus of public elementary school Catskill Elementary. But the community saw through her lies and fought back against them and Jain ultimately had to abandon her unholy plans and slink back to her lair in disgrace.
It has been clear all along that Jain had no one's but her own best interests in mind and that placing human children in the custody and care of such a callow grifter was an awful idea, but details of what she was planning for her victims have been few. We did learn recently from a grant application Jain submitted to the California Department of Education that she believed in stringing together empty words about putative excellence, although again, what this would mean for the actual children wasn't clear:

… rigorous academics, character development, and community engagement, GANAS Academy Charter School educates students in kindergarten through fifth grade for academic success, placing them firmly on the path to college. GANAS Academy believes that all students – regardless of zip code, race, or socioeconomic status – deserve access to a high-quality education that prepares them for success in college and career.

But recently I obtained some really interesting 2017 information from CD15 about what Jain had in mind. Buscaino's office was involved at that point because Jain originally planned to colocate her infernal school in Wilmington, which is in the City of LA in CD15, so she was cultivating relationships with them. To this end, on October 1, 2017 Jain emailed Buscaino staffer Fernando Navarette and cultivated with all her damn might:


From: Sakshi Jain
Date: Sun, Oct 1, 2017 at 10:16 AM
Subject: Videos from Schools I have Visited
To: Fernando Navarrete <fernando.navarrete@lacity.org>
Good Morning Fernando,
Hope you are having a relaxing Sunday. I wanted to send over some videos of the schools I have visited in the last week and get your thoughts. As you know GANAS Academy will be a structured and achievement oriented culture and I hope these videos provide a glimpse into what we hope to build.
Additionally, a member of BES governance team will be in Los Angeles on November 2 and I would like for you to meet her. Can you please let me know a few times that work for you and I can set it up? Thank you in advance and let me know if you have any questions. I look forward to hearing from you.
Best,
Sakshi

And luckily for us she didn't link to the videos, she actually attached them to the email. So I arranged to get copies from Buscaino's dedicated CPRA obstructionist, Amy Gebert,1 and I can now share them with you and the world! There are links to YouTube below, and I also put them here on Archive.Org for ease of downloading if that's useful.
★ First video
★ Second video
★ Third video
And they're worth watching indeed to see what Jain was planning to do to any children handed over to her by LAUSD. Drill them like robots, line them up at desks, talk to them like subordinates, appropriate their artistic impulses to create weirdo propaganda. Nothing good. Just the kind of thing that an untrained incompetent like Jain, bought and sold by zillionaires at the Walton Family Foundation to do their bloody work, would think needs to be imposed on the poor dark-skinned victims preyed upon by her and those for whom she minions.
And these videos also reveal something important about the roles that various kinds of charter schools play in the zillionaire war against the public sphere.2 It's obvious that the zillionaire funders of these schools aren't going to subject their own children to that kind of treatment. They're not handing over their precious spawn to the ignorant, incompetent Sakshi Jains of the world or any of these torturers in the videos to be chanted at, clapped at, lined up in desks. That's for the underclasses, who must be forced to conform.
If they send their kids to charter schools, and I doubt that they do, they're sending them to publicly funded elite segregation academies like Pali High or Granada Hills, never to these white savior big con schools like GANAS or The Accelerated Schools. Which is a subject for another post entirely. Or a book.
And if you made it this far, take a look at this video, which made the rounds on Twitter yesterday, of a wonderful joyous class celebrating in voluntary and life-affirming dance and song with their wonderful joyous teacher. This is what early education of humans looks like when it's run by humans and for humans. Let's make sure it shall not perish from the earth!

Image of Sakshi Jain is ©2019 MichaelKohlhaas.Org.

Gebert is a real piece of work, friends. Without getting into the dozens of instances of passive-aggressive bullsh*t smeared about the place by this outlaw, I can just tell you that she collected the email we're talking about by having Navarette forward it to her rather than export it himself as the law requires. Then she printed it on paper rather than producing it electronically as the law requires. Then she redacted Sakshi Jain's email address even though no exemption allows the withholding of an email address used by a person employed by a CPRA-subject entity to communicate with another CPRA-subject entity to conduct public business. Then she refused to cite an exemption to support her unsupportable redaction. And now she's refusing to discuss these issues. It's all going to be OK in the end if I live long enough, but oh my freaking goodness, how do these people think it's easier, let alone better, to conduct themselves like this?
I am deeply indebted to Sara Roos of Red Queen in LA for many fruitful and instructive conversations about charter schools and their taxonomy, on which my understanding of these essential matters depends.