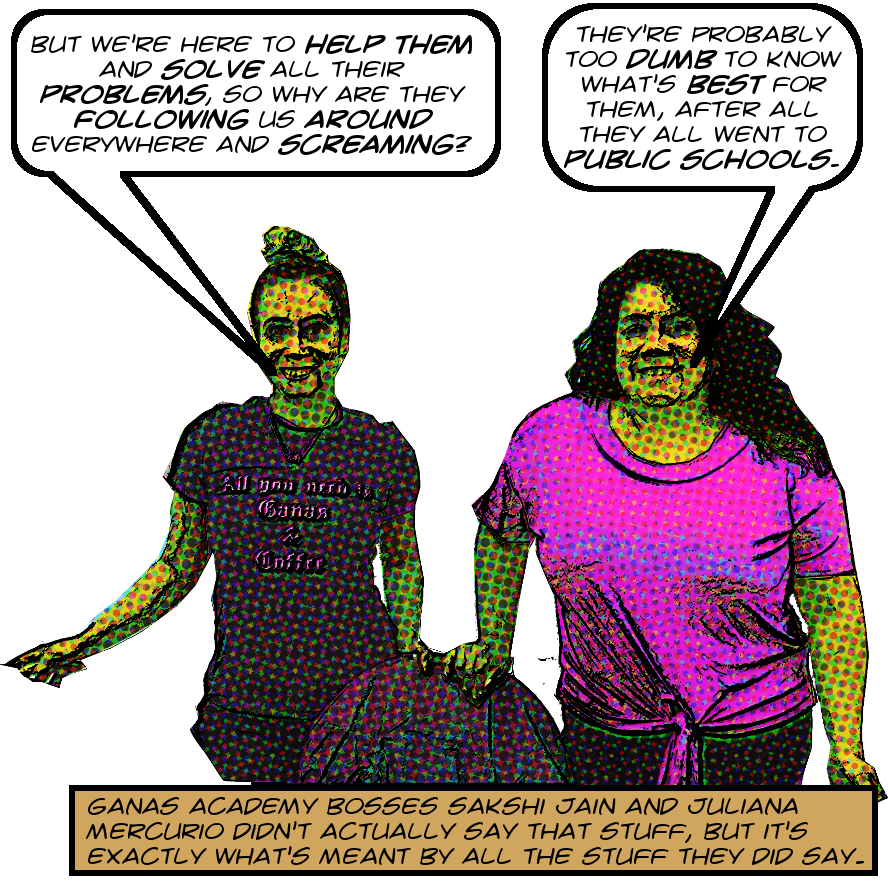 Here's more on the anti-colocation battle being fought by a brave and devoted band of teachers and parents at Catskill Elementary School in the City of Carson against impending plans to install upstart charter school GANAS Academy on their campus. I have been investigating this story using requests made to GANAS via the California Public Records Act.
Recently, for instance, I obtained a copy of a call to 911 made by GANAS's shockingly unsocialized founder, Sakshi Jain, in March 2019 during which she pleaded persistently with an unsympathetic dispatcher at the Los Angeles County Sheriff's Department to come arrest a bunch of protesters whose presence she found dismaying despite the dispatcher's repeated admonition that protesting wasn't illegal.
And, as these defenders of Catskill Elementary School's resources and autonomy are a feisty bunch of folks, that March protest is not the only direct action they've taken to further their goals. For instance, on April 10, 2019 they attended a meeting of the GANAS Academy directors and gave vigorous and extended public comment, which was not gracefully received by the privatizers on the board.
The board ultimately tried to shut down the meeting and it ended with the Catskill folks following them out to the parking lot chanting. The Catskill defenders posted an uplifting video of this event and the chaos starts here at 1:10:20, with board chair Juliana Mercurio's angry pronouncement that if the protesters don't sit down she is going to close the meeting. A few days later the Carson City Council considered and ultimately passed an anti-GANAS resolution.
Which brings the story up to yesterday, when I received almost an entire gigabyte of public records from GANAS via their lawyers at Young, Minney, & Corr, a law firm specializing in the affairs of California charter schools.1 Included in this release, most of which I'm still prepping for publication, were a number of videos shot by GANAS Academy people in the performance of their duties. You can browse the collection and download copies here on Archive.Org and also here on my YouTube channel.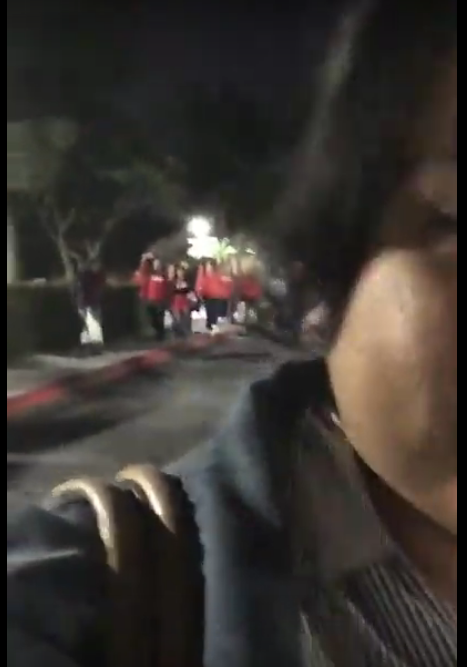 There are links to the individual videos with brief descriptions below, but before we go there, you must, must watch two of these clips. These were filmed by GANAS board member Juliana Mercurio after the Carson City Council meeting on April 16. They capture the protesters following Mercurio and Jain to Jain's car and the subsequent vehicular escape. The first one features the protesters as seen over Mercurio's shoulder and includes Mercurio's commentary, e.g. she describes the protesters as "an irate mob of people." The second is shot from inside their getaway car. As they're driving away Mercurio wearily predicts that they're "about to be blocked in … again …"

☆ Sakshi Jain dancing for some reason — Along with a couple other folks, don't know who they are or why this is happening. But it's clearly essential information!
☆ At the April 10, 2019 GANAS Board meeting — This is a short clip of pro-Catskill protesters at the above-described meeting shot by an unidentified GANAS supporter.
☆ At the April 10, 2019 GANAS Board meeting — Another one like the previous.
☆ Undated, unidentified video — Very short clip which seems to have been filmed by a GANASite walking around Catskill Elementary, but that's just a guess.
☆ Carson City Council meeting April 16, 2019 — A technical debate among City Council members about when to hear the resolution against GANAS.
☆ April 16 Carson City Council meeting — Public comment from a lobbyist from the California Charter School Association supporting GANAS, so opposing the resolution. This is typically arrogant commentary from CCSA, one of the most reprehensible pro-privatization advocacy groups I know of. She actually equates opposition to charter co-location with racism. Despicable.
☆ GANAS-produced propaganda — Unidentified speaker filmed by GANAS people talking about how great GANAS is going to be.
☆ An anti-GANAS activist filmed by GANASites — I'm not sure who filmed this or when, but it features a pro-GANAS person filming and arguing with an opponent on a public street. It was sent by Sakshi Jain to Sean Jernigan of LAUSD on March 26, 2019. At that time Jain referred to this as an example of the "continual harassment" that GANAS was being subjected to. Which shows on her part a fundamental misunderstanding not only of the meaning of the word "harassment" but of the word "democracy" as well.
So there are the videos I received from GANAS via the CPRA. There's more material to come, including more than 50 emails. The upcoming stuff is really important, so stay tuned!

Image of Sakshi Jain and Juliana Mercurio is ©2019 MichaelKohlhaas.Org.

And which, like many law firms, does not believe in the Oxford comma, a stance which is specially shocking when taken by people ostensibly engaged in defending education. I've taken the liberty of adding one to my mention of their firm's name in order to ward off the type of tragic misunderstandings which may ensue due to its omission.