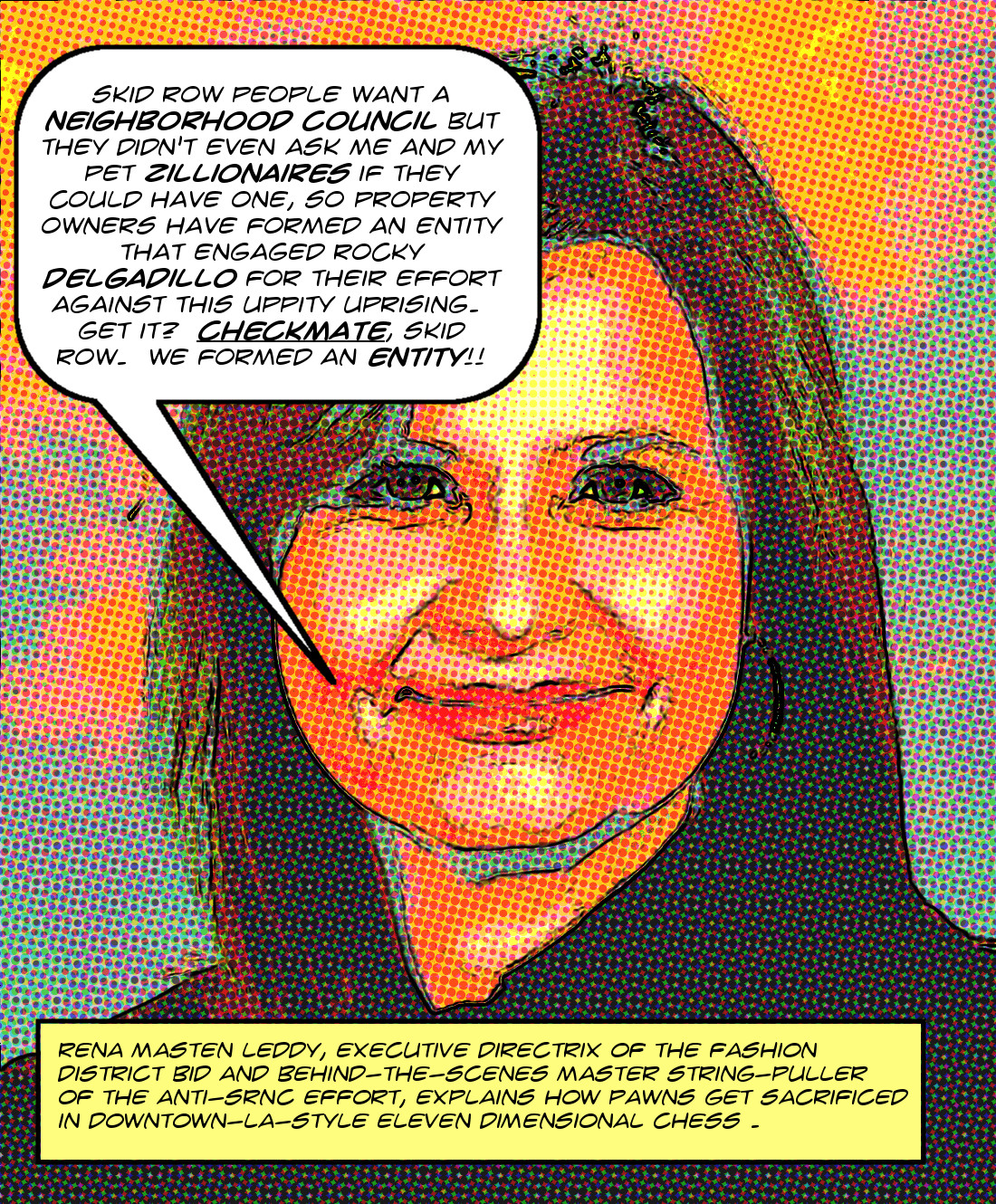 You may recall that about three weeks ago I published a bunch of emails from the Fashion District BID concerning the opposition to the Skid Row Neighborhood Council formation effort. For better or for worse, I've been so busy lately, what with the SRNC appeal hearing and various issues related to shady practices in anti-SRNC lobbying efforts, that I haven't had time to write much about the actual content of the emails.
But there is some interesting stuff in there, including some highly suggestive, although unfortunately inconclusive, clues to the real-life identities of whoever is behind the shadowy "entity," United Downtown LA, incorporated on March 3, 2017 in that notorious paradise of corporate anonymity, the state of Delaware. For instance, there are a number of emails from Scott Gray, director of operations of the shadowy real estate zillionaire conspiracy known as Capital Foresight.
Capital Foresight is famous for its putatively adaptive reuse projects on Skid Row, and thus is highly interested in the project approval process. A Skid Row Neighborhood Council would ostensibly have some clout with the City,1 and that could well threaten big-dollar projects in Skid Row, of which Capital Foresight has many. Thus did Scott Gray tell the Downtown News that the SRNC would be "a huge symbolic blow against growth and development," although it's probably not symbolism that he's worried about.
And thus it's no surprise, really, to find Scott Gray and a number of his Capital Foresight cronies, including shadowy CF founder Naty Saidoff, involved at the very beginnings of public opposition to the SRNC in March 2017. Turn the page for a chronological analysis of some of the emails and a good circumstantial argument for Capital Foresight being the moving force behind the anonymous anti-SRNC front group United DTLA.

First of all, on March 14, Scott Gray emailed Adrian Szabo of Essex Property Trust, alerting him to the dangers posed to their investments by an incipient SRNC:

While the homeless issues are vital to the economy of DTLA and the entire City of Los Angeles, the pending proposal to divide Downtown Los Angeles into separate districts will have significant fiscal and economic impacts. Common sense implies that dividing DTLA into sub-neighborhoods as proposed by the Skid Row Neighborhood Council (SRNC) Formation Committee, with the pending vote on April 6th, will have serious financial impacts to the City because of potential impacts to property values. … Dividing DTLA into separate neighborhoods would undo all of the progress made over the past decade. The implications may not sound politically correct; however, the economic realities are obvious.

Szabo turned around and, the next day, forwarded this email to FDBID executive director Rena Leddy2 and Blair Besten, batty little fusspot queen of the Historic Core BID.
By March 20 at 11:44 a.m., Rena Leddy had evidently used Scott Gray's rantings to construct her own anti-SRNC cut-and-paste message, which at that time she emailed to Scott Yamabe of the Southern California Flower Market. It's worth reading her version of Scott Gray's ravings to see just what she omitted. For instance, Scott Gray unleashed the crazy with this claim: "20,000+ homeless people live downtown and they will be carted up to vote!" Rena Leddy had the sense to leave that nonsense out.3
And our documentation ends with an email from Rena Leddy to a bunch of property owners, sent on March 20 at 12:24 p.m. This email included a copy of Rockard Delgadillo's infamous letter to DONE as an attachment. Also in this email, Rena Leddy announced the existence of United DTLA to the recipients:

Attached is a letter sent by attorney Rocky Delgadillo on behalf of property owners in the proposed new neighborhood council who are petitioning that the City postpone the election, now scheduled for April 6. These owners have formed an entity that engaged Rocky for this effort. The group is called United Downtown LA LLC.

And the list of recipients is worth considering in detail:
Who's on the list is interesting enough, but who's not on it is essential. No one from Capital Foresight is on there. That means that on March 20, 2017 Rena Leddy knew that everyone who mattered from Capital Foresight already had a copy of that letter from Rockard Delgadillo, was already aware of the existence of the SRNC formation effort, and, most crucially, was already aware of the existence of United DTLA.
Couple this with the fact that six days earlier, on March 14, Scott Gray was already writing propaganda for the anti-SRNC campaign and that that was being forwarded to Rena Leddy, who proceeded to edit some sanity into it so that it'd be suitable for her own propaganda, and there seems to be a good circumstantial case that Scott Gray, possibly Naty Saidoff, and/or other Capital Foresight people who were copied on the various emails, were either the founders of United DTLA or were there at the founding of it. It's possible that more facts will come out as a result of this complaint to the Ethics Commission about the lobbying firm's failure to disclose their client or via some other means. But until that happens, this feels to me like the best theory on the pressing question of who exactly is behind United DTLA.

The image of Rena Leddy started out as a public record and the modified version is now ©2017 MichaelKohlhaas.Org.

Ideally neighborhood councils have some kind of voice in the planning process. Developers present to them, seek their approval, they're the target of serious lobbying efforts, and so on. Whether this will remain true if Skid Row manages to get its own NC remains to be seen. The City (apart from DONE, which at least up until the election seems to have played relatively fair) has done its level best to disenfranchise Skid Row, both in general and with respect to their quest for a neighborhood council. That this would continue should an SRNC come to pass seems pretty likely. No one with any power seems to think they have to play by the rules when it comes to Skid Row.
Who's evidently learned something about putting stuff in writing from my barrage of CPRA requests over the last few years. Her answer was: "Adrian, Give me a call Friday. 213-488-1153 x 712."