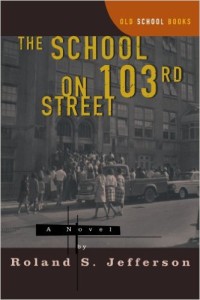 Today's book is
The School on 103rd Street
, by Los Angeles author and psychiatrist
Roland S. Jefferson
. It seems reasonable to review it here for two reasons. First because it so vividly evokes the peculiar time and place of early 1970s Los Angeles, a spatiotemporal locality that's dear to my heart and second because its subject matter, racial politics in Los Angeles (including a vast conspiracy the nature of which I can't really reveal without spoiling the plot, which is something I'm not willing to do) aligns closely with the focus of this blog.
I'll move on to the serious matters below, but first, check this description of protagonists Elwin Carter and Sable having an evening out in 1973:
They had dinner at Cyrano's in Marina Del Rey and then went to the Name of the Game on Century Boulevard for some dancing. At midnight they went down to the Lighthouse to hear Gabor Zabo, and, on the way home, they dropped by Shelly's Mann Hole and caught the last set by Gerald Wilson. Carter had taken the Ferrari, and, although Sable offered no resistance, she didn't encourage him. From Shelly's they headed down Highland toward Wilshire…3
Now, I don't just read novels for Los Angeles geography porn, but I'm always happy to find it, especially when it has restaurants! Cyrano was a "fine dining" or "continental" sort of place, opened early on in Marina Del Rey. Given the character of the Marina in 1973, at the time Elwin and Sable had dinner there the joint was probably full of cocaine, swinging-in-the-worst-sense, disgusting 1970s facial hair, and gelatinous sleaze coating every surface.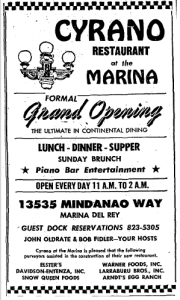 The Name of the Game was a dance place in Inglewood at Century and Crenshaw. Here's how the Los Angeles Sentinel described it on September 2, 1971:

It's called The Name of The Game, and to many, many persons it's the name of the place they find attractive and a lively cynosure for a truly good evening of pleasure. Located at 3000 W. Century boulevard, it has music by Dave Holden, and dancing space for frisky feet or those who just love to move and groove. There's no cover charge, either. The Name of the Game also affords daily luncheon specials, and daily half-price cocktails. So what could be better for the jaded tastes than a visit to The Name of the Game?4
Unfortunately I can't find a picture of the place. Note also that there was a sensational killing there in 1973. I don't have space to go into it, but it was well covered in the Sentinel, starting here.11
Next they head off to the Lighthouse, a famous and still-active jazz club in Hermosa Beach which I'd discuss more if I gave even a fraction of a shit about either jazz or Hermosa Beach. Finally, "on the way home," they head to Shelley's Manne Hole which, coincidentally, played an important role in my last recommendation, so I won't belabor it here. However, these two live in Baldwin Hills, meaning that the Manne Hole, at 1608 N. Cahuenga Blvd., is in no sense but the sense that this night should never end on the way home from Hermosa Beach. Ah, youth!
Now, despite my breathless temporogeographical musings, this novel is much more than a travelogue. It's an immensely important document about the state of racial politics in Los Angeles eight years after the Watts Rebellion, with more than a little relevance for the present day (as well as being a bitchin' thriller). Read on for details!
Continue reading The School on 103rd Street →