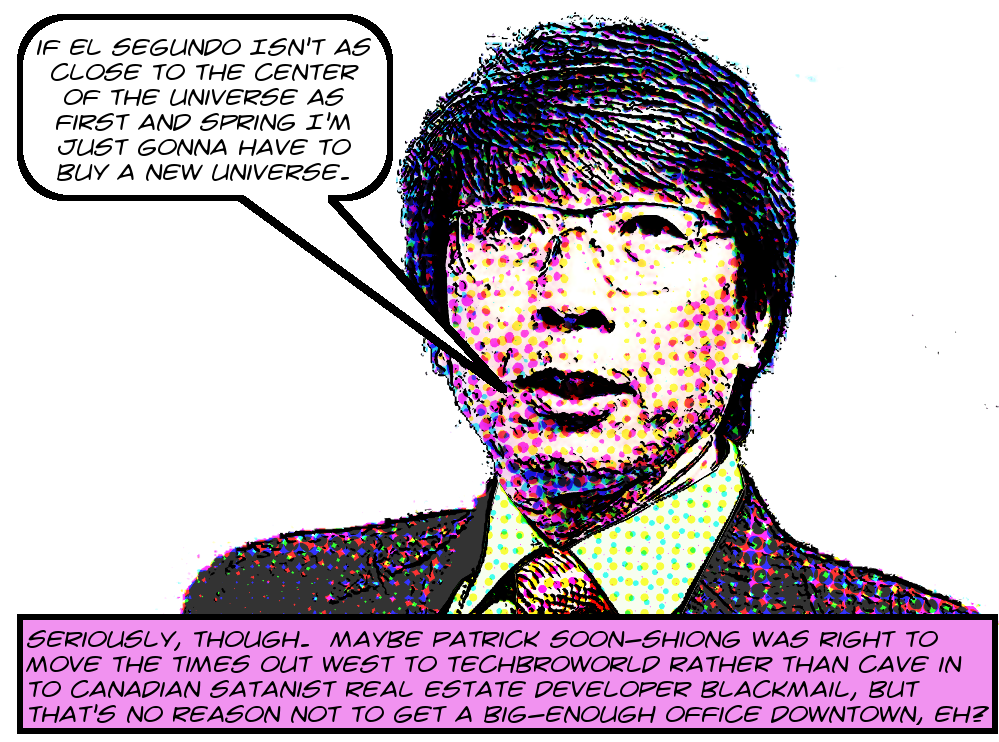 Remember in April 2018 when Patrick Soon-Shiong bought the L.A. Times and promptly announced that he was moving the headquarters from the historic building at First and Spring, which Tribune Media sold to Canadian real estate developers Onni Group in 2016, to El Freaking Segundo because Onni had proposed to jack up their rent by one million dollars per month? And soon thereafter Executive Editor Norman Pearlstine attempted to assuage everyone's fears by telling the Columbia Journalism Review stuff like this:

… we are keeping a presence downtown. We will have an office with several dozen seats in it, and I would expect we'd probably have a pretty senior editor here responsible for it. Secondly, without taking away from the importance of physical location of where your desk is, it's more important to talk about where your reporters are.

But recently I laid my hands on a big pile of emails between Times reporters and the LAPD's Media Relations Division. You can browse these here on Archive.Org, and there is a ton of interesting stuff in there, although it's mostly if not wholly off-topic for this blog. And there is also this email conversation from July 2018 between LA Times police reporter Cindy Chang and Media Relations commander in chief Patricia Sandoval. And this tells a slightly different story than Norman Pearlstine's Pollyannaistic whiggery!1
From: Chang, Cindy
Sent: Monday, July 02, 2018 10:36 AM
To: Patricia Sandoval <25981@lapd.online>
Cc: Joshua Rubenstein <n5373@lapd.online>
Subject: press office at LAPD
Hi Trish,
There's a press office on the first floor of PAB, correct? As we're moving to El Segundo, we're trying to tabulate the office space available in the agencies we cover. Our downtown bureau won't have many seats, so other options will be helpful.
I'm off the early part of this week. Would it be possible to see the space later this week or next week?
Cindy Chang
Staff writer, Los Angeles Times
cindv.chanq@latimes.com
213.237.7016

And turn the page for the rest of the story!
Continue reading L.A. Times 2018 Move To El Segundo Left Reporters With Insufficient Office Space Downtown — Reduced Them To Begging City Departments For Places To Work — Perhaps It's Not So Easy To Maintain Journalistic Independence When You Have To Ask The LAPD For Permission To Charge Your Phone In Their Building — And They Tell You "Sure But Not Every Day, K?" →