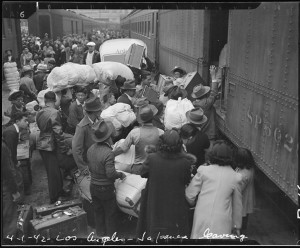 We've
written before
about the BIDs' and the Hollywood Chamber of Commerce's sinister plot to turn Hollywood into a sundown town by discouraging black and brown people from coming here at night. We've
also written
about the Hollywood Entertainment District BID's soulless opposition to the saintly Senator Carol Liu's
Right to Rest Act
, which would prevent the BID Patrol from harassing and arresting homeless people for violating the vile
LAMC 41.18(d)
, which makes it a misdemeanor to sit on the sidewalk for any purpose other than watching a parade. What we discovered recently from
a fine article
by Renee Lewis which appeared yesterday on
Al Jazeera America
is that the two issues are linked via the
despicable League of California Cities
.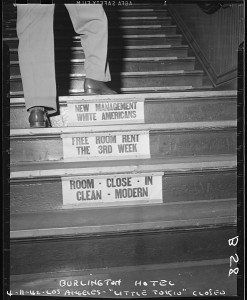 Lewis quotes various activists to the effect that "[t]he homeless are not the first marginalized group targeted by the League in its over 100-year history" and "[t]he League has supported sundown towns, Jim Crow laws, Chinese exclusion and Japanese internment." And it's true. E.g., look at
the LA Times
1
on February 16, 1942, where Richard Graves, executive secretary of the League is quoted as saying:

The most obvious advantage to be gained by enactment of such ordinances [including evacuation of Japanese-Americans] is protection of the civilian population…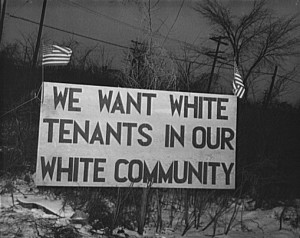 Yes, certainly. And they even sent a telegram to Franklin Roosevelt supporting internment. That's "the most obvious advantage." It's well-known, and shockingly illustrated by the above image, though, that there were plenty of other advantages to internment, less obvious, but more financially gainful for the white people, not least that they got to confiscate all the property left behind by the Japanese-Americans. And you know,
this kind of sneaky racist economic warfare
is just what the BIDs specialize in as well. It's no wonder they're allies in opposing the Right to Rest Act. It would take away one of their prime means of monetizing their oppression of the poor, the dark-skinned, the homeless. Obviously if you're on the side of the League, you're on the side of Satan. But we knew that already.
Mayors Discuss Civil Defense: City Officials Urge Evacuation of Aliens at Fresno Convention. Los Angeles Times. Feb. 16, 1942. P.A5
Image of imprisoned Japanese-Americans is public domain and we got it via Wikimedia. Image of LA hotel steps also is public domain and we also got it via Wikimedia. So too the "whites only" sign.