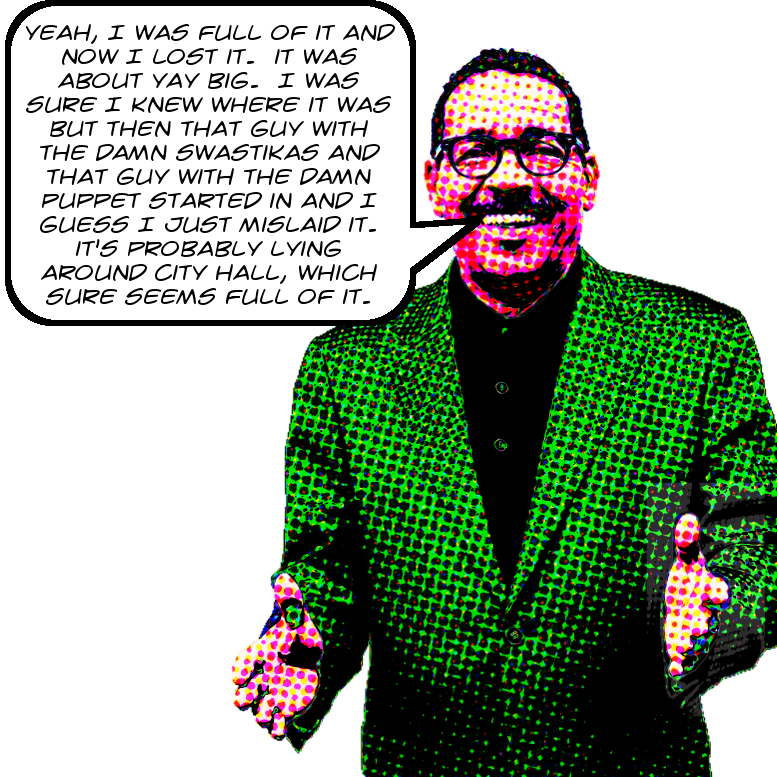 UPDATE 2: This malcriado piece of crap has now received a CF number. It is CF 16-1104-S1. Subscribe and track, friends.
UPDATE: Emily Alpert-Reyes and David Zahniser, following up on my work,1 have published an excellent article in the Times on this very matter.
Herb Wesson, our putatively esteemed City Council president, is infamous for his inability to maintain his dignity in the face of criticism. He's arranged for the City Attorney to trump up charges against Wayne Spindler, the guy with the puppets. He's tried to instigate violence to cause the ejection of Armando Herman, the guy who makes faces. Wesson has spent years now tweaking Council rules to thwart members of the public who hurt his delicate feelings during public comment. His minion Mitch Englander, of course, is no better. The two of them even tried to amend the LAMC last year to make it easier to have putatively disruptive commenters arrested, although that particular unconstitutional abortion seems to have withered and died.
So it was shocking but not surprising to find this steaming little heap of a motion in today's transmission from the City Clerk, wherein Wesson, seconded by Englander and a bunch of other folks who failed civics class, seeks to amend Council rules to allow ever-lengthening penalties for people who have been ejected from public meetings for disruption. If someone's ejected from one meeting they're ejected from all meetings for that day. The next time they're banned for three days, and so on. You can read the entire text after the break.
The problem is that this rule almost certainly violates the state constitution, which guarantees via the Brown Act the right to attend and comment at public meetings. One can't really be deprived of constitutional rights without due process, so Herb Wesson's unilateral decision that one is being disruptive at one meeting can't sensibly be enough to get one banned from other meetings. If this rule goes into effect it'll give Herb Wesson the unilateral power to ban commenters from meeting for six days.
Of course there's no principled distinction between six days and two weeks, between two weeks and a month, between a month and a year, between a year and forever. Obviously Herb Wesson doesn't have the unilateral power to ban someone from public meetings forever, so he can't do it for six days either. The Brown Act explicitly gives legislative bodies the power to clear the room for disruption, so obviously also the power to eject disruptive individuals.2 But there's no law that allows the City Council to bar people from attending a different meeting because they allegedly disrupted an earlier meeting.
The state constitution, on the other hand, explicitly gives them the right to attend the later meeting. Now, of course, I'm not a lawyer, and I'm just shooting off my mouth about this, but you'll see, I am correct. Turn the page for a transcription of the motion.
Continue reading Herb Wesson Has Evidently Completely Lost His Shit Due To City Hall Gadflies — He Introduced A Motion In Council Today To Amend Rules To Allow For Escalating Penalties For Disrupting Council Meetings — Just Like In Grade School — Almost Certainly A Violation Of The Brown Act And The State Constitution — But Herb Wesson Hasn't Let That Stop Him In The Past So Why Would He Worry Now? →