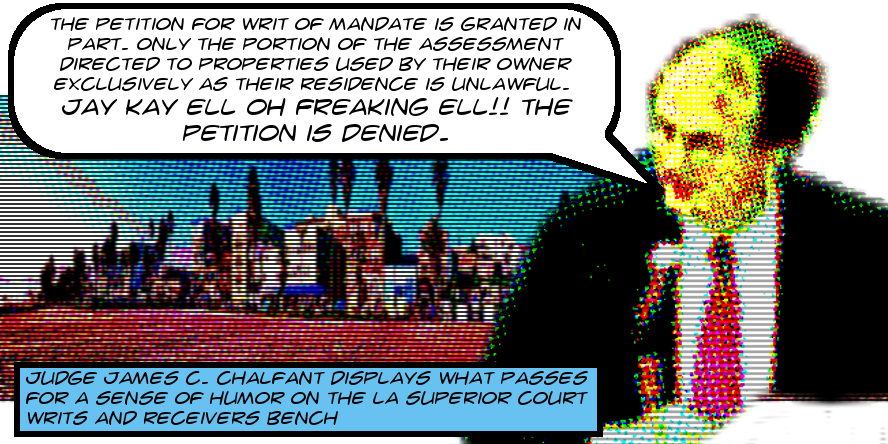 I created a page on Archive.Org to collect pleadings from the Okulicks' case, and you can find it right here. Unfortunately right now I only have the original petition and yesterday's tentative ruling, since adopted as final. This article from the Times is also useful background.
Yesterday afternoon the final hearing in the Okulick's lawsuit against the Venice Beach BID took place before Judge James C. Chalfant in Department 85 of the Stanley Mosk Courthouse of the Los Angeles County Superior Court. One of the petitioners' claims was that BIDs don't give any special benefits to property owners whose parcels are zoned commercial but are used solely as owner-occupied residential.
Last month, it seems, Chalfant agreed with the petitioners, stating in his tentative ruling at that time that:

The Petition for writ of mandate is granted in part. Only the portion of the assessment directed to properties used by their owner exclusively as their residence is unlawful. A writ shall issue directing a refund of that portion of the assessment and Petitioners are entitled to a declaratory judgment to that effect. In all other respects, the Petition is denied.

However, it seems that the respondents, i.e. the City of Los Angeles and the Venice Beach BID, convinced him to hold off on making this ruling final to allow for another round of briefing just on the specific part where he found in favor of the Okulicks. I don't have copies of those briefs, but yesterday's hearing consisted of the oral argument surrounding them. Whatever the City of LA put in its brief did the nasty trick, evidently.
By yesterday Chalfant had changed his mind completely, and nothing that the petitioners' lawyer, the brave, the honorable Geoffrey T. Stover, could say would sway the judge. Turn the page for the money quote from yesterday's bad news tentative ruling and a little bit of amateur discussion based on notes I took at the hearing.
Continue reading Judge James Chalfant Issues Final Judgment In Okulick Petition Against The Venice Beach BID — The News Is Not Good, Friends, Even Though It Seemed Last Month Like It Was Going To Be →