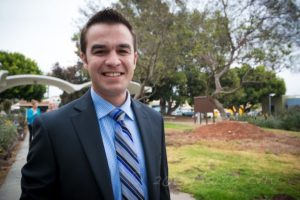 A couple of days ago I
announced MK.Org's latest project
, which aims to experimentally determine the scope of the extraordinary
LAMC 49.5.5(A)
, which states, rather succinctly, that:

City officials, agency employees, appointees awaiting confirmation by the City Council, and candidates for elected City office shall not misuse or attempt to misuse their positions or prospective positions to create or attempt to create a private advantage or disadvantage, financial or otherwise, for any person.

Anyway, today's episode involves the California Public Records Act and Mike Bonin's Chief of Staff, Chad Molnar. Since August, I've been making CPRA requests of CD11. At first they more or less complied with the law, but after the chaos at the first Council hearing in August and the subsequent humiliation caused by the City's having to redo the whole BID approval process, they completely stopped complying.
In fact, they not only stopped complying, but when I wrote to them asking them if they were going to comply, Chad Molnar wrote back with one of the most extraordinarily confused responses I've ever received to a CPRA status request. He not only agreed that they hadn't complied, but he said explicitly that they weren't going to comply, and that he believed that they did not have to comply because to comply would make their constituents suffer, and he didn't think that the intent of CPRA was to make their constituents suffer. I'm not kidding, that's what he said. Read it yourself, and turn the page for more of my amateurish legal theories, and another complaint!

Well, I don't know if you remember Proposition 42 from 2014. It was the result of some fairly technical quibbling between the legislature and various local agencies, but when the dust had settled, the people of the great State of California had enshrined a requirement that local agencies comply with CPRA right in the freaking Constitution. In fact, it's in Article I, section 3(b), and it says (in part) that:

In order to ensure public access to the meetings of public bodies and the writings of public officials and agencies, as specified in paragraph (1), each local agency is hereby required to comply with the California Public Records Act …

And this clause isn't just randomly dropped into the middle of the Constitution. Article I is the "Declaration of Rights," and it begins with what appears to be a statement of purpose:

All people are by nature free and independent and have inalienable rights. Among these are enjoying and defending life and liberty, acquiring, possessing, and protecting property, and pursuing and obtaining safety, happiness, and privacy.

And it goes on from there to enumerate various rights. For instance, freedom of speech,1 free exercise of religion,2 freedom from involuntary servitude,3 habeus corpus,4 and so on. These are serious rights, and they are right there in this Article. And the right to have local agencies comply with CPRA is right in there with them. In California, it seems, the right to have CPRA-compliant Council staff is on a par with the right to speak and worship freely and to not be a slave. It's that important, or at least it has been since 2014.5 So when Chad Molnar says he doesn't think CD11 has to comply with CPRA because it will make Bonin's constituents suffer, he might as well say that CD11 can't support the enforcement of anti-slavery laws because it would make Bonin's constituents suffer.6
And what does this have to do with LAMC 49.5.5(A)? Well, if the right to have local agencies comply with CPRA is a fundamental, even inalienable, right in California, it's certainly a disadvantage to be presented with Chad Molnar's depraved indifference to that law.7 Not only that, but the Preamble to the California Constitution makes its purpose clear: To secure and perpetuate the blessings of freedom:

We, the People of the State of California, grateful to Almighty God for our freedom, in order to secure and perpetuate its blessings, do establish this Constitution.

Obviously it is an advantage to be blessed, so to be deprived of blessings by Chad Molnar is a disadvantage. Oh, and also some concrete stuff, like e.g. to have Chad Molnar keep information away from the public until after the November 8 vote so that we don't know what's really going on with his boss's accursed Venice Beach BID also puts me and everyone sane at a disadvantage compared to the BID proponents, who get to meet with Bonin whenever they want to and always know what's going on with the BID approval process. Anyway, that's the case, and I sent it to the CEC yesterday. Here is a copy of the complaint.

Image of Chad Molnar is a public record and I got it here.