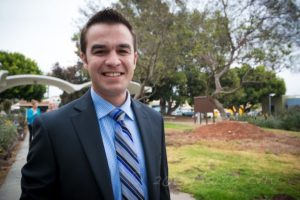 A couple of days ago I
announced MK.Org's latest project
, which aims to experimentally determine the scope of the extraordinary
LAMC 49.5.5(A)
, which states, rather succinctly, that:

City officials, agency employees, appointees awaiting confirmation by the City Council, and candidates for elected City office shall not misuse or attempt to misuse their positions or prospective positions to create or attempt to create a private advantage or disadvantage, financial or otherwise, for any person.

Anyway, today's episode involves the California Public Records Act and Mike Bonin's Chief of Staff, Chad Molnar. Since August, I've been making CPRA requests of CD11. At first they more or less complied with the law, but after the chaos at the first Council hearing in August and the subsequent humiliation caused by the City's having to redo the whole BID approval process, they completely stopped complying.
In fact, they not only stopped complying, but when I wrote to them asking them if they were going to comply, Chad Molnar wrote back with one of the most extraordinarily confused responses I've ever received to a CPRA status request. He not only agreed that they hadn't complied, but he said explicitly that they weren't going to comply, and that he believed that they did not have to comply because to comply would make their constituents suffer, and he didn't think that the intent of CPRA was to make their constituents suffer. I'm not kidding, that's what he said. Read it yourself, and turn the page for more of my amateurish legal theories, and another complaint!
Continue reading Chad Molnar's Explicit Refusal To Comply With The California Public Records Act Provides Raw Material For The Latest Installment In Our LAMC 49.5.5(A) Project →