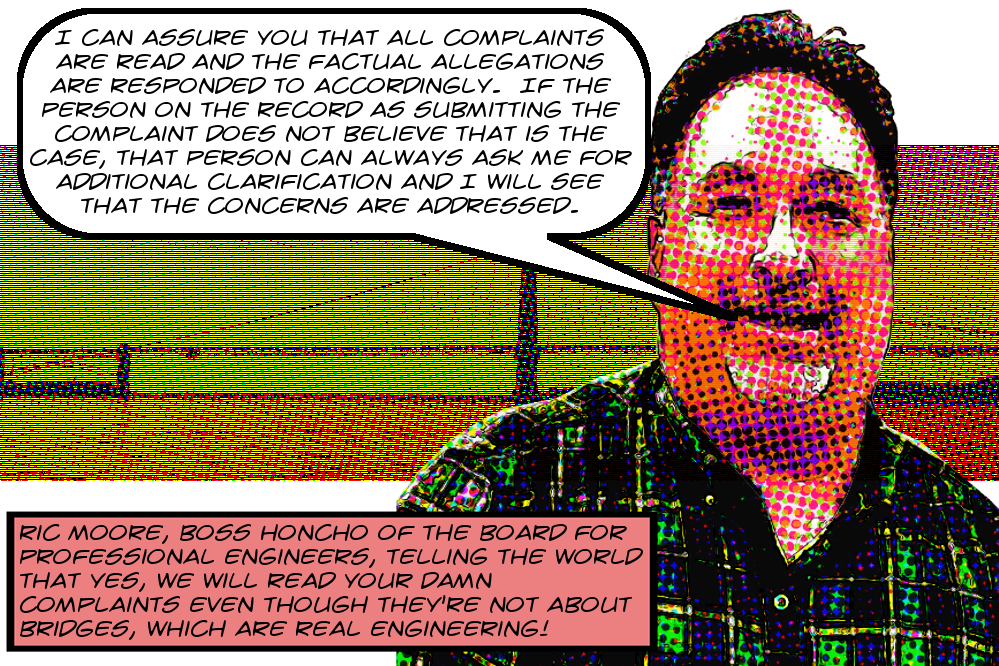 As you may know, I've been working on getting the California Board for Professional Engineers, which regulates the profession of engineering in California, to accept complaints against the engineers who write reports supporting BID formation. At first the Board's position was that the preparation of such reports didn't even constitute the practice of engineering and therefore all such complaints should be rejected a priori. After a few months of discussion, the Board seemed more entrenched than ever in this disappointing position.
However, in the last week or so, the Board, in the person of Executive Director Ric Moore, seems to have softened its position somewhat. In this email,1 Moore has made what strike me as two significant concessions:2
◈ Ric Moore stated that all complaints to the Board are read and responses reflect the actual factual allegations in the complaint.
◈ He also said that if the person filing the complaint doesn't believe that this happened he, Ric Moore, will clarify and address the concerns.
This certainly is welcome news, and Ric Moore's statements have had at least two immediate consequences. First, the Venice resident who filed the original complaint against BID engineer Ed Henning took Moore up on his officer to clarify and address concerns. Second, because Moore has committed his agency to reading all complaints and responding based on the factual allegations, I have determined to submit my own complaint against Ed Henning. I hope to have this done within four weeks, possibly sooner.
And I have updated this Archive.Org page with the additional emails (dated April 16 and 17, 2018). Turn the page for links to the new emails, transcriptions of all or part of the salient ones, and possibly a little more discussion of the issues.
Continue reading Update On The Willingness Of The California Board For Professional Engineers To Read And Consider Complaints Against Engineers Who Prepare Reports For BID Establishment — According To Boss Honcho Ric Moore They Not Only Will Read And Consider Them But He Personally Will Review And Clarify The Findings Of His Enforcement Staff — It's Hard To Know If This Is Excellent, But It Is Way, Way, Way Better Than Nothing! →