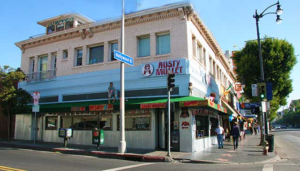 Listen, this isn't a joke. First get

a copy of the hearing notice

in the matter of the Rusty Mullet, being held at the Zoning Commission tomorrow morning. Then read the LAPD summary:


Los Angeles Police Department arrest report and crime analysis documentation of: multiple violations of Conditional Use Permit conditions including, failure to have an operable electronic age verification device, failure to implement a Designated Driver Program, failure to post mandated hours of operation, excess number of seats, allowance of amplified music to extend beyond the premises, allowance of live amplified music,

allowance of dancing

, allowance of loitering, and allowance of patrons to queue in line outside the premises; as well as,

murder, rapes, aggravated assaults, assault with a deadly weapon, batteries, physical altercations, kidnapping, possession of a weapon, narcotic drug violations, grand theft auto, robberies, burglary

, thefts, service of an obviously intoxicated person, failure of security guard to possess valid security guard license, public drunkenness, disorderly conduct, disturbing the peace, vandalism, and violation of State of California Department of Alcoholic Beverage Control required operating conditions.


You read that right. The LAPD is trying to get the Rusty Mullet shut down because they allow dancing and they cause murders, kidnappings, and burglaries. Of course, you want to know what's really going on here, don't you?

Continue reading

Last Year Fabio Conti, Carol Massie, and Marty Shelton Accused the Rusty Mullet of Having Too Many Dark-Skinned Patrons, This Year Peter Zarcone Accuses Them of Murder, Kidnapping, Burglary, Grand Theft Auto, as Part of BID-Backed Conspiracy to Pull Their C.U.P.