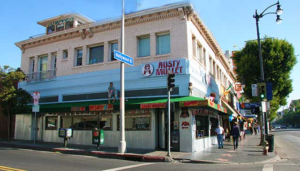 Listen, this isn't a joke. First get

a copy of the hearing notice

in the matter of the Rusty Mullet, being held at the Zoning Commission tomorrow morning. Then read the LAPD summary:


Los Angeles Police Department arrest report and crime analysis documentation of: multiple violations of Conditional Use Permit conditions including, failure to have an operable electronic age verification device, failure to implement a Designated Driver Program, failure to post mandated hours of operation, excess number of seats, allowance of amplified music to extend beyond the premises, allowance of live amplified music,

allowance of dancing

, allowance of loitering, and allowance of patrons to queue in line outside the premises; as well as,

murder, rapes, aggravated assaults, assault with a deadly weapon, batteries, physical altercations, kidnapping, possession of a weapon, narcotic drug violations, grand theft auto, robberies, burglary

, thefts, service of an obviously intoxicated person, failure of security guard to possess valid security guard license, public drunkenness, disorderly conduct, disturbing the peace, vandalism, and violation of State of California Department of Alcoholic Beverage Control required operating conditions.


You read that right. The LAPD is trying to get the Rusty Mullet shut down because they allow dancing and they cause murders, kidnappings, and burglaries. Of course, you want to know what's really going on here, don't you?

Our coverage of this issue started in March 2015 when Fabio Conti, Marty Shelton, and jittery little psychopath Carol Massie FTFO about how many dark-skinned people came to Hollywood at night and bitching and moaning about how Lindsey Lohan didn't approve of the Rusty Mullet, or something like that. One month later Peter Zarcone and the so-called Joint Security Committee began plotting how to close down some nightclubs, presumably the ones that the darkies liked so much. By last October Mitch O'Farrell was in on the fun, and the LA Times was running braindead fluff that completely missed the fact that O'Farrell was essentially reading from a teleprompter programmed by Kerry Morrison and Peter Zarcone.

Anyway, things started off with the LAPD going after the Cashmere and subsequently the Cosmo. Both of those establishments got their Conditional Use permits yanked. The Cashmere appealed over the objection of Mitch O'Farrell, who got his City Council cronies to affirm the revocation and then issued a press release crowing about it. Also, the Cosmo's permit was revoked in May. They appealed, and Dan Halden of CD13, presumably speaking for Mitch O'Farrell, emailed everybody telling them that Mitch's recommendation was going to be to affirm the revocation. Mitch O'Farrell is doing this to please some invisible constituency of his and counting on the likely scenario that no one else will notice. It's like a dog whistle, but at the end of the day, some restaurant owners have their valuable businesses destroyed and their value vaporized all because a cop, a BID executive director, and a jittery little psychopath can't stand to see non-white people having some fun.

So what's really happening here? Well, read the LAPD's recommendation for the Cashmere and for the Cosmo. Looks familiar, no? Evidently this is an LAPD, probably a Zarcone, tactic. We're guessing that they draw a circle around whatever bar they're targeting and then blame them for every crime inside the line. It's ludicrous. We understand that bars might encourage crime and so forth, but there's not a bar on earth that causes grand theft auto, burglary, and kidnapping. If they're going to shut down bars, they ought to shut them down for stuff they do, not stuff the cops make up. And when the cops do opine on the staying-open-worthiness of restaurants, it's only reasonable to expect that they not engage in copypasta like this. They're helping the City to take away someone's property, and due process is called for. Pasting some nonsense into a form about kidnappings can't possibly be sufficient.

Also, why is Mitch O'Farrell doing this? Just 8 short years ago Eric Garcetti, O'Farrell's predecessor in CD13, was super-high on nightclubs:

"People are bullish on Hollywood," said Los Angeles City Councilman Eric Garcetti, who, when he took office in 2001, got behind plans to transform Hollywood into a thriving entertainment district, pushing to encourage street life, reduce crime and foster new businesses.

"It's a feather in everyone's cap to have a place in Hollywood: people in the entertainment industry investing in nightspots, people who run clubs," said Garcetti, whose district covers much of Hollywood.

But now that Kerry Morrison and Peter Zarcone, not to mention restaurant owner Fabio Conti, whose interests are so conflicted in matters involving his direct competitors that it's astounding he's willing to show his face in public, and jittery little psychopath Carol Massie, whose main claim to fame in all this is her opinion that dark-skinned nightclub patrons on Hollywood Blvd. prefer drugs to alcohol, which means exactly… We just don't know what it means, friends… anyway, now that they've decided, possibly for religious reasons1 that nightclubs have to go, and that Hollywood Blvd. has to get more white at night, like Cahuenga between Sunset and Hollywood, the Council District, the cops, the BIDs, the Hollywood Chamber, in short, the white-skinned evangelical Hollywood zillionaire elite, still dreaming of the lost cause of the 18th amendment, they've all lined up behind Kerry Morrison's civilerotic fantasy of a dry Hollywood, and when rich white people are gunning for you, you might survive, but there will be a lot of collateral damage and things will never be the same for you ever again. So maybe the Rusty Mullet will win at the Zoning Administration hearing tomorrow, although we're betting they'll lose. Either way, though, Mitch O'Farrell's going to do them in in Council. You can quote me.


Image of the Rusty Mullet appears here under a claim of fair use and we got it from their website here.