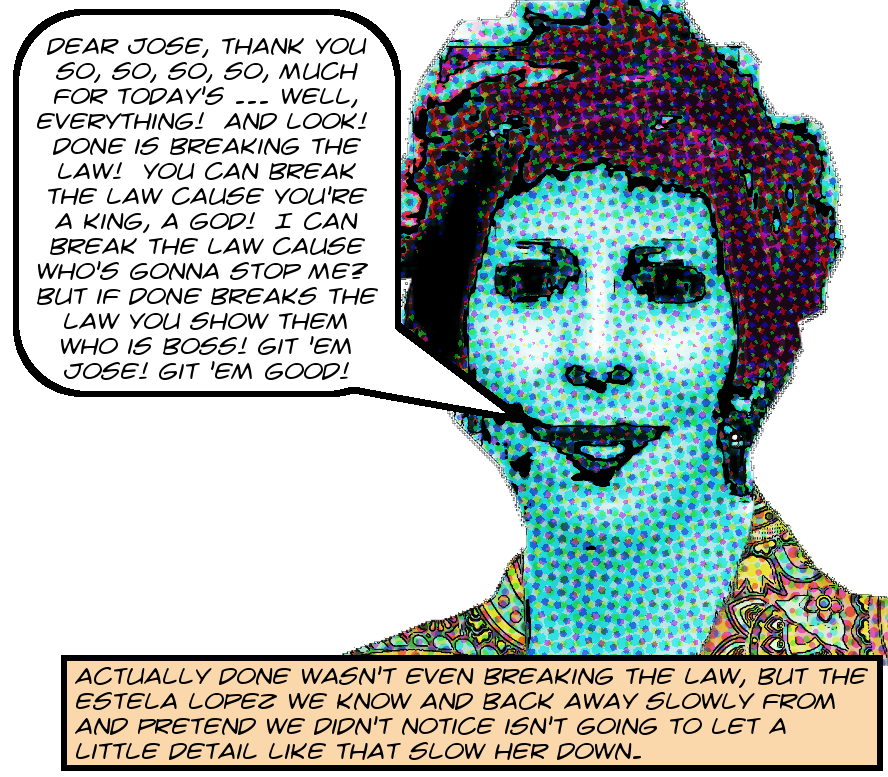 This is a new piece of an old story. You may recall that in January 2017, right after the Skid Row Neighborhood Council subdivision effort was certified by the Department of Neighborhood Empowerment, Skid Row's own high priestess of Satan and associated evil deities, that is to say Estela Lopez, made a request under the public records act seeking various bits of information to toss into the wicked potion then, unbeknownst to the side of the angels, bubbling away in her reeking cauldron and with which she and her killer klown krew of slithy minions and halfwit henchies would later put the SRNC into a coma just like Snow Freaking White.1
That's old news, of course,2 but still interesting. You can read Estela Lopez's request right here and there's a transcription of that PDF somewhere down the page in this old post. But what's new this morning is this just-obtained email from Estela Lopez to CD14 repster José Huizar,3 in which, after a little obligatory sycophancy, she complains to José Huizar that DONE didn't answer her request on time:

From: Estela Lopez <ELopez@centralcityeast.org>
To: josé huizar <jose.huizar@lacity.org>
Cc: Ari Simon <ari.simon@lacity.org>, Martin Schlageter <Martin.Schlageter@lacity.org>
Date: Fri, Jan 27, 2017 at 5:13 PM
Dear Jose, thanks so much for today's meeting. Below is the request I submitted to DONE on January 17. I have not received a reply. Today represents the 10-day deadline for at least an initial response to a CPRA request.
Have a good weekend. See you on Broadway!
Cordially,
Estela Lopez

I mean, really. The sheer platonically ideal chutzpah of this woman just boggles.4 She's complaining to José Huizar that DONE didn't answer her request within the legal deadline when (a) she herself is one of the City's worst violaters of the CPRA,5 (b) José Huizar is also essentially incapable of complying with the CPRA,6 (c) most of us don't have access to our councilmembers to encourage City departments to comply with the CPRA,7 and, worst of all, (d) DONE wasn't actually in violation of the law at that point, so she really had nothing to complain about.
Not that this kind of clueless exploitation of privilege is anything surprising at this point, but it is what we write about here. Turn the page for a discussion of the technical aspects of the CPRA relating to Estela Lopez's complaint!
Continue reading Remember That CPRA Request That Estela Lopez Made About The Skid Row Neighborhood Council In January 2017? — To The Department Of Neighborhood Empowerment About The Election? — Well Newly Obtained Information Shows That Less Than Ten Days After She Sent It She Complained To José Huizar Personally That They Hadn't Responded — This From A Woman Who Can't Comply With The CPRA To Save Her Life — Complaining To A Councilmember Who Also Can't Comply With The CPRA — Or Federal Anti-Corruption Laws For That Matter →