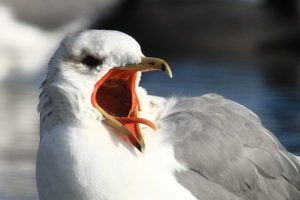 Sometimes we just have to share the weirdness, even if we don't have the first freaking clue what it means. And, as our faithful readers can attest, there seems to be no real limit to how weird the weirdness can get. Seagull eugenics right here in Hollywood, courtesy of Ms. Kerry Morrison? Why, yes! While
grepping around
in the
Andrews International BID Patrol daily activity logs
looking for evidence of another matter entirely,
1
we were amazed to come across the following information from
November 11, 2014
:

IT IS OUR UNDERSTANDING THAT KERRY HAS TRIED TO ERADICATE THE SEAGULLS IN THE HOLLYWOOD AREA BY HIRING AN EXTERMINATOR THAT FED THE SEAGULLS A FORMULA THAT SUPPOSEDLY STERILIZED THE BIRDS.

(See the whole story after the break). There is more discussion of seagulls in
a footbeat log from November 12, 2014
, including a proposed attempt to fight seagull feeding in Hollywood via restraining orders. However, in the entire nine year span of A/I BID Patrol daily activity logs, these two items are the only mention of seagulls in any context whatsoever. What does it mean? We couldn't begin to explain. But we will speculate that Kerry Morrison is highly but secretly disappointed that she can't use the same kind of methods on the human objects of her disdain, such as the
street characters at Hollywood and Highland
.
2
We will also note that forced sterilization of her avian targets is a laudably peaceable solution for the
well-armed Ms. Morrison
.
Continue reading

Kerry Morrison, Seagull Eugenicist to the Stars