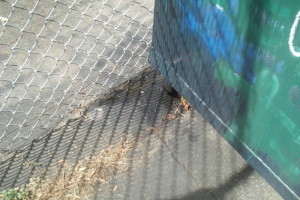 While poking around BID Patrol arrest reports recently obtained from the
HPOA
by our
faithful correspondent
, we noticed a weird, repetitive quirk in the ones relating to
LAMC 41.47.2
, which forbids public urination. The arresting security guards uniformly either ask their victim if he or she knew of the existence of public restrooms close by or else they note in their report that there were public restrooms close by. Now, whenever one finds this kind of textual consistency in police reports it's possible to be sure of two things. First, there's some element of the crime that they're trying to make sure is definitely established. Second, that they're probably lying. In this case, it was hard to see what element might be related to the proximity of public restrooms. The law doesn't mention them, and is not subtle in the least:

No person shall urinate or defecate in or upon any public street, sidewalk, alley, plaza, beach, park, public building or other publicly maintained facility or place, or in any place open to the public or exposed to public view, except when using a urinal, toilet or commode located in a restroom, or when using a portable or temporary toilet or other facility designed for the sanitary disposal of human waste and which is enclosed from public view.

But a little googling revealed the explanation, among other interesting things. First, public urination wasn't against the law in the city of Los Angeles until 2003. We're guessing that there was no pressing need to make it so because vagrancy laws could be used against public urinators as desired until
they were definitively destroyed in 1983
.
1
So maybe outlawing public urination wasn't as urgent as, e.g.,
squashing drinking beer in the park
(which was outlawed in LA only in 1983) and also, the
LA Times suggested that
previously public urinators were charged with littering, but that the City Attorney decided that that was bogus. In any case, the
Council file on the matter
shows, surprisingly, that it took more than four years to get the prohibition passed into law. There doesn't seem to have been any public discussion of the matter before it passed, either, although it may be just that the online materials from that long ago are fragmentary.
Second, the LA Times article quoted the objections of members of the Los Angeles Community Action Network and other homeless advocates to a law which criminalized essential bodily functions of the homeless, and in response, after the law was passed, according to the Times, "Council members pledged that people would be prosecuted only in cases when there is a public toilet nearby that they failed to use." So this is why, no doubt, the BID Patrol feels that it has to note the locations of nearby "public" restrooms in its arrest reports. Their weirdo interpretation of the meaning of "public" also shows why it's necessary to put things like the "public restrooms available" pledge in the law itself. Actually, once the law is passed, it doesn't matter what Councilmembers say they meant it to mean, it only matters what it says. This is how the rule of law works in a free society. Also, isn't it very suspicious but unfortunately not surprising that they put the fuzzy-wuzzy warmsy-hugsy interpretation of the law in the paper but not in the statute books?
And that's not the worst thing about this nonsense. Even if the City Council intended the law to be enforced this way, even if the freaking Mayor ordered the LAPD only to enforce the law this way, none of that would reign in the BID Patrol. They are essentially beyond the control of public policy and beholden only to the written letter of the law.2 As we've discussed before, according to LAPD Commander Andrew Smith, if a citizen's arrest is made, the LAPD must accept custody of the arrestee even if the arrest was made contrary to public policy.
We look at some specific examples after the break, and also provide links to all mentions of the words "public" and "restroom" in both the 2007 and the 2013 BID Patrol arrest reports so you can see for yourself what's going on.

On January 18, 2007, a man was arrested for public urination in Selma Park:

WE OBSERVED THE DEFT. REMOVE HIS PENIS FROM HIS PANTS AND BEGIN URINATING ONTO THE GROUND, WHILE FACING TOWARD SEVERAL CHILDREN THAT WERE PLAYING AT THE PARK. WE OBSERVED 8 – 10 YOUNG CHILDREN PLAYING IN THE PLAY AREA AND SAW A NUMBER OF THEM MOVE AWAY FROM THE LOCATION OF THE DEFT. AS HE WAS URINATING. WE ALSO WERE AWARE THAT THE DEFT. WAS IN PLAIN VIEW OF PASSING PEDESTRIAN AND VEHICLE TRAFFIC ON SELMA AVE. WE ALSO WERE AWARE THAT THERE WERE PUBLIC RESTROOMS AVAILABLE AT THE YMCA BUILDING, LOCATED ACROSS THE STREET.

And on March 1, 2007, another man was arrested for public urination at the corner of Selma Avenue and Wilcox Avenue:

WE OBSERVED A STEADY STREAM OF URINE FLOWING FROM THE DEFT.'S PENIS, ONTO THE DUMPSTER AND THEN ONTO THE CONCRETE. WE ALSO NOTED THAT THE DEFT. WAS IN PLAIN VIEW OF PASSING VEHICLE TRAFFIC ON WILCOX AVENUE. WE NOTED THAT THERE WAS A PUBLIC RESTROOM AVAILABLE A BLOCK AWAY AT CAFFEÉ ETC.

Now, the word "public" must mean in the context of the City Councilmembers' pledge, that the restroom is available on demand, without permission or purchase. Certainly that's not the case with the YMCA (at Selma and Schrader), which is locked down like a fortress. Even when we've had perfectly legitimate reasons to go in there (no one here is a member) we've been quizzed mercilessly about our intentions, our identities, and so on. It's not possible to imagine that homeless people can make it through the guards, the gates, the checkpoints, and so on, just because they want to use the bathroom.
And likewise with Caffe Etc. Restrooms are for customers only, and if you have to pay to use a bathroom it's not a fricking public restroom, got it? BID Patrol officers also stated in these reports that the restrooms in Carol Massie's McDonald's restaurants were public, which if we know our Carol at all, is news to her even now.
We did, however, learn something both interesting and useful from all this mess. Occasionally the BID Patrollies tell their victims that they could have used the bathrooms in the Hollywood Police Station on Wilcox. Now, none of us, thank goodness, have spent much time in there, but we sent Mike over to check it out this afternoon and Lo! The BID Patrollies are correct. There are pleasant, clean restrooms right in the lobby, and Officer Friendly behind the counter said anyone could use them any time! So we suppose it's OK to arrest people for peeing on the sidewalk if they're close enough to Wilcox and DeLongpre.
Now if we could only figure out why it is they have to say they saw a steady stream of urine emanating from the defendant's penis we'll understand everything. Oh, and what's up with this?? It's not enough that the urine is emitted from the penis, we have to write down what kind of a penis it was? Weirdos!

I OBSERVED HIM HOLDING HIS UNCIRCUMCISED PENIS IN HIS RIGHT HAND, EMITTING A STEADY STREAM OF URINE WHICH WAS STREAMING DOWN THE WALL AND FLOWING ACROSS THE SIDEWALK.


The image of urine is a public record, being taken from a BID Patrol arrest report.

Vagrancy laws per se were struck down by the Supreme Court in 1972, but Kolender v. Lawson put the final nail in the coffin, leading to a flood of anti-homeless legislation.