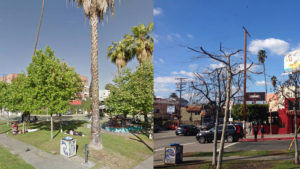 Maybe you remember in January when
Outfront Media
illegally, immorally, and with reckless disregard,
vandalized a bunch of trees in Silver Lake
. Well, that's smack in the heartland of
Mitch O'Farrell world
, so the CM and his compatriot
David Ryu
introduced
a motion
directing the
Bureau of Street Services
to figure out how to prevent this kind of horror in the future (the full
council file CF 15-0467-S4 is here
). It's a little off-topic, but nevertheless interesting, to note that Outfront is a client of
megalobbyist Veronica Perez
, at whom Silver Lake residents
directed a lot of justified rage on Facebook and elsewhere
about this issue in March.
Well, in April, BSS came back with a list of proposed amendments to the City tree-trimming ordinance, and they mean to put some teeth into it, and as we know, our old friends the Hollywood Property Owners Alliance just hate to have to follow any laws at all since, they think, laws are what criminals break and we're not criminals.
HPOA staffies Kerry Morrison and Matthew Severson, who propound the views of their masters with a level of passion that only the paid flunkies of zillionaires seem to be able to muster, frame it as a matter of more misdirected and incompetent government regulation. Real-estate zillionaire, BFF of Kerry Morrison, and revealed plagiarist John Tronson is gonna talk to Mitch about it at the fundraiser next week. Mark Echevarria, boss of Los Angeles spiritual/cultural nexus Musso & Frank, proves that you don't have to be a genius to run a holy site by chuckling over the fact that he's never heard of tree surgeons. It's just yet another display of ignorance, privilege, and conspiracy to bribe public officials; business as usual at the HPOA. You can watch the whole thing here, see a complete transcription after the break, and turn the page for line-by-line commentary.
Continue reading HPOA to Oppose O'Farrell/Ryu Motion on Tree-Trimming. Kerry Morrison: This is Overkill. John Tronson: I'm Having a Fundraiser for Mitch; I will Talk to Him. Mark Echevarria: What the Fuck is a Tree Surgeon?! Hurr Hurr Hurr →