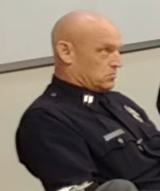 On Thursday, February 18, 2016, the Board of Directors of the Hollywood Property Owners Alliance met. The main topic of conversation was a request from LAPD Captain Peter Zarcone, commanding officer of Hollywood Station, to the BID to arrange for the BID Patrol to work until 4 a.m.
1
The idea seems to be that this would relieve the LAPD somewhat. The HPOA has been in conversation with Mitch O'Farrell, who is said to be eager to pay for some or all of this project out of his discretionary funds. There was also a brief mention of plans to deputize the BID Patrol so that they would be able to issue citations. I will be writing much more about this, but I wanted to get it up here soonest, since it ended up taking far longer than I expected to transcribe the discussion, which went on for over forty minutes. You can see the first part
beginning here
, and it's continued
in the second part here
. Transcription after the break.
Continue reading

LAPD Asks HPOA to Arrange for Late-Night BID Patrol Hours, HPOA Agrees to Pilot Program; Mitch O'Farrell Said to be Eager to Pay Costs. Also, Plans to Deputize BID Patrol May be in Works