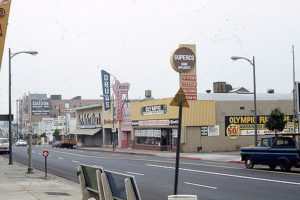 Long-time readers of this blog will recall that the
locus classicus
of operational BID policies in the City of Los Angeles is to be found in
Council File 96-1972
, which is too old to have actual documents online, but I
scanned and published a number of them
last year.
1
Therein may be found the City's
BID Policy and Implementation Guidelines
, which are meant to provide an L.A.-specific implementation of the
Property and Business Improvement Law of 1994
.
Chapter 2 of that law describes the process for establishment and renewal of a BID,2 and it's remarkable how tentative, how conditional the process is. It's well-known by this point that in order for a BID to be formed it's necessary that property owners representing more than 50% of the assessed value be in favor.3 It's necessary, but it by no means sufficient. Section 36625(a) very clearly leaves the question of formation up to the Council:

If the city council, following the public hearing, decides to establish a proposed property and business improvement district, the city council shall adopt a resolution of formation…

The only mandatory requirement with respect to BID establishment in the whole Chapter is found in Section 36623(b), which says that if owners holding 50% or more of the assessed value are opposed to the BID, not only can it not be formed, but no further attempts can be made to form it for a year.
And the discretionary nature of the process is reflected in the City's BID Policy and Implementation Guidelines as well. Therein it states:4
The City Council can proceed with the BID if the protest is less than 50%. However, BID proponents are cautioned that they should not expect a favorable vote from the City Council with a significant number of protests.

From the context it's clear that the policy means that there is some threshold of protest less than 50% with respect to which the Council will not establish the proposed BID even though the Property and BID Act would allow them to do so.
Thus the question arises as to what this threshold is. Well, it turns out that an episode early last year involving the Los Feliz Village BID sheds some light on this question.5 The short answer is that business owners6 representing 16.95% of the assessed value protested, an unprecedented number,7 and yet City Council renewed the BID unanimously. Turn the page for a detailed recounting of the tragic details!
Continue reading What Does The City Of Los Angeles Consider "A Significant Number Of Protests" Against BID Formation Or Renewal? A Tragic Lesson From A Failed 2016 Attempt To Disestablish The Los Feliz Village BID →