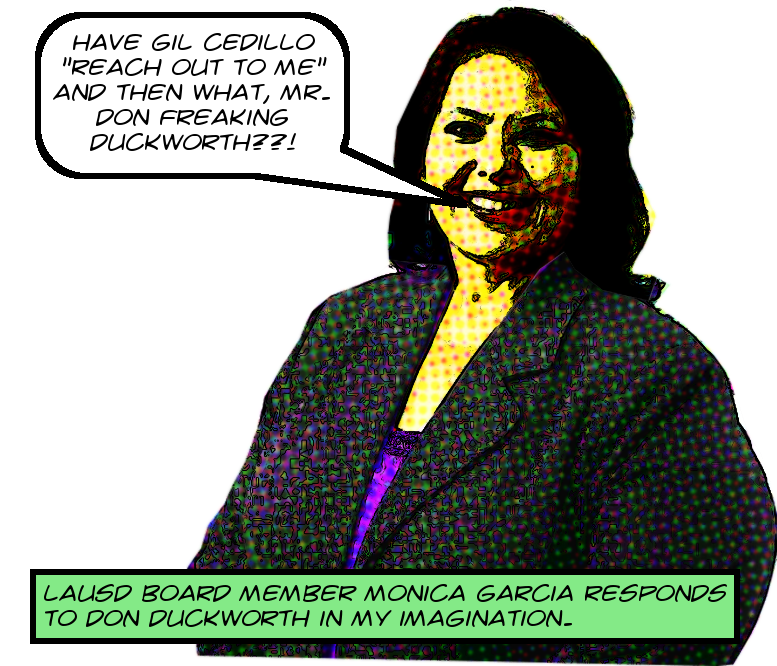 It's well-known that the City of Los Angeles always votes its property in favor of BID formation. In fact, an ordinance passed in 1996 directs the Clerk to vote yes on both petitions and ballots unless the City Council specifically directs otherwise. And to my knowledge, the same has been true of the Los Angeles Unified School District. There have been signs, albeit not dispositive, of some LAUSD discontent with the policy, e.g. the probably intentional voiding of all petitions, but no open rebellion that I'm aware of.
And BIDs are evidently used to taking LAUSD petitions and ballots for granted. For instance, the Byzantine Latino Quarter BID is currently in the process of renewing.1 And I just received a huge release of emails about the renewal from BLQBID director Moises Gomez, which you can look at here on Archive.Org. It's clear from the discussion that Don Duckworth and Moises Gomez were counting the LAUSD petitions as already-hatched chickens2 but, amazingly, it was not to be.
In April 2018 LAUSD staff prepared a report recommending that the Board sign petitions approving seven BIDs in Los Angeles. But at its May 8, 2018 meeting, the LAUSD Board voted down the staff proposal, and, according to staffer Yekaterina Boyajian, writing in an email to Moises Gomez on May 21, this is how it went down:

The proposal for the District to sign these petitions in support of the BIDs was not approved. The Board expressed the desire to support the BID petitions, and staff spoke to the positive relationships schools have with existing BIDs, but the Board felt that they could not justify supporting the expenditure of public education funds for purposes other than education in a time when the District is facing historic budget deficits.

It wasn't just the BLQ BID that got its hopes dashed, either. The other BIDs whose petitions were rejected were the Arts District, the Fashion District, the Hollywood Entertainment District, the Hollywood Media District, the Lincoln Heights Benefit District, and the Melrose BID. Quite a distinguished list, eh?
And turn the page for a detailed explanation of the BLQ BID's evolving thinking about these LAUSD petitions between February and May 2018, along with the usual links to and transcriptions of any number of really interesting emails!
Continue reading Has The Los Angeles Unified School District Turned Against BIDs? — At Its May 8, 2018 The School Board Voted Against A Staff Recommendation To Support Seven Renewals — On The Grounds That The Money Would Be Better Used For — Gasp!! — Educating Students →