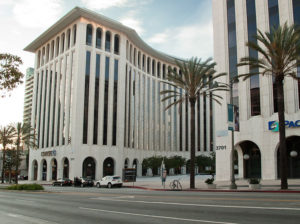 A super-short note to announce the availability of two years worth of minutes and agendas from the Wilshire Center BID Board of Directors. These are available both
via Archive.Org
and also in
local static storage
. These are interesting for the usual reasons, e.g. understanding connections between BIDs and City agencies, what BIDs are up to with respect to public policy, and so forth. And, as usual, there's also some weirdness to mock, although, sadly, nothing even approaching
the real-estate-agents-on-acid weirdness of the Pacific Palisades BID
. For instance, in the
October 2015 minutes
we read:

The question of why homelessness is worsening was discussed. Early release of criminals, mental illness, and service resistant individuals are some of the major reasons. By using a nurturing approach, more of the homeless may be helped. Getting to know individuals, helping out by giving socks, asking if they would like help, are some of the ways the LAPD is breaking through.

The principle of charity leads me to assume that these are the kind of socks one wears on one's feet rather than the kind one might expect the LAPD to be handing out to the homeless if one were to consider their long, long history of violence.
By July 2016 we have learned that the BID is working with its Council Offices, but they don't know how to spell David Ryu's name and they seem to think Herb Wesson's name is Justin:1
The BID will continue to work closely with the LAPD and the Council Offices, CD4 (Councilman David Ru) and CD10 (Justin Wesson) to help mitigate problems in our area.

Finally, if you're interested in extreme CPRA geekery, turn the page for a brief discussion of how the WCBID violated the law by exporting these minutes from Microsoft Word as PDFs, sending me only the PDFs, and then refusing2 to send me the Word documents.

The relevant section of CPRA is 6253.9(a), which states pretty darn clearly that:

6253.9.
(a) Unless otherwise prohibited by law, any agency that has information that constitutes an identifiable public record not exempt from disclosure pursuant to this chapter that is in an electronic format shall make that information available in an electronic format when requested by any person and, when applicable, shall comply with the following:
(1) The agency shall make the information available in any electronic format in which it holds the information.
(2) Each agency shall provide a copy of an electronic record in the format requested if the requested format is one that has been used by the agency to create copies for its own use or for provision to other agencies. The cost of duplication shall be limited to the direct cost of producing a copy of a record in an electronic format.

Now, take another look at the October 2015 minutes quoted from above. In the metadata we see the following information:3

File Name : WCBIC Board Meeting nots 10-22-15.pdf
Directory : .
File Size : 64 kB
File Type : PDF
MIME Type : application/pdf
PDF Version : 1.3
Linearized : No
Page Count : 2
Title : Microsoft Word – WCBIC Board Meeting nots 10-22-15.doc
Producer : Mac OS X 10.10.5 Quartz PDFContext
Creator : Word
Create Date : 2017:01:19 22:51:07Z
Modify Date : 2017:01:19 22:51:07Z

It's clear from this that the minutes from October 2015 were written in MS Word and converted via MS Word to PDF in January 2017. This is true for all the minutes they sent, although a bunch of them were converted to PDF today, clearly in response to my request.
It turns out that when MS Word exports documents as PDFs it introduces a bunch of spurious line breaks, which makes it nearly impossible to search for multiword phrases from the command line in batch, which is something I do a lot of. Also, the law is the law, and people have to follow the law. With these two things in mind I asked the BID to send me the Word versions, referring to the law, which requires them to do so. And here is how they answered:

Although recently created as pdf's, it is our policy to maintain them only in pdf form, we were simply behind in doing that. We do not share these documents publicly in anything other than pdf form.

Isn't it just the cutest thing ever how these BID folks think their made-up policies mean thing one? Anyway, here's how I responded. No answer yet:

If you have not deleted the MS Word files, please send them to me. If you deleted them after I asked for them, please say so explicitly. If you have not deleted them and you are refusing to send them to me because of an internal policy, please consider that the law supersedes your policy and send them to me in MS Word form as is required by the law.

If anything happens, you'll read about it here!

Image of 3701 Wilshire Blvd. is from Wikimedia, and you can read up on the licensing info there if you want to.

Rather than "Herman" which, as everybody's favorite puppet-wielding crackpot Wayne Spindler never seems to tire of reminding everyone, is Herb's real name. Not Herb, and especially not Justin.
On Linux I use the absolutely fabulous free software tool ExifTool for reading metadata from just about every file type in existence. According to Wikipedia it's platform independent, but I can't speak from experience to that issue.