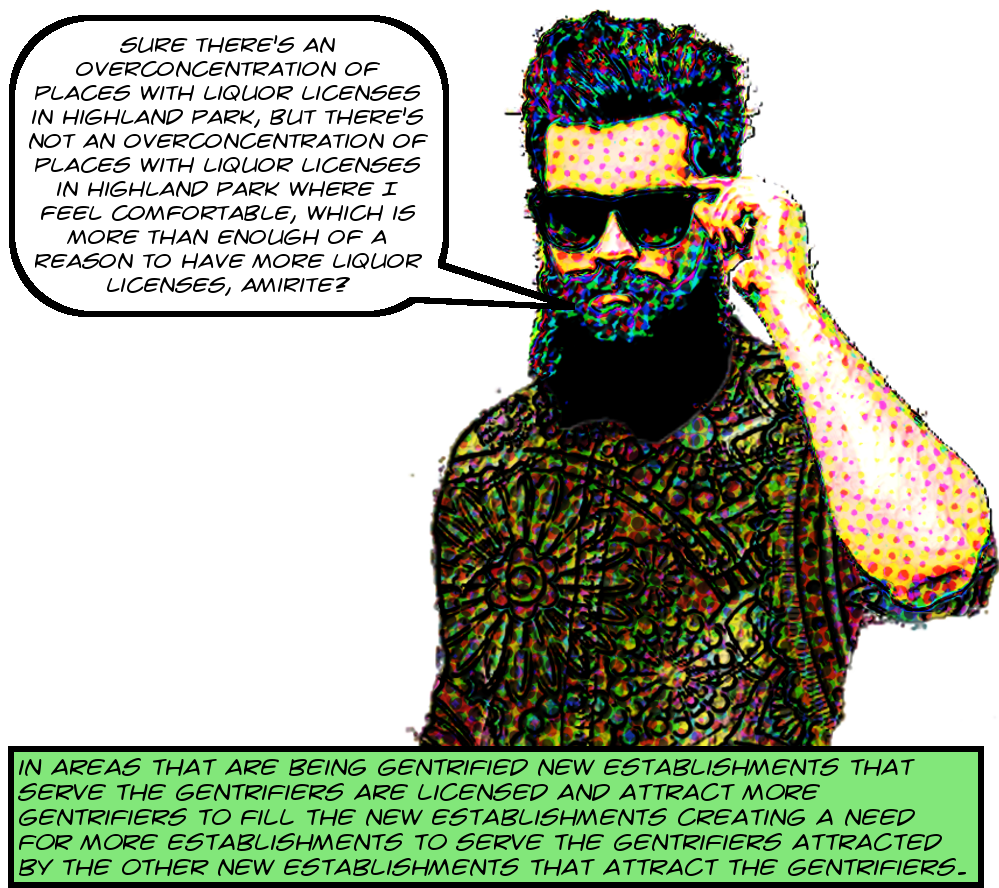 The social control of alcohol is one of the eternal sites of contention in our City's gentrification forever war. Zillionaires conspire with the City to shut down bars that attract people of color in Hollywood at the same time as they're conspiring with the LAPD to overlook CUP violations by white-oriented bars.
Council offices intervene with the ABC on behalf of hipster-friendly alcohol-soaked events while supporting business improvement districts that arrest thousands of homeless people for drinking beer on the sidewalk, often right next to happy hipsters swilling $20 craft cocktails, also on the sidewalk but immunized against arrest by nothing more than a velvet rope.
This idea, this fundamental tenet of the zillionaire elite, that poor people, that people of color, can't be trusted with access to alcohol but that young white hipsters and techbros on whom the zillies rely to buy flipped houses and small lot subdivision units, to fill their luxury apartments, to patronize the painfully edgy establishments that attract more and more of their kind, not only can be trusted with alcohol, but virtually thrive on it, is an important component in the gentrification toolkit.
The truth, of course, is not that they don't cause trouble when drinking, but that the trouble they cause isn't perceived as such. The alcohol/gentrification cocktail is an issue across the City, even the country, e.g. from Westlake to Boyle Heights all the way to Brooklyn, where an overconcentration of bars in general, and of specifically gentrification-themed bars in particular, are easily understood to be part of the zillionaire recolonization agenda.
And as the Los Angeles Times famously observed of Highland Park in 2014, "[i]n the endless debate over gentrification in Los Angeles, [it's] ground zero," so it's not surprising to find the same disputes, the same tensions reproduced there. According to KPCC Highland Park comprises four square miles and had, in 2016, 60 liquor licenses, 20 of which were issued between 2013 and 2016. And this is an abnormally high number. There are pretty many more licenses in Highland Park than are allowed by standard measures used by the Department of Alcoholic Beverage Control.
That doesn't mean that they won't issue new licenses, though. It just means that new licenses are subject to a more rigorous vetting process, which must include a showing that there are good reasons for the overconcentration, that the new license will "serve a public convenience and necessity," and that it won't contribute to or create new alcohol-related problems in the area. This is all laid out in Chapter 6, Article 1 of the California Alcoholic Beverage Control Act.
In order to begin to understand how this process plays out in Highland Park, I recently obtained detailed application information for six of these new licenses, at Cafe Birdie, Kitchen Mouse, The Lodge Room, The Greyhound, The Gold Line Bar, and Highland Park Bowl. And it turns out that, in an astonishing display of circular reasoning, the fact that the area is gentrifying is in itself evidence that additional licenses granted to gentrification bars are both desirable and necessary.
The applicants don't call the process gentrification, by the way. They call it revitalization, which term, in a stunning act of passive erasure, assumes that Highland Park wasn't plenty vital before they showed up. Turn the page for links to and transcribed selections from some of the applicants' arguments.
Continue reading When A Neighborhood Has More Liquor Licenses Than Are Ordinarily Allowed It's Still Possible To Get New Licenses — It's Just Necessary To Give Reasons Why The New Licenses Will "serve a public convenience and necessity" — And It Turns Out That The Alcoholic Beverage Control Department Accepts Gentrification — Which In This Context Is Called "Revitalization" Or "Resurgence" — As A Reason — Not To Mention The Fact That Already Vital Neighborhoods Can't "Revitalize" — Unless Of Course The Wrong Kinds Of Vitalizers Are Ignored →