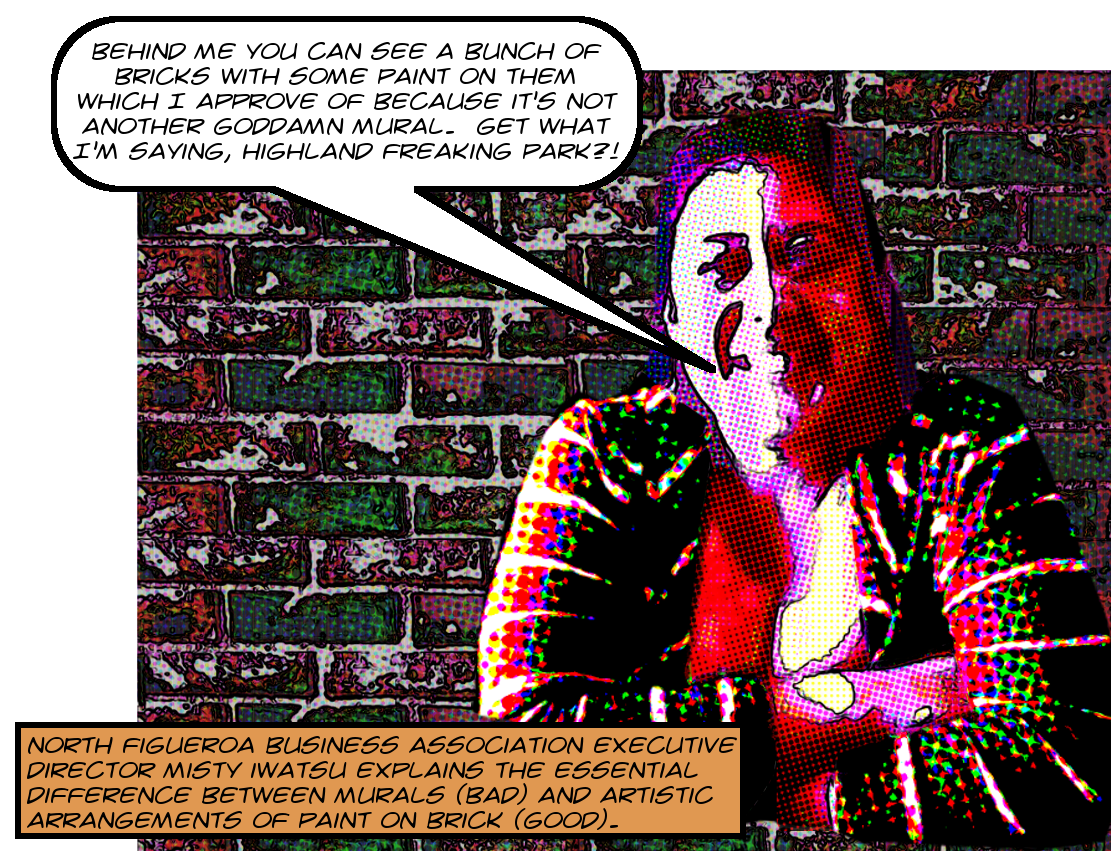 One purpose of this post is to announce the availability of a bunch of emails from the Highland Park BID from 2017 and early 2018. The Highland Park BID is a new client1 of mine, and thus far they, in the person of their executive director Misty Iwatsu, have been exceedingly cooperative, for which I thank them very much.
There's a lot of interesting material in there,2 and I'll be writing about at least a few more items over the coming weeks, but most interesting of all, I think, is some material from November 2017 about antigentrification activists in Highland Park and their understanding of the BID's role in social cleansing for the sake of financial gain.3
This story provides an excellent example of what pernicious gentrification looks like in Los Angeles, how it is covertly but significantly supported by the City government, and how property-based BIDs do not care a whit about the interests of business owners per se. They only care about the interests of the owners of commercial property who, in this City at least, are predominately white. Turn the page for all the details!

Chronologically, our story begins on November 17, 2017, when HPBID VP Stuart Rapeport fired off this terse little email to Titina Folliero, boss-lady supremo of the deservedly famous Highland Park pizzeria Folliero's, and all it said was:4
https://www.facebook.com/photo.php?fbid=1660983417297541set=a.103737106355521.5311.100001576960847&type=3&theater

There's a lot of interesting stuff going on in that conversation, and I'm looking into various aspects of it via CPRA, but for now the salient part is the debate between Highland Park community activist Mando Medina and event organizer Socorro Serrano5 about FigJam 2017.6 Mando Medina kicked things off with this remark:

UPDATE ON MITSY IWATSU AND THE FIGJAM EVENT
So some of the organizers are saying Mitsy is not part of this years FigJam BUT
The name FigJam is under her name
And the permits for the event is under her name
And it has come to my attention that not only did Mitsy Iwatsu call to take down the Murals in Hlp BUT she also calls the cops on street vendors in Hlp

This has so much information in it. Most importantly, note the claim that Misty7 acted against murals in Highland Park.8 And this claim is clearly not imaginary, because his interlocutor, Socorro Serrano, not only didn't deny that Misty Iwatsu did something with the murals, she explicitly confirmed it:

Greetings Mando. As I said when I reached out to you by text and at the LATU meeting, our four volunteers are not a part of what Misty did two years ago with the murals or what she is involved with now.

Which brings us to November 20, 2017, when HPBID VP Stuart Rapeport fired off this prickly little missive to various folks:

Subject: HP pro-mural group video
From: Stuart Rapeport <Vice-President@oldla.org>
Date: 11/20/2017 04:58 PM
To: Misty Iwatsu <mistyli@aol.com>
CC: amy <amy@futurestudio.com>, Tom Wilson <tom@duckettwilson.com>, "gustavo@oldla.org" <gustavo@oldla.org>
BCC: billcodyus@yahoo.com, James-Greyhound Bar & Grill <james@the-greyhound.com>
who/what is the North Figueroa Business Association?
https://youtu.be/MAk3GtCuLYE

Ignore Stuart Rapeport's bitter juvenile sarcasm,9 the video is really worth watching. It's by Mando Medina10 and explains the impact of the lost murals.
On the same day, and roughly at the same time, Misty Iwatsu was also engaged in an ongoing discussion with people from the City of LA and others about repairing some tile mosaics. The email chain is here. The issues seem intricate11 but everybody's really concerned about impending protests against gentrification.
And evidently the protests were a great motivating force because soon afterwards, a group called Restorative Justice for the Arts began interviewing local Latino business owners as part of an investigation into whether FigJam and the HPBID's POA the North Figueroa Association, was promoting hipster gentrification businesses and ignoring long-time, mostly Latino-owned and patronized businesses and also whether they were being intimidated by highly selective enforcement of City laws against murals and advertising in the windows of stores.
There's a lot of interesting material on their YouTube channel, but be sure to watch this compilation of their interviews. This provides pretty solid evidence that FigJam, despite Socorro Serrano's denials, wasn't much interested in promoting Latino businesses operating in Highland Park before the hipster apocalypse. And, as Mando Medina pointed out in that Facebook thread,12 the whole FigJam thing was initiated by the BID.
And the question of why the BID, which after all is a business improvement district, would care to promote white-serving hipster businesses over other small businesses is a crucial one. As you may recall from innumerable other posts of mine, the State of California allows three kinds of BIDs: Merchant, Property, and Tourism. Merchant BIDs are run by business owners, Property BIDs are run by commercial property owners, that is, by the landlords of businesses, and, as usual, Tourism BIDs aren't important in the City of Los Angeles.
Property owners are interested in maximizing their rents. So while it's true that they'd prefer successful but low revenue businesses to vacancies, if they have a choice of tenants they'd much rather have high revenue businesses, which can withstand significant rent increases without folding or relocating.
And decades ago, when many of the older Highland Park businesses were founded, the rents were low, and the business models relied on those low rents. Now, after the hipster apocalypse, the landlords have their pick of tenants, and the white-serving hipster-forward businesses can pay many times the rent that the older businesses can pay.
That is why landlords all over Highland Park are increasing rents by 250% or more. They know they can get new tenants who can afford the premium. So the BID, which by design serves the interests of property owners, and by some kind of extension FigJam, which although this year perhaps it's independent of the BID is nevertheless a creature of the BID, aren't interested in promoting businesses in Highland Park. They're actually interested in destroying many businesses in Highland Park.
It's worth noting that this would be much less likely to happen with a merchant-based BID. Merchant BIDs have no incentive at all to favor one kind of business over another or to favor high revenue new businesses over low revenue older ones. Furthermore, merchant BIDs are far more likely to represent a racially diverse set of owners. Commercial property in the City of Los Angeles is still, so many years after the practice was outlawed, largely owned by white people.
And the City of Los Angeles is deeply complicit in this scenario. Not only does the City pay for BID formation and often take the lead role in the BID formation process, but they also have a strong preference for property-based BIDs. In Highland Park, in particular, despite the fact that Gil Cedillo talks a good game with respect to tenants' rights and related progressive issues, this BID is his creature.
And therefore the gentrification promoted by the property owners in the BID is his responsibility. And there's nothing special about the HPBID, about Cedillo and CD1. The same thing is played out in neighborhood after neighborhood across Los Angeles. The City presents gentrification as nobody's fault, as the result of the natural and uncontrollable impulses of property owners even while the City is empowering these people by giving them BIDs to amplify their already overwhelming influence.
Sure, the Highland Park BID predates Cedillo's incumbency, but that's irrelevant. The City Council has the absolute right under the BID law to control what the BID spends its money on.13 And as every Angeleno knows, for local issues like this one the City Council will do whatever Cedillo asks them to. He could completely rewrite their spending plan to e.g. not only stop them from supporting gentrification but even to require them to mitigate it somehow.
Councilmembers don't like to be reminded of this power because it removes their ability to shift blame onto BIDs for policies they don't want to be strongly identified with, but they have the power nonetheless, and their failure to exercise it means that they are as morally responsible as the property owners in the BID.
Or even more so, perhaps, as really, without City Council approval, BIDs can't even come into being. Without ongoing approval they can't continue their existence. Property owners are going to wreak economic havoc on humans. It's just what they do and everyone expects it. Councilmembers too will wreak havoc, but it's not just what they do. They do it and deny it at the same time. Not OK, Gil Cedillo.
And as a bonus for making it this far, cast your eyes upon this jittery little email from February 2018 in which BID VP Stuart Rapeport writes to BID President Tom Wilson about some anti-BID material on Facebook, proving that their bizarrely stalky behavior continues even to the present day. Weirdos!

Image of Misty Iwatsu is ©2018 MichaelKohlhaas.Org and is essentially an electronic mural generated out of this little fellow here.