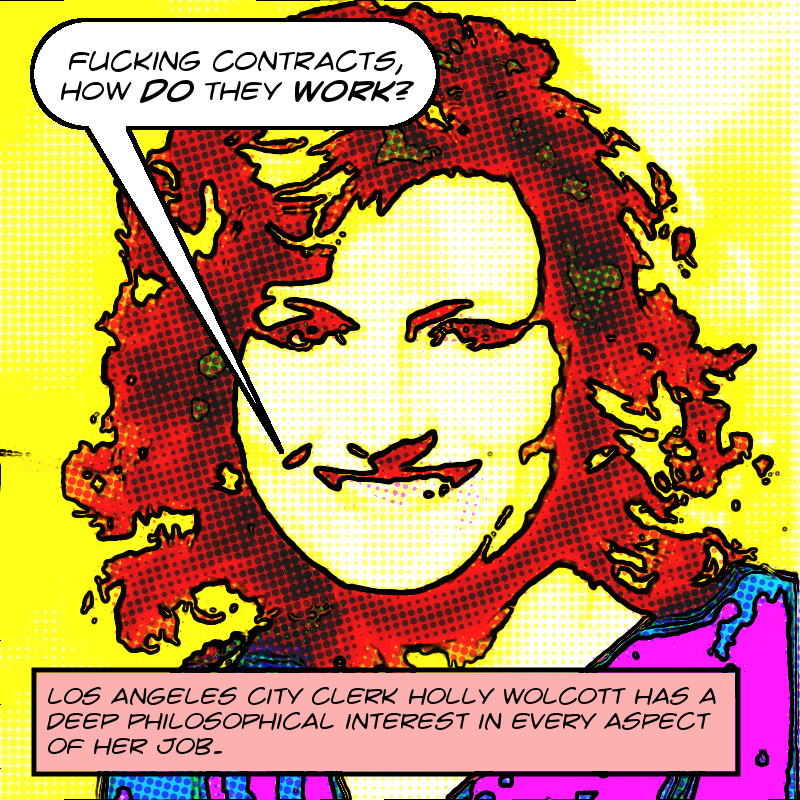 Yesterday evening, BID-lawyer-to-the-stars Jeffrey Charles Briggs passed along almost 200 emails between Media District BID executive director Lisa Schechter and various people at the City of Los Angeles. These are available en masse at Archive.Org. As always, there's a lot of chaff in there and a few super-interesting things.1 Perhaps today's story is an example of the latter.
It began on February 28, when Rita Moreno, newly of the Neighborhood and Business Improvement Division of the City Clerk's office, the unit that's meant to oversee the operations of BIDs and make sure that they follow the law and stuff, emailed a bunch of BIDdies to introduce herself and note that only a few of them had their meeting times posted on their websites. Of course, the Brown Act explicitly requires BIDs to notice their meetings on their websites,2 but that's actually not why Rita was on about this. She was just trying to find out when they met so that she could attend. In fact, it's not even clear that Rita Moreno knew about the Brown Act requirement.
However, the very next day, our old friend Lisa Schechter of the Hollywood Media District BID, who is not generally known for her law-abiding behavior but who has by now been educated by years of our intense scrutiny to the point where, I hope, she's beginning to realize that it's just easier to follow the law,3 wrote back to Rita Moreno, fishing for praise from this unlikely authority figure:

Dear Rita:
Just to reiterate, all of our meetings are posted in accordance with the Brown Act (Committee as well as Board) – Further you have been placed on our automatic distribution list which triggers and [sic] email directly to you for all of our meetings. If you should require any further information please do not hesitate to contact myself or our operations manager, Jim Omahen.

And, a couple hours later, Rita Moreno replied:

Yes…you got a star ★

And if you're new to BID studies, you're probably wondering why this puerile exchange is not just idiotic, sycophantic, and moronic, but also deeply offensive and discouraging to anyone who cares about the rule of law in Los Angeles. Well, read on!
Continue reading Yet Another Example Of City Of LA Indifference To Illegal BID Shenanigans: City Clerk BID Analyst Rita Moreno Hands Out (Literal) Gold Stars To BIDs For Minimal Brown Act Compliance But Doesn't Do Or Even Say Anything To BIDs Who Are Not Only In Violation Of The Law But Have Been Flouting It For Years On End →