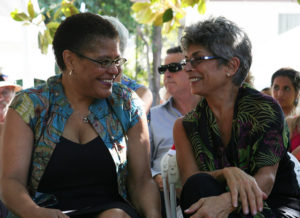 Through the good graces of Los Angeles City archivist Michael Holland I recently obtained
recordings of three meetings of the Public Safety Committee of the LA City Council
from 1999 and 2000 at which the issue of BID Security registration with the LA Police Commission was discussed. If you've been
following the story
you'll recall that
LAMC 52.34
seems to require that BID security register with the Police Commission, and that they do not so register, and that no one seems to know why. I copied
the entire Council file
on the issue but the reason is still not clear. These meetings may shed some light on what's going on. There's a brief guide to one of them after the break.
I've only listened to the first meeting, wherein the interesting stuff starts at 03:19 and runs for about 30 minutes thereafter, but there's nothing new to be learned there other than that Mike Feuer, who at that time was a Council Member and was on that committee, sounds more clueless than I'd have thought he would be (his brief moment of glory starts at 16:25). There's also another demonstration of the previously known fact that Carol Schatz was a big a whiner in 1999 as she is in these latter days and she can whine almost as effectively through her Charlie McCarthy stand-in Randall Ely as she can in person; check 18:19 if you're interested. Oh, I'm being too hasty! Then-executive-director-of-the-Police-Commission Joe Gunn (starts at 06:45) is revealed as a sane, wise, competent individual.
I haven't listened to the other two yet, so if you do and you spot something interesting, please drop me a line!

Image of Laura Chick and Karen Bass is freely licensed per its Flickr page.