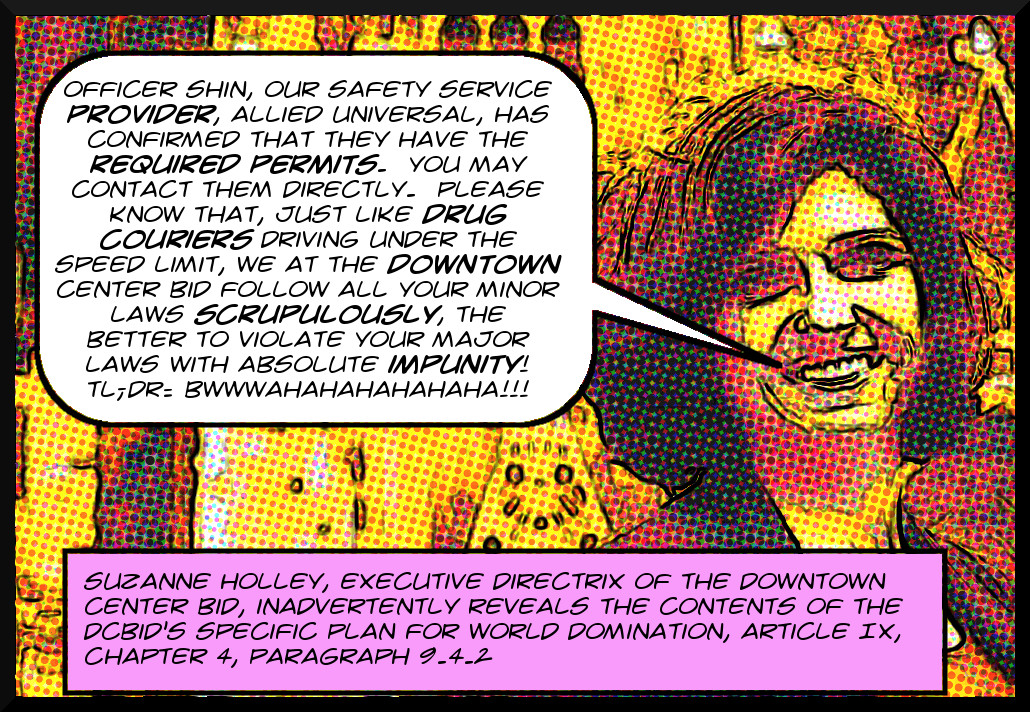 Here's a brief summary of the background: Late last year, on the basis of my complaint to the Police Commission, the City of LA resumed enforcement of LAMC 52.34 against BID security forces.1 Since then I've been tracking the progress of this massive project via various CPRA requests. In November 2016 the Police Commission informed all BIDs of the registration requirement. In December 2017 the Police Commission told the BIDs to quit whining and comply with the law.
Yesterday, after numerous failed attempts on her part,2 Suzanne Holley of Carol Schatzie's baby-doll of a Downtown Center BID, sent me a bunch of emails between her staff and the LAPD. You can get all of these at Archive.Org in various useful formats.3 Amongst these was yet another copy of Eugene Shin's email to all BIDs directing them to get their security patrols registered with the Police Commission.
But much more interesting than that was DCBID Executive Directrix Suzanne Holley's response, sent precisely 59 minutes later, informing Eugene Shin that…well, I'll let Suzanne Holley tell you in her own words, right after the break!

Well, OK, bait and switch. The transcription of the email's down at the bottom of the post. Meanwhile, what she said was essentially "Hey Eugene, we is already registered!!" This, of course, is pretty ironic, considering that it was due to Carol Schatz's bitching and moaning in 1999 that led to suspension of the enforcement of LAMC 52.34 in the first place. In context though, it's not surprising. Drug couriers, hit men, human traffickers, and other members of the criminal class, it is well-known, drive at precisely the speed limit on the freeway, or if they're extra-sophisticated, five miles an hour over it so they don't look like they're trying to look unsuspicious.4
Clearly that's got to be what the DCBID is up to here, with their ultra-suspicious adherence to the letter of the law. They're not fooling me, though. The undisputed5 fact is that the Downtown Center BID is up to absolutely no good. Just cause the proof hasn't come to light yet doesn't mean it won't. After all, if they're not involved in a criminal conspiracy, why did they, out of all the BIDs in the whole damned City, go to the trouble to have a security provider that was following the law? If that's not circumstantial evidence I don't know what is.6

From: Suzanne Holley
Sent: Tuesday, November 29, 2016 11:09 AM
To: 'Eugene Shin'
Cc: Carol Schatz; Brian Raboin; Banyon Hutter (Banyon.Hutter@aus.com)
Subject: RE: Los Angeles Police Department Police Commission ‐ Request for Security Company Information
Officer Shin,
Our safety service provider, Allied Universal, has confirmed that they have the required permits. You may contact them
directly via:
Banyon Hutter
Regional Vice President
Allied Universal
Cell: 213‐276‐2011
Banyon.Hutter@universalpro.com
639 Wilshire Blvd
Los Angeles Ca. 90017
Thank you.
Suzanne Holley
SVP & Chief Operating Officer


Image of Suzanne Holley started out on some random real estate conspiracy theory website and ended up here, after far, far more than sufficiently much transformative adaptationalist processing to qualify as, um, you know, fair use and stuff!