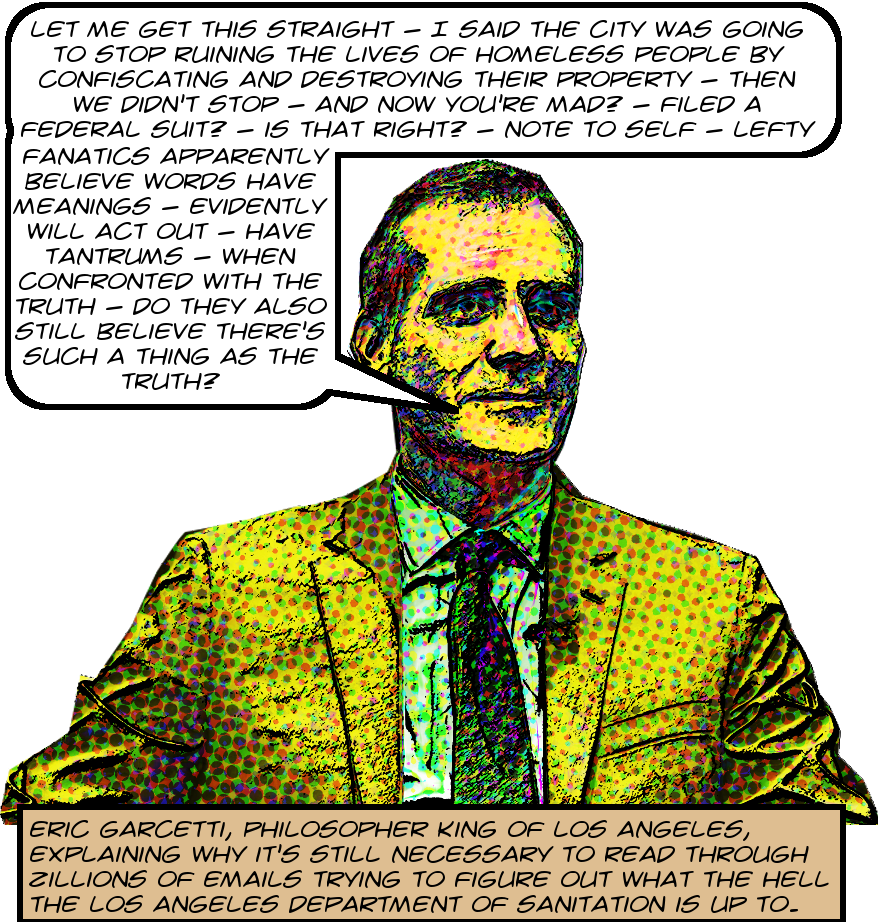 One of the most egregious ways in which the City of Los Angeles terrorizes and oppresses homeless human beings is with so-called encampment sweeps, in which City officials, guarded by police, swoop in and confiscate and dispose of people's possessions, including in many cases life-essential materials such as medicine, official papers, tools, tents, bicycles, and so on.
This appalling practice has inspired a long chain of successful federal lawsuits against the City, the most recent one of which1 was filed on July 18, 2019.2 Human rights activists, for instance to name just a couple Streetwatch and Services Not Sweeps, have been trying for years to get advance notice of sweeps for many purposes, not least among which are monitoring and outreach to the victims.
Since 2016 I have also been trying to get the City to cough up advance notice via the California Public Records Act. I had one early success, thus proving that the concept at least could work, but since then the City has mostly ignored me. And even on one occasion worse than ignored me, they illegally denied me entry into the Public Works Building, thus preventing me from seeing advance schedules.3 I wrote about my progress a couple more times, once in October 2016 and again in November of that year. There haven't been enough new developments since then for a post,4 until today, that is.
One of the key strategies in public records activism is making requests for the same materials from every possible agency that might hold records. This increases the odds of getting a complete set of responsive material in the face of obstruction.5 I have been working on getting access to sweep scheduling materials through LA Sanitation, who has ignored me since 2017, through LAPD, which is slightly better but still routinely takes up to a year to produce material, through various Council offices, the office of the Mayor, and so on.
But for some reason it never occurred to me before May 2019 to request records from the Los Angeles Homeless Services Authority, which is also deeply implicated in the process of planning and carrying out sweeps. But request them then I did, and last week they released about 5% of a promised 16GB6 collection of emails between LAHSA operatives involved with sweeps and various complicit parties at the City of Los Angeles, and you can get your copies here on Archive.Org.
Continue reading Huge Release Of City Of Los Angeles Homeless Encampment Sweep Scheduling Emails Reveals Crucial Steps Of Planning Process — Including Scouting Reports — Time Estimates — Daily Schedules — Notice Posting — Obtained From LAHSA — This Is Essential And Fundamental Primary Source Material For Understanding The Encampment Sweep Scheduling Process — And Another Incremental Step Toward The Years-Long Struggle To Make Sweep Schedules Public →