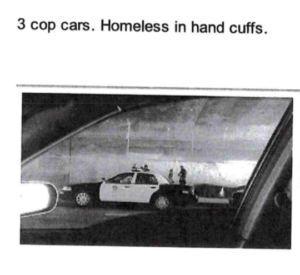 My recent success in using CPRA to get
advance notice of an encampment clean-up
from the City reminded me that I had a number of emails to/from Council District 13 organizing such operations between January and April 2016 that I still hadn't prepared for publication.
1
So I spent this morning getting them into shape and putting them up on the Internet. This material sheds new light on the City's still-mysterious encampment-breaking system. Also, some of the attachments to these emails reveal crucial information about the computer database(s) used by the City to coordinate the process. I discuss this matter, along with some other issues, after the break. Meanwhile, here are the locations of these emails:
On the Internet Archive — As usual, this has the advantage that you can get the whole batch via BitTorrent if that's useful. By later today, also, there should be OCRed PDFs there, and text versions.
Also, I added a few new terms to our glossary to help you read the emails, which are decidedly acronym heavy.2 These are CES, CSI, HE, PATH, and M&O. You can see the new definitions after the break (as well, of course, as via the menu structure or on the page itself). After the break I also discuss some fragmentary information about the City's so-called Encampment Cleanup Authorization System.3 Continue reading Newly Available Emails From CD13 May Shed Some Light On City's Procedures For Breaking Up Homeless Encampments. Also Glossary Updates And Some Fragmentary Information On The City's Encampment Cleanup Authorization System →