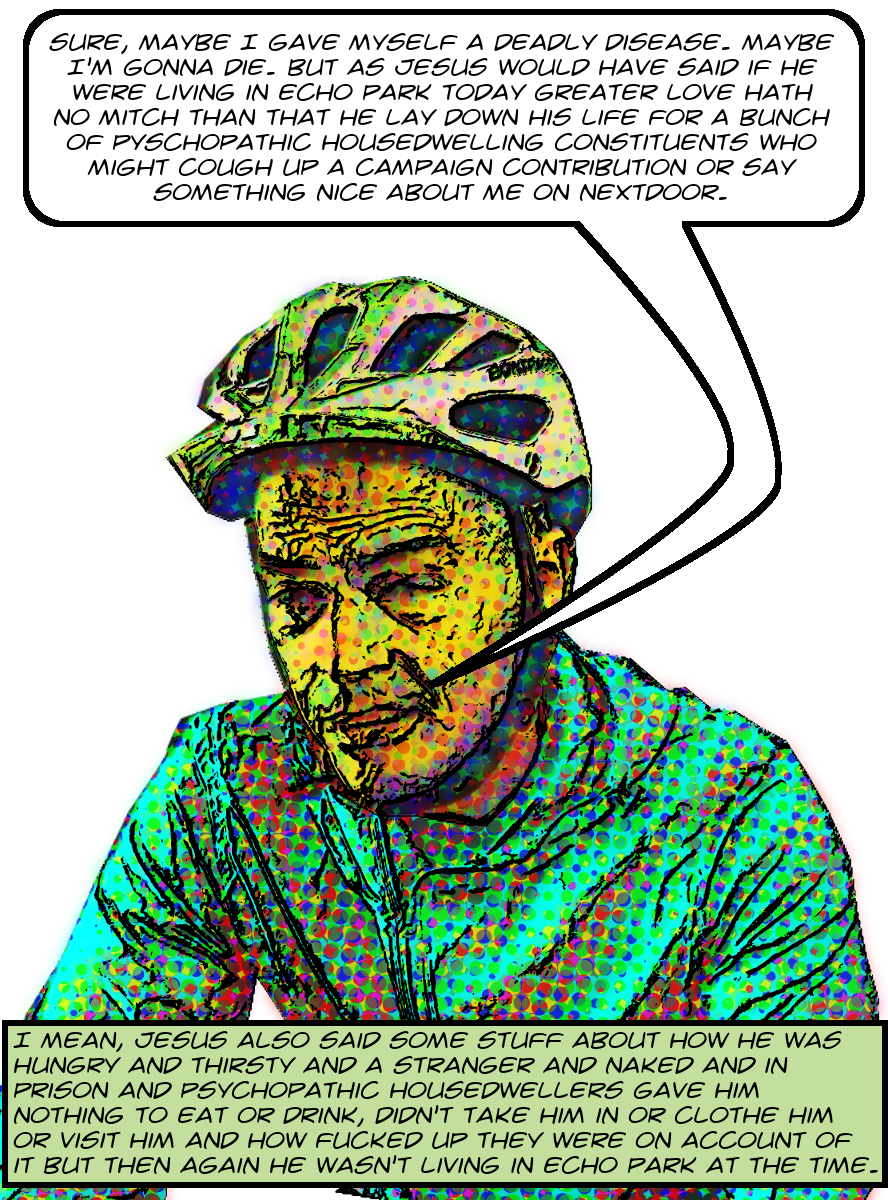 In January 2020 the unhoused residents of Echo Park came together to protest their displacement by an ongoing series of sweeps ordered by CD13 Councilmember Mitch O'Farrell. They wrote O'Farrell an exceedingly reasonable letter explaining their precarious situation, the dangers to which his sweeps exposed them, a number of proposals for assuaging the1 so-called concerns of the local housedwellers, and, for our purpose most crucially, a request to meet with him to discuss the burgeoning crisis.
This letter and the protests that inspired it turned out to be the beginning of an ongoing and still-active resistance movement in the Park, the story of which is ably told by Liam Fitzpatrick in Knock LA. This movement has merged seamlessly with the ongoing rebellion against police violence, as seen e.g. yesterday in a massive protest against LAPD and the City's attacks on the unhoused residents, which culminated in a march to O'Farrell's office, a series of really moving speeches calling out his weaponized incompetence, and an impressive display of art.
And over these six months of unrest, O'Farrell has repeatedly ignored the activists' requests to meet, to discuss, to find solutions. According to Streetwatch LA, a group deeply involved in organizing the campaign, the only in-person contact O'Farrell's office made with any of the activists consisted of O'Farrell's absolutely despicable field deputy Juan Fregoso meeting with one resident of the Park and aggressively suggesting that the guy enter a shelter while continuing to ignore reasonable requests from these constituents for serious meetings to discuss policy.2
The City of Los Angeles is famous for using encampment sweeps and other violent tactics against unhoused residents in response to complaints, which are characteristically both deeply sociopathic and astonishingly trivial, from unhinged local housedwellers, and the Echo Park sweeps which catalyzed the protests are not an exception. I recently received a small but significant set of emails from CD13 on the subject which suggest that this particular round of violence was seeded by complaints in late 2019 from residents of Parkview Living, which is some kind of retirement home across the street from the Park.
The emails are heavily redacted, by the way, in accordance with a newly-adopted and highly illegal CD13 policy of hiding the identities of psychopathic anti-homeless constituents in order to encourage them to continue to freely express their psychopathic anti-homeless rage. Nevertheless it's still possible to figure out what's going on. The housedwellers are worried, as usual, about having to look at unhoused residents as well as the effect of a visible encampment on their property values. Not so much about the well-being, the health, or even the very lives of the unhoused residents.
Even more upsetting given his refusal to even talk to the actual unhoused residents is the fact that O'Farrell and his staff met repeatedly with these angry hypersensitive housedwellers to assuage their wounded sensibilities and to promise, accurately, to step up enforcement against the suffering residents of the Park. O'Farrell explicitly encouraged the Parkview housedwellers to bring their concerns to the media, presumably to bolster the appearance of public support for his violent encampment sweeps.
Fregoso, on the other hand, apparently validated their weird self-pity by telling them falsely that the City had in fact singled them out by specifically allowing encampments near Parkview, probably with the same goal.3 In addition to meetings O'Farrell and his staff apparently dropped by in person to give gifts to Parkview residents. Which foolishness, ironically, led to O'Farrell and Fregoso being exposed to COVID-19 in April 2020.
Continue reading Homeless Residents Of Echo Park And Their Supporters Tried And Tried And Tried To Meet With Mitch O'Farrell Earlier This Year — To Discuss Essential Human Needs — Like Bathrooms — And Not Being Killed By Police — And Hygiene Supplies — And Other Equally Important Matters — But Mitch O'Farrell Wouldn't Meet With Them — Or Direct His Staff To Meet — Meanwhile Both He And His Staff Met Repeatedly With Psychopathic Echo Park Housedwellers — To Discuss Their Idiotic Concerns — Like How Unpleasant It Is To See Homeless People — And Property Values — And Freaking Cholera — And How They Could Fuck Up The Lives Of The Unhoused Even More Than Usual — And Sometimes Just To Drop Off Gifts — Like Care Packages — And This Led To The Damn Housedwellers Exposing O'Farrell — And His Appalling Field Deputy Juan Fregoso — To COVID-19 In April 2020 — Which — Given That Cholera Business — Is A Level Of Irony Rarely Seen In Actual Reality →