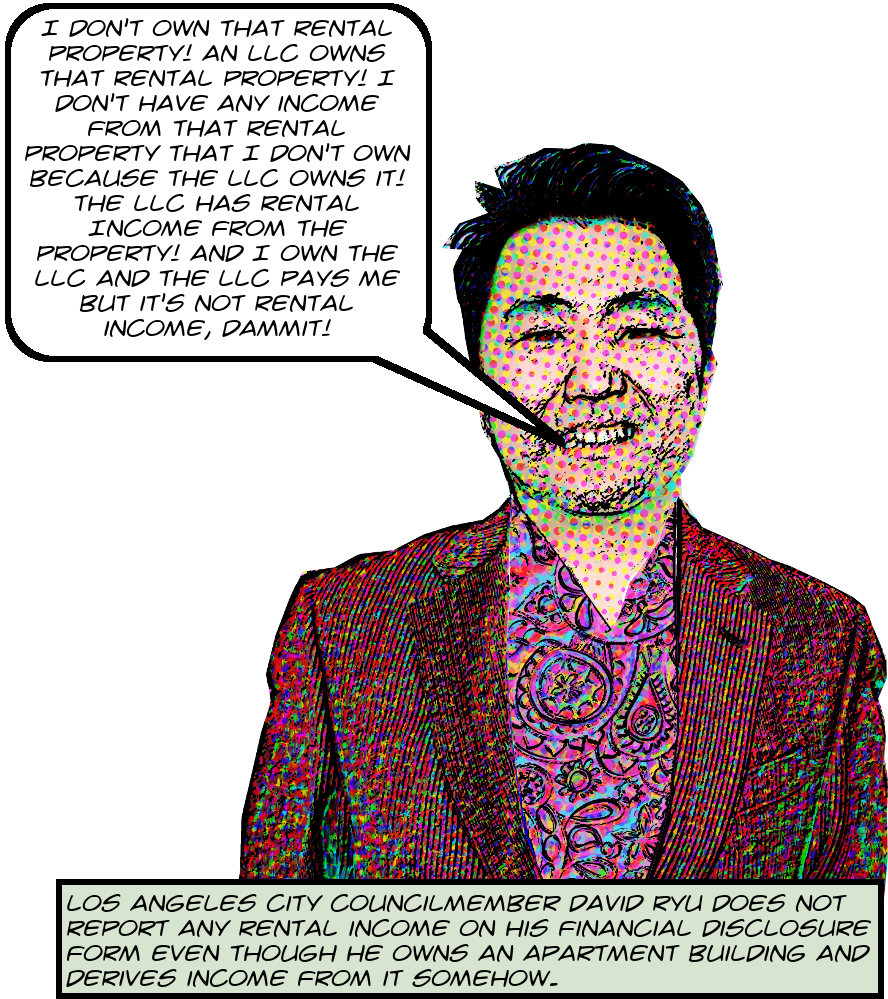 On Tuesday, March 17, 2020 the Los Angeles City Council considered an emergency ordinance to halt evictions and give renters 24 months to cover missed payments. Or at least that's what the original motion, introduced by CD11 rep Mike Bonin, called for. During the debate,1 though, various other councilmembers, notably Paul Krekorian, Paul Koretz, and Herb Wesson, argued passionately against the harm that such an ordinance would do to the proverbial mom and pop landlords by giving these deadbeat tenants so damn long to settle up.
Two years is far long, they said. Mom and pops can't afford to wait, they said. Will increase default rate, said they. They said all kinds of impassioned stuff in favor of reducing repayment time by a murderous 75%. But one of the things they didn't say was that all three of these councilmembers are themselves landlords. It's impossible to imagine that they weren't thinking of their own interests while arguing to amend this motion. I wrote a piece on this a few days ago, the research for which also revealed that they weren't the only three, by the way.
It turned out that Jose Huizar, Nury Martinez, and Curren Price are also landlords and also voted yes on the change to a 6 month grace period. My method of landlord discovery relied solely on Form 700s, which are annual financial disclosure forms required of elected officials in California. And rental income is a specific category which must be identified as such. For instance, consider the relevant section from Paul Krekorian's most recent filing.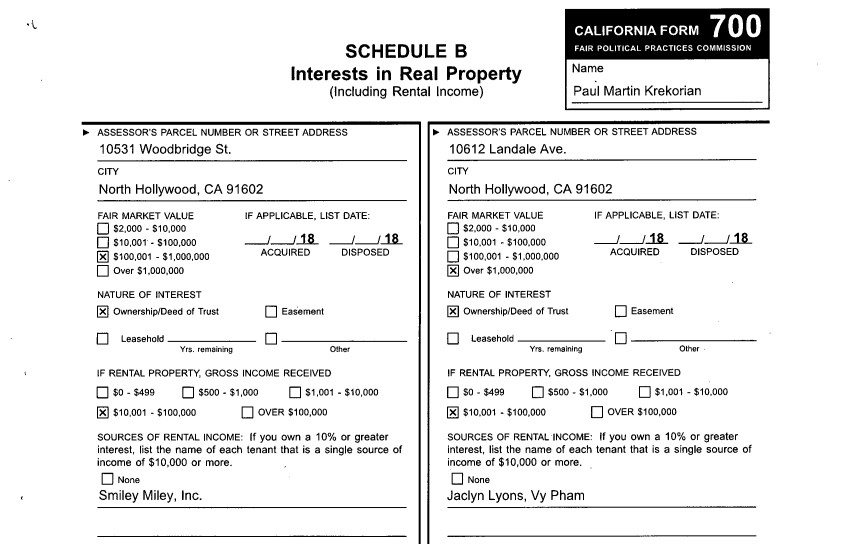 But it turned out that this method was flawed. Not flawed in the sense of producing false positives. The six that I identified are in fact landlords. Flawed, though, in the sense of producing false negatives based, as it is, on the disclosures being honest.2 And that's how I missed the fact that CD4 representative David Ryu is also a landlord,3 although it's certainly not obvious at all from his most recent Form 700. First, take a look at the relevant section: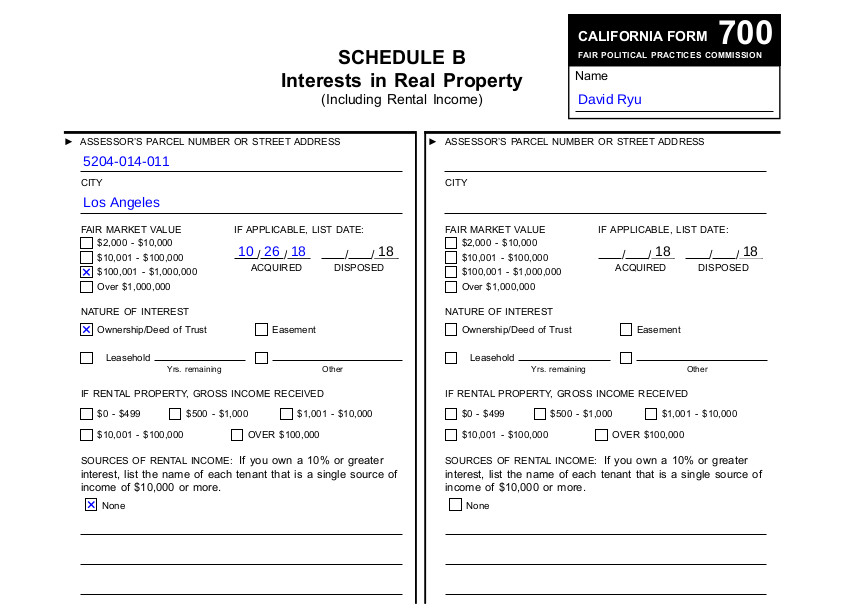 He lists an assessor's parcel number rather than an address. I didn't previously look up the property, though, because he checked off the box indicating that he'd received no rental income. It turns out, though, that skipping this was a huge mistake on my part. I finally did look into the matter and it turns out that I had previously missed everything! Read on for the whole astonishingly sordid story of David Ryu and this property!

The property is located at 2512 Workman Street. David Ryu and his sister, Esther Ryu,4 bought it in October 2018 for $840,000 from Kenneth and Soyoung Yoon.5 But the purchase process was not straightforward. And it involved an LLC! Here's a detailed timeline of the process that the Ryus went through to buy this building. Note that the links lead to copies of the actual documents described. In writing this story, in addition to the relevant facts, I also learned an awful lot about the mind-blowingly, terrifyingly broad range of records related to real estate transactions that are available publicly.
✺ On January 11, 2018, David Ryu's brother Joseph Ryu6 filed articles of organization with the California Secretary of State, thereby creating a limited liability corporation, an LLC, called Daejopia. Joseph Ryu listed himself as the agent for service of process. Daejopia's most recent filing also lists Joseph Ryu as both the sole manager and the CEO.
✺ On October 4, 2018 David Ryu executed a special power of attorney, authorizing brother Joseph to act as his agent in all transactions related to the purchase of 2512 Workman Street. The next day, October 5, 2018, Esther Ryu executed her own substantially identical special power of attorney.7
✺ On October 15, 2018 Kenneth and Soyoung Yoon executed a grant deed, assigning ownership of 2512 Workman Street to David Ryu and Esther Ryu in exchange "for a valuable consideration, receipt of which is hereby acknowledged." Recall that, according to Zillow, that "valuable consideration" was $840,000.
✺ On October 23, 2018, on behalf of his siblings David and Esther, Joseph Ryu signed a deed of trust assigning the property to Wells Fargo as part of the process of obtaining a $460,000 mortgage. Here's one of the signature lines from that deed.


✺ On November 9, 2018 David and Esther Ryu personally appeared before a notary and executed a grant deed assigning ownership of 2512 Workman Street to Daejopia LLC. They stated that the transfer was a gift and that they'd received nothing in return for it. Which is pretty good evidence that they're the beneficial owners of the LLC. In other words they have some kind of ownership stake in the assets of the corporation but California state law doesn't require their names to be listed.
✺ Per the Los Angeles City Ethics Commission's campaign contributions database, on November 29, 2018, Kenneth Yoon gave David Ryu $800 for his 2020 campaign:


This whole situation raises a lot of questions, and I'm not sure how to find the answers. Let me know if you have any ideas. Here's what I'm wondering about:
✺ Why didn't Ryu report rental income from this property on his Form 700? I guess it's logically possible that Ryu bought it and isn't renting it out. But it is a four unit rental property and according to Compass all four of the units are rented.8 According to ZIMAS, though, the property is rent stabilized, so it wouldn't have been so easy to take it off the rental market. Here's a screenshot of the ZIMAS entry showing the RSO status.9 In more ordinary times I would go over there and ask the residents myself. But as we're all confined to quarters for the duration this is not presently possible. If you know how to contact anyone in the building maybe you could find out?
✺ How did David and Esther Ryu manage to buy a property for $840,000 with a mortgage of only $460,000? There are obviously totally honest explanations for this. Maybe they paid the balance in cash based on some kind of non-obvious but non-shady financial plan. But there are plenty of not so honest explanations also. Selling properties to government officials for less than market value is a venerable form of bribery, for instance.
✺ What the heck does "Daejopia" mean? I'm told by those who have reason to know that it doesn't mean anything either in Korean or in any kind of discernable Korean/English mashup. Maybe it's something like David And Esther JOseph PIA??? But maybe something more interesting?
In any case, whatever is going on, David Ryu owns rental property. He went to some trouble to obscure the fact that he owns it. He claims not to receive rental income from it, no matter how implausible this claim might be. Unlike his colleagues on the Council, Ryu, along with Mike Bonin, did actually vote against the motion to reduce the grace period from 24 to 6 months. But he's perfectly comfortable voting in favor of limiting plenty of other emergency renter protections to protect the financial interests of landlords. And in doing so without explaining his own stake in the matter. None of which is acceptable even in ordinary political times and so, so much less so during the emergency we're now facing. It's hard to imagine a better time to support Nithya Raman for CD4!

Image of Pretty Boy Dave the Outlaw is ©2020 MichaelKohlhaas.Org and here's the one that got away.