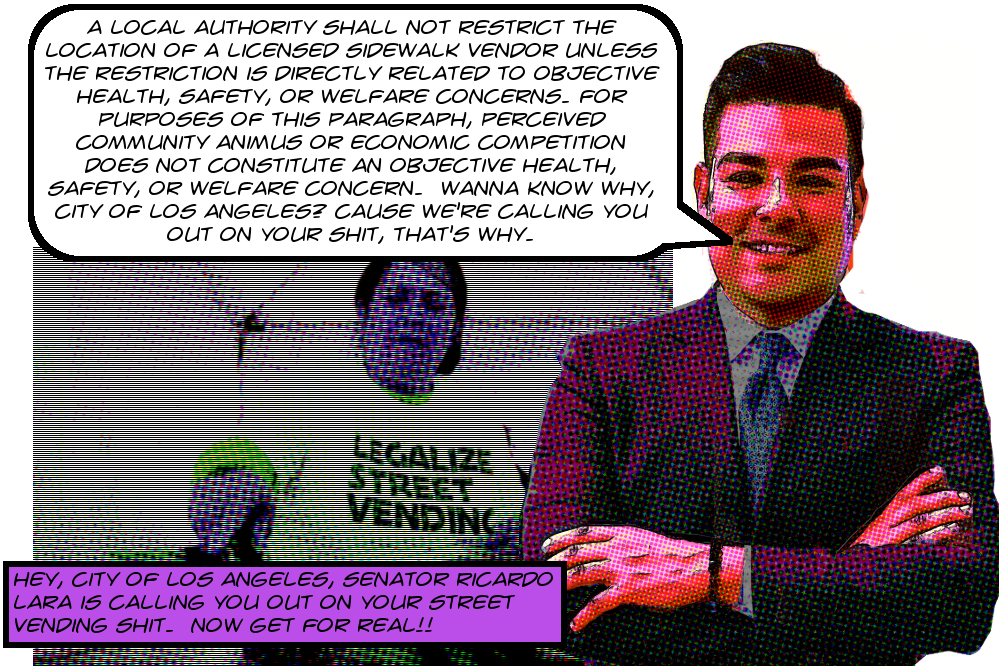 As I'm sure you're aware, the City of Los Angeles has been trying for years now to develop a framework for legalized sidewalk vending, but the process has been so thoroughly hijacked by the City's Bad BIDdies that we're going to be lucky if sidewalk vendors get out of this process merely no worse off than they are now.
Just for instance, if the BIDdies have their way, and if it's left up to their tame councilpets why would they not, they're going to have vendors on their knees begging the owner of McDonalds can they please sell pupusas outside her damn store and they will have to pay BIDs for the right to vend inside the BID's territory. These are merely two of the many, many abominable restrictions that BIDdies would dearly love to impose upon our City's beloved sidewalk vendors.
Well, seeing the years-long series of episodes of confusion and terror that the City of Los Angeles has been putting itself through with respect to this issue, Senator Ricardo Lara decided that enough was, as they say, enough, and introduced SB 946, which would severely limit the ways in which cities are allowed to regulate street vending. The incomparable Emily Alpert Reyes recently published a fine article on this bill in the Times.
One of the most striking limitations is found in the cartoon above, but they're all very powerful, very sane requirements, and they would, it turns out, completely gut the anti-vendor, anti-human traps and snares that the BIDdies have so successfully schemed to embed in the City's proposal. Thus, naturally, the BIDdies are gearing up for a fight.
And we mustn't underestimate the power that these BIDdies have to torpedo state-level legislation when it threatens their weirdo parochial interests. Last year, e.g., we saw them absolutely destroy a very sane, very modest, improvement to the California Public Records Act, merely because they're a bunch of damn whiny-babies who can't or won't live up to contracts that they themselves signed willingly.
In any case, these battles are fought and won or lost at the state level via letters of support or opposition, which are collected by the bill's author and are available on request. So the other day I asked Lara's staff to send them to me, and this afternoon they did! I set up a page on Archive.Org to collect them. As of today, there are only five, and they're all in support. Expect this to change, and I'll have copies here as they arrive.
Turn the page for links to all five of them and a transcription of one of them. I'm sure no one will mind if you want to appropriate some of the ideas and/or language for your own letter, which you can send to your legislator(s) after locating them using this web page!

Transcription of the ACLU's letter:

March 20,2018
The Honorable Ricardo Lara
California State Capitol, Room 5040 Re; SB 946 – as introduced
Sacramento, California 95814 SUPPORT
Dear Senator Lara:
The American Civil Liberties Union of California Center for Advocacy and Policy is pleased to support SB 946, which decriminalizes sidewalk vending, while allowing local jurisdictions to continue to enforce vending rules though non-criminal administrative fines and procedures. SB 946 also encourages local jurisdictions to adopt local sidewalk vending permitting regulations that protect public safety while promoting entrepreneurship and economic mobility. By encouraging local jurisdictions to support and properly regulate sidewalk vending, SB 946 will help protect California's low-income immigrants and workers, promote safe and regulated vending, and create new opportunity for entrepreneurship and economic mobility throughout the state.
Tens of thousands of Californians work as sidewalk vendors. For many, including immigrants excluded from the formal economy, sidewalk vending offers a chance to start and grow a business while improving local economies. Studies have demonstrated that sidewalk vending generates millions in local and state tax revenue as vendors buy supplies from local businesses, and circulate money within their communities, for many food desert communities, fruit and vegetable vendors are the only available source of fresh produce. Vendors activate commercial corridors, increase pedestrian traffic, and provide eyes on the street to make neighborhoods safer and more dynamic.
Yet, despite the immense value to our communities, sidewalk vending is unfairly criminalized throughout the state. Some jurisdictions impose an outright prohibition on sidewalk vending, while others impose onerous restrictions that severely limit vending. The criminalization of sidewalk vending has significant and devastating consequences, especially in immigrant communities. Vendors charged with a misdemeanor can face penalties of six months in jail and $1,000 in fines, as well as the potential seizure of personal property. One misdemeanor charge can have devastating effects on entire families that rely on the vendor's income to pay for rent and food. Some immigrant vendors face the risk of being transferred to, or picked up by, federal immigration officials after being released from custody, even if they are not ultimately charged or convicted.
For all of these reasons, the ACLU of California Center for Advocacy and Policy supports SB 946.
Sincerely,
Kevin Baker
Legislative Director
Maya L. Ingram
Legislative Attorney


Image of Senator Ricardo Lara is ©2018 MichaelKohlhaas.Org. It was made out of this image of Lara and this image of a sidewalk chef.