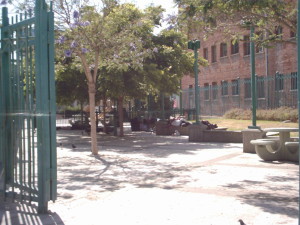 In September 2015 I discovered that in late 2007, the HPOA posted signs at Selma Park prohibiting adults unaccompanied by a child from being on the property but that they did so without any legal authorization from L.A. Rec and Parks. They proceeded to
use arrests and threats of arrest
to enforce the restrictions stated on these bogus signs. Furthermore, they
weren't even properly interpreting the statute
under which they made these threats. In any case, with the
recent release of all BID Patrol daily activity logs
from 2013, I have been able to begin the process of quantifying the BID Patrol's operations in Selma Park.
There are at least 137 mentions of Selma Park in the daily activity logs.1 Reading through these by hand and tallying the people kicked out of the park I count 159 of them. I skipped as many duplicates as I noticed (due to backup reporting and so on). We noted recently that a 2013 arrest almost certainly constitutes a violation of California Civil Code §52.1(a), which states:

If a person or persons, whether or not acting under color of law, interferes by threats, intimidation, or coercion, or attempts to interfere by threats, intimidation, or coercion, with the exercise or enjoyment by any individual or individuals of rights secured by the Constitution or laws of the United States, or of the rights secured by the Constitution or laws of this state, the Attorney General, or any district attorney or city attorney may bring a civil action for injunctive and other appropriate equitable relief in the name of the people of the State of California, in order to protect the peaceable exercise or enjoyment of the right or rights secured.

Here are 159 more color of law abuses by the BID Patrol, which also violations of that law, and this is 2013 alone.
Note also that the BID Patrol officers don't even seem to know what law they're enforcing. Sometimes it's trespassing, sometimes it's loitering, sometimes it's who knows what. Also, they even kick kids out of the park under the law which they mistakenly claim disallows adults. Just look here:

10-21-2013_FB2_LOG_10262013_HAGOPIAN.doc
6500 SELMA: SELMA PARK. MADE CONTACT WITH SEVERAL JUVENILES AND ADVISED THEM THAT THEY WOULD HAVE TO LEAVE THE AREA. ALL SUBJECTS COMPLIED AND LEFT THE LOC.

I really have to wonder who actually is allowed in this park according to the BID Patrol? Only non-juvenile children? It's not reasonable. Look below the break for a list of all 137 items with links to source and some information on my search methodology.


Image of BID Patrol surveillance photo of Selma Park in 2007 is a California public record, which I obtained from the HPOA.

It's hard to be precise here due to the difficulty of confidently batch-searching over 2400 MS Word documents. I removed all false positives from the list by hand, but there's no way to be sure that there are no false negatives. If you're interested in the code I used to search, it follows. If you want to reproduce my results (and are running Linux), get the 2013 Daily logs from the Archive and put them in a directory. At the command line, cd to that directory and do:


$ for th in *
> do
>   item=`cat $th | strings | grep -i selma | grep -i park`
>   if [[ ! -z $item ]]
>   then
>     echo $th
>     echo $item
>   fi
> done


Note that this script breaks on quotation marks and it didn't seem worth spending the time to fix that, so it's necessary to check the source document in some cases to get the full item. You can facilitate this process by replacing the line that says


echo $th


with the following, which will provide you with clickable links to the relevant source files at the Archive if you open the output in a browser:


echo "<a href=https://archive.org/download/2013HollywoodBidPatrolDailyActivityLogs2/$th target=_blank>$th</a>"