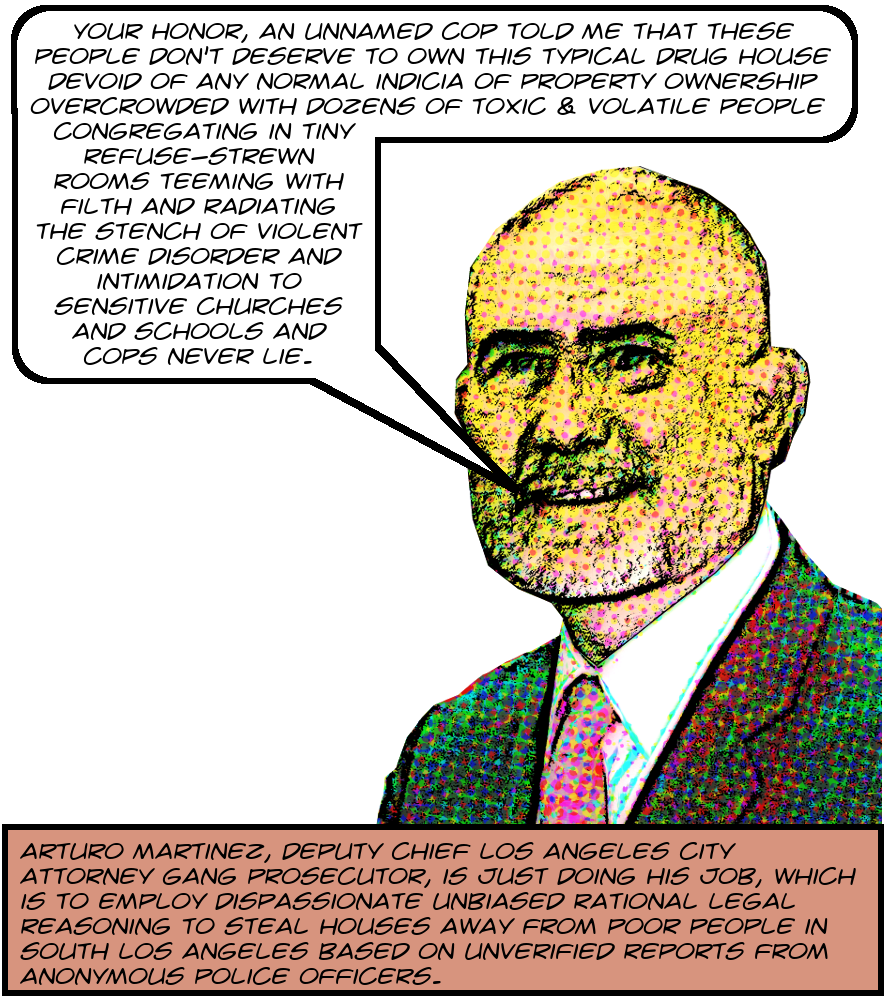 The Los Angeles City Attorney's Citywide Nuisance Abatement Program ostensibly attacks gang crime by filing civil lawsuits against property owners whose properties are allegedly involved in ongoing criminal activity. And even though there are obviously people committing all kinds of crimes, dealing drugs, shooting guns, hanging out listening to music,1 in houses and apartments all over the City, the vast majority of these suits are brought in South Los Angeles, a significant fraction in East and Northeast LA, and almost none in other areas.
These disparities support the widely held view that nuisance abatement suits are used as an aggressive gentrification tool. The neighborhoods targeted are gentrifying neighborhoods. The settlement conditions, and by far most of these cases settle, support gentrification and displacement by, among other things, forcing property owners to sell or to evict putatively undesirable tenants or to install surveillance equipment or otherwise function as LAPD informants. Most of the cases are brought against owners of single family homes or small multifamily or commercial properties, maybe because they're less likely to have the resources to defend themselves.2
I've had some trouble learning how the City Attorney picks its targets, but recently, Deputy City Attorney Bethelwel Wilson, in an important series of emails, revealed that for the most part they're chosen as a result of referrals from residents or law enforcement.3 According to Wilson, irrespective of the source of the referral, an LAPD "gang officer's communication would be sufficient for the DCA4 to open a case on the property." And the information supporting the case also comes from LAPD, according to Wilson: "The criminal activity at the property would have to be chronic and well-documented by LAPD before a DCA would even consider filling nuisance abatement action."
And it turns out that for the City, filing a case essentially amounts to winning it. I recently obtained almost a hundred of these nuisance petitions, filed since 2015, from the CA via the California Public Records Act.5 and for the most part the targets don't fight back. I checked all 67 of the cases opened between 2017 and 2019 and no more than ten involved any significant defense before settling essentially on the City's terms.6 This means that the allegations in the petitions almost never get tested adversarially.
There's no cross-examination, no documentation, and, surprisingly, not even testimony under penalty of perjury. In California Civil Procedure7 a petition is called verified when the complainant asserts belief in the truth of the allegations under penalty of perjury. For whatever reason nuisance abatement petitions are unverified, so no one even gets in trouble if parts of the cases turn out to be made up.8 Continue reading In 2018 and 2019 The Los Angeles City Attorney Sent Out 479 Demand Letters In Nuisance Abatement Cases — And Filed 30 Cases In Court — According To Deputy City Attorney Bethelwel Wilson An LAPD Gang Officer's Referral Is Sufficient To Open A Case File — Gang Officers Of Course Were Recently Revealed To Engage In Widespread Lying — And None Of The Demands And Almost None Of The Filed Complaints Get Litigated — So Almost None Of The City's Allegations Ever Get Tested Adversarially — The City Is Already Reviewing Criminal Cases That The Lying Officers Were Involved In — But Who Will Review These Civil Nuisance Cases? →