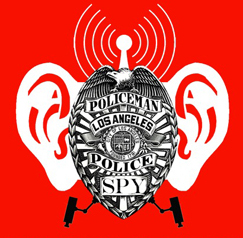 On December 22, 2015, the
Stop LAPD Spying Coalition
and the hyperactive-in-a-good-way
National Lawyers Guild LA
filed suit in LA Superior Court against the City of Los Angeles because of egregious violations of the
California Public Records Act
.
According to Pete White
of the LA Community Action Network, the LAPD needs to "…know they need to—at a minimum—follow the laws…they tell us we need to follow." I got copies of everything that's been filed to date and put it all
in a directory
here. There's not so much, but
the initial complaint
is a monster, weighing in at 180 pages. Most of that is exhibits, including a lengthy U.S. Senate report on Homeland Security funding of and involvement in domestic police spying operations and a copy of a "Special Order" authorizing an ongoing LAPD spying program and a bunch of other documents. The LAPD stuff starts on page 125 of the PDF. I'll separate and post the various documents individually when I have time. Anyway, the petition has an excellent introduction outlining the public's interest in the records that the group is seeking and a very tidy summary of what I know from personal experience is the maddening stubborn inactivity of the LAPD in the face of the transcendently clear mandate of the CPRA to respond to requests within 10 days. My only quibble is that I wish they'd also mentioned the LAPD's absolute and illegal refusal to provide copies of records that they hold in electronic formats, e.g. email, in those electronic formats rather than printing them out on paper and redacting them with a marker. But they know the law and its ways better than I, so I'll hush up about it.
Essentially their experiences with the LAPD and the CPRA have been the same as mine: the LAPD ignores the 10 day deadline to respond, they ignore requests altogether, endless hassling will occasionally produce a response, it invariably turns out to be inadequate, and this cycle is repeated indefinitely. I wish the SLSC and the NLG-LA the best of luck in their very necessary work.
As an aside, there's not much in this world that makes me wish I lived in San Francisco rather than lovely Los Angeles, but the fact that they have a municipal ordinance and freaking City Task Force to enforce the Public Records Act comes close. I wonder if it's time and if there's support for a Sunshine Ordinance here. According to the First Amendment Coalition there are at least nine cities in the state that have them (although that list seems out of date; Santa Ana has one too).

Image of SLSC appears here under a claim of fair use.