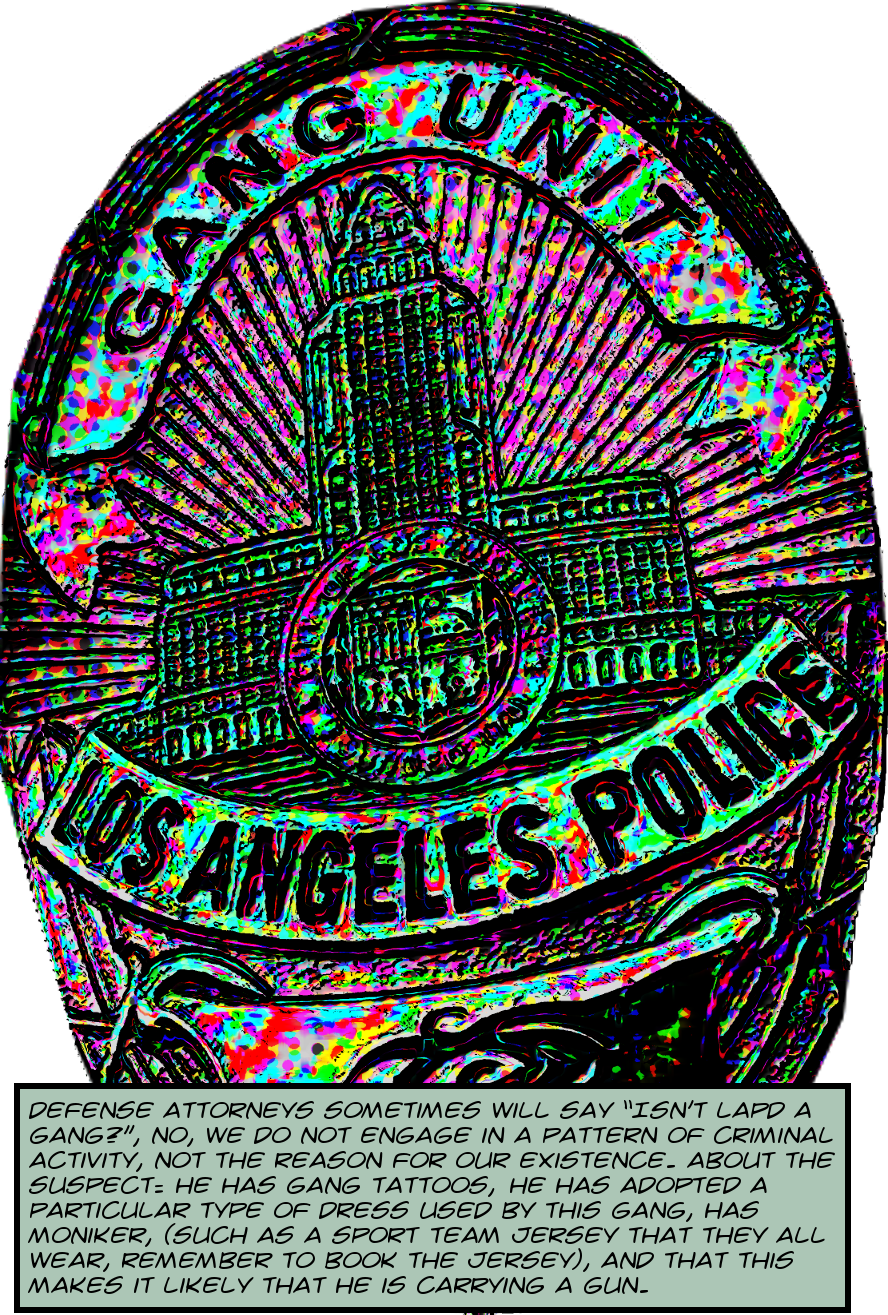 I recently discovered that the Los Angeles Police Department runs a number of training courses for officers working gang enforcement. Obviously as soon as I heard I submitted a request under the California Public Records Act for all the course materials. And the first batch came in just recently!
There is enough material here and it seems sufficiently important that I am publishing what I have now and will hit you up with the rest if and when it comes to me. LAPD produced three RTFs and one DOC. Here are links to the originals along with PDFs that I exported myself in case they're useful.1
★ outline_23161.rtf — PDF — Instructional Goal: Cal-Gang students will acquire fundamental training in the techniques and skills necessary to use the system.
★ outline_23214.rtf — PDF — Instructional Goal: Prepare all Gang Impact Teams (GIT) members assigned to GED/CLEAR to gather gang-related intelligence and information, identify gang crime patterns, monitor gang activity and implement crime suppression strategies — This is much longer and contains much more information than the other three items.
★ outline_23216.docx — PDF — LOS ANGELES POLICE DEPARTMENT GANG INTERVENTION AWARENESS TRAINING Expanded Course Outline
★ outline_26011.rtf — PDF — Course Goal: To develop law enforcement personnel capable of investigating and testifying in gang related criminal trials.
Read on for more detailed descriptions of the contents of these essential records, including some transcribed selections.
Continue reading Some Materials From A Los Angeles Police Department Gang Enforcement Training Course (Or Maybe Courses) Are Now Available — Undated But Possibly From 2005 — I Believe These Have Never Been Published Before — Including LAPD Pedagogy On How To Write Effective Police Reports To Support Gang Sentencing Enhancements — What Kind Of Facts Must Be Collected To Support The Issuance Of Gang Injunctions — Hints And Tips For Interrogation Of Gang Members — Surveillance Of Gang Members — Some Information About Gang Databases Used By LAPD — Including The Admonition To Never Cite CALGANG In Official Reports But Instead Call It Something Else — Which Seems To Me Like Lying — Along With A Bunch Of The Usual Idiotic But Already Well Known Stereotypes Both Racial And Cultural — I Am Not An Expert But I Believe That Criminal Defense Attorneys May Find This Material Useful In Planning Cross Examinations Of LAPD Officers — Although Maybe This Is All Already Known To Those Who Need To Know It →