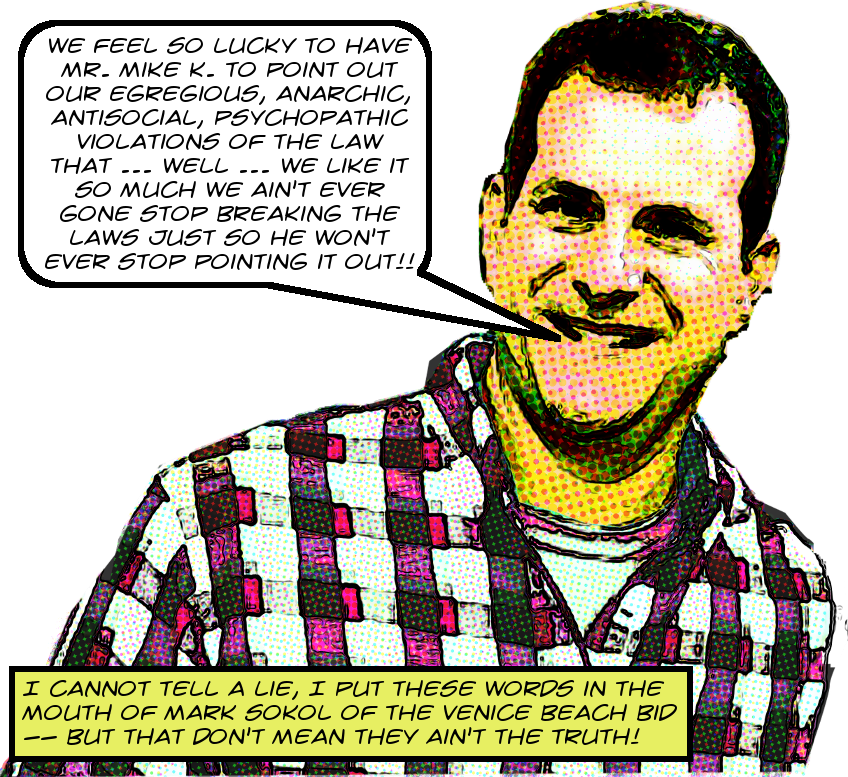 We've seen over and over and over again that for the life of them the business improvement districts of Los Angeles just cannot follow the damn Brown Act. There was that time in February when the South Park BID messed up their agenda and then revised it cause I said to, and then there was that other time when the South Parkies messed up their teleconferencing methodology and now they don't even offer teleconferencing any more cause I pointed out their violation.
And then there was the Los Feliz Village BID episode where they illegally discussed tee shirts and got admonished by the DA, and the East Hollywood BID teleconferencing episode, and South Park again, checking IDs illegally, and Sunset-Vine checking IDs illegally, and the damn Central City East Association, which cannot even stick to their agenda, which is illegal.
And a favorite topic of conversation around the campfire here at MK Dot Org secret headquarters is why it is that the BIDs, who have all the money and all the lawyers that anyone who was inclined to follow the law might need to allow them to do so, nevertheless can't get this simple thing right. Over and over and over again they violate the Brown Act. We don't have any definitive answers for you,1 but maybe it's comforting to know we're talking about it?
And this very morning, friends, the Venice Beach BID became the latest to join this illustrious roster. Turn the page for the lurid details!
Continue reading I Don't Need To Read BIDs The Riot Act — I Just Read 'Em The Brown Act — Cause They Sure Ain't Reading It For Themselves — This Week It's The Venice Beach BID Revising Everything At The Last Minute Just Cause I Told 'Em To! →