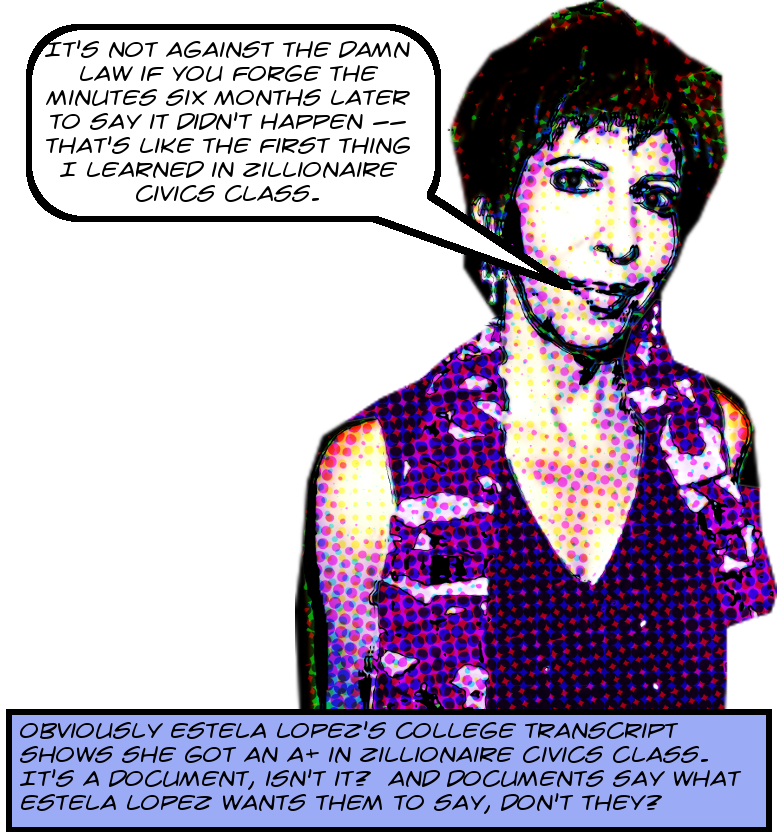 OK, in February of this year Estela Lopez introduced a motion at the Central City East Association Board meeting that wasn't on the agenda. This is a violation of the Brown Act at §54954.2(a)(3), which states unequivocally that: "No action or discussion shall be undertaken on any item not appearing on the posted agenda." Naturally I turned them in to the District Attorney immediately. And you might think that because the whole mishegoss was captured on actual video the DA might actually do something about it.
But you'd be wrong. It seems that the willingness of the CCEA's lawyer to lie to the face of a deputy DA and Estela Lopez's willingness to alter the minutes of the meeting months after the fact is enough to escape from any consequences of this violation. This kind of outcome is precisely why I found it necessary to start my own Brown Act enforcement program.
And because I have this new capability, of private Brown Act enforcement, on August 20, 2018, having heard nothing for six months, I sent an email to Alan Yochelson, who runs the DA's Brown Act enforcement program, asking him what was up with my complaint and telling him that I would take action myself if the DA wasn't going to do so.
On August 21, 2018 he emailed me back and said that he hadn't decided yet but he would let me know in seven days, on August 28. Yochelson ended up talking to CCEA's lawyer, who I think would have been Don Steier, but I don't know for sure. The lawyer seems to have told Yochelson that he immediately pointed out the violation to the Board and they immediately revoked their illegal action.
Estela Lopez definitely edited the February minutes on August 23, which now confirm the lawyer's version. The trouble with the story is that, as I said, I have the whole meeting on video and nothing like this happened at that meeting. In any case, these conversations between Yochelson and CCEA ended up with the DA's office declining to take action, as explained in this determination letter, sent out on Monday.
Of course I still have the option to take action privately, and I'm in the process of evaluating that option. The section I'd use, §54960.2 allows nine months after the violation, which is November 22, 2018, to initiate the process. Watch this space for further developments, and turn the page for a more detailed narrative along with links to and transcriptions of all the evidence.
Continue reading Remember That Time In February When The Central City East Association Violated The Brown Act By Voting On An Item That Wasn't On The Agenda? — Well Now Their Lawyer Lied About It To The District Attorney — And Estela Lopez Retroactively Edited The Minutes From February — Which Is The Kind Of People The City Contracts With To Run Their BIDs — And That's Why The District Attorney Isn't Prosecuting Them →