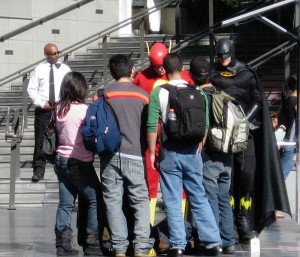 Stories of the rich and powerful abusing intellectual property laws to stifle free expression, shut down criticism of their terroristic conspiracies against humanity, lock away little old ladies because their grandkids misuse bittorrent, wantonly slaughter cute lil bunnies, and so on, are as common in the tech press as dandelions on the expansive and suspiciously green lawns of Hancock Park before the gardeners show up on Thursday morning.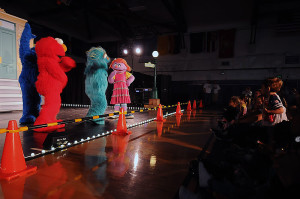 This post-capitalo-apocalyptic legal technology, the use of which reached its supernova-esque apotheosis earlier this month with the City of Inglewood's
mind-blowingly shenaniganistic attempt to assert copyright in video of city council meetings
,
1
it turns out was being used by our friends at the Hollywood Property Owners Alliance to try to shut down the by-them-much-reviled street performers in a shameless criminal conspiracy with their aiders and abettors at the the City Attorney's office and the LAPD as late as last August. Although our bosom BIDdies seem to have met with little success, except, evidently, in the case of Elmo of Sesame Street, their futile attempts are quite telling. Read the actual evidence
here
and our commentary on them after the break.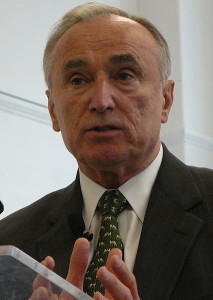 It all began on August 14, 2014, when our heroine, Kerry Morrison, received a call from Tom Cusick,
2
her counterpart at the
Fifth Avenue BID
in bee-yoo-tee-full downtown Manhattan about a forthcoming meeting with NYPD Commissioner
Bill Bratton
, whom Kerry refers to affectionately as "the commish," a rather not-surprising bit of intimacy given that the commish is the erstwhile chief of our own beloved LAPD, the current holder of which office, Charlie Beck, is
often seen publicly in disturbingly compromising situations
with the BIDdies. One of the agenda items evidently was "the problems they are having with the characters in Times Square."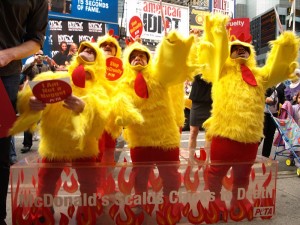 So it seems that Tom told Kerry that
"one of the strategies they are pursuing involves the intellectual property piece"
and Kerry
"told him that we have tried this angle on several occasions, with little result."
Well, yes. Not all of us who write for this blog are lawyers, but some of us are. It's fairly obvious that if one purchases a costume of a trademarked character, say, e.g., Elmo from Sesame Street, then, if that costume is properly licensed by the manufacturer, one must also be purchasing a license to wear the thing in public. How could it be possible that one could buy an Elmo costume and then be forced to pay extra for the right to wear it outside of one's closet? Not likely. And if one is accepting money for a public performance on public streets while wearing the costume, then surely one is already violating some other law, one that Kerry and her BID Patrol bully boys certainly must know quite well. The street characters aren't breaking that law, though, whatever it is, or they'd already be arrested and most likely have had stay-away orders dropped on them by Jackie Lawson, Hollywood Neighborhood Prosecutor and politics-made strange BIDfellow.
So much for their "little result." The more interesting revelation to be found here is Kerry's statement to Tom that she "know[s] that LAPD and our city attorney attempted also to meet with Warner Brothers and Marvel Comics. That did not yield much in the way of action." See what's going on? Even assuming arguendo that there were any cause of action against people publicly wearing costumes depicting trademarked characters, it would certainly be a civil cause, and yet here we find, at the bidding of the BID, both the LAPD and the city attorney going to third-party trademark owners, who don't themselves feel injured, and encouraging them to take legal action against people who are essentially their customers. Surely this is the job of ambulance-chasing private attorneys rather than public servants. In what possible world is it the city attorney's job to go about the place looking for civil causes of action and then trying to convince random other people to pursue them?
The one exception to Kerry's "little result" had to do with Sesame Street characters:

I am forwarding two cease and desist letters that were presented to two of the characters that we know of back in 2009. As I mentioned to you, this was in anticipation of a pop up Sesame Street experience at Hollywood & Highland that summer. After the pop up was over, eventually the characters came back. This is the only time we have seen a successful application of this type of license enforcement. I am going to go back into my archived email to see if I can find our communications (with Sesame Street) about this."

Kerry admits here that the HPOA instigated Sesame Street's complaints against these characters, certainly out of its weirdly abiding hatred of street characters. Without this instigation, backed up, it seems, by the considerable social capital of both the LAPD and the city attorney, there would have been no legal action taken. Believe it or not, this kind of behavior is actually a crime in California (158 PC), known as barratry: "Common barratry is the practice of exciting groundless judicial proceedings, and is punishable by imprisonment in the county jail not exceeding six months and by fine not exceeding one thousand dollars ($1,000)."
We've seen over and over again how the BIDs and their minions care not for their own violations of the law even as they selectively enforce laws against the helpless poor. Here they are as a body committing yet another crime with impunity and, given the involvement of the city attorney and the LAPD, are committing conspiracy as well. And yet, rather than being punished by Jackie Lawson for what's surely a quality-of-life violation under any sane definition, they cc their emails to her and don't go to jail.
Note that we don't yet have the full documentary record on this story, but we're working on obtaining it and will publish new materials as they come in, including, we hope, the cease-and-desist letters mentioned above.
Inglewood is famous for its mean streets, upon which long-time FoK3 Steve Seyler spent his pre-BID quarter-century kicking ass and taking names with his posse, Inglewood's finest. Coincidence? Probably not.
Cusick's just as crazy as Kerry when it comes to actual urban life on the streets, and about as weirdly adept at spewing word salad all over the place. Just check out this New York Magazine article on street vendors, also a cherished bête noire of Kerry's, in which Tom Cusick declares that "We may have reached critical mass, where the vendors have finally decided they can't make money here. Or we may just be in a lull in the never-ending cat-and-mouse game." He has the same talent as Kerry's got for making pronouncements that are syntactically correct, semantically empty, and, like verbal potato chips, have a very low ratio of nourishment to noise, of content to crunch.
Friend of Kohlhaas, whatdcha think?!
Image of dancing Sesame Street characters is in the public domain due to its being the work of a sailor in the US Navy created in the course of the performance of his or her duties to our nation. We obtained it via Wikimedia and so can you! The image of street characters at Hollywood and Highland is released under the CC BY-SA 3.0 by its creator and came to us via Wikimedia. Image of midget chicken protesters has some kind of free license which you can peruse at Wikimedia, which is where we nabbed it from. It seems to be required to state that the author of the image, one David Shankbone, does not endorse anything that we endorse unless he endorses it coincidentally and separately from our endorsement of it, whatever it might be, a question the answer to which we have not presently the means of discerning. Image of the commish seems to be CC-BY licensed and we got it via Wikimedia.