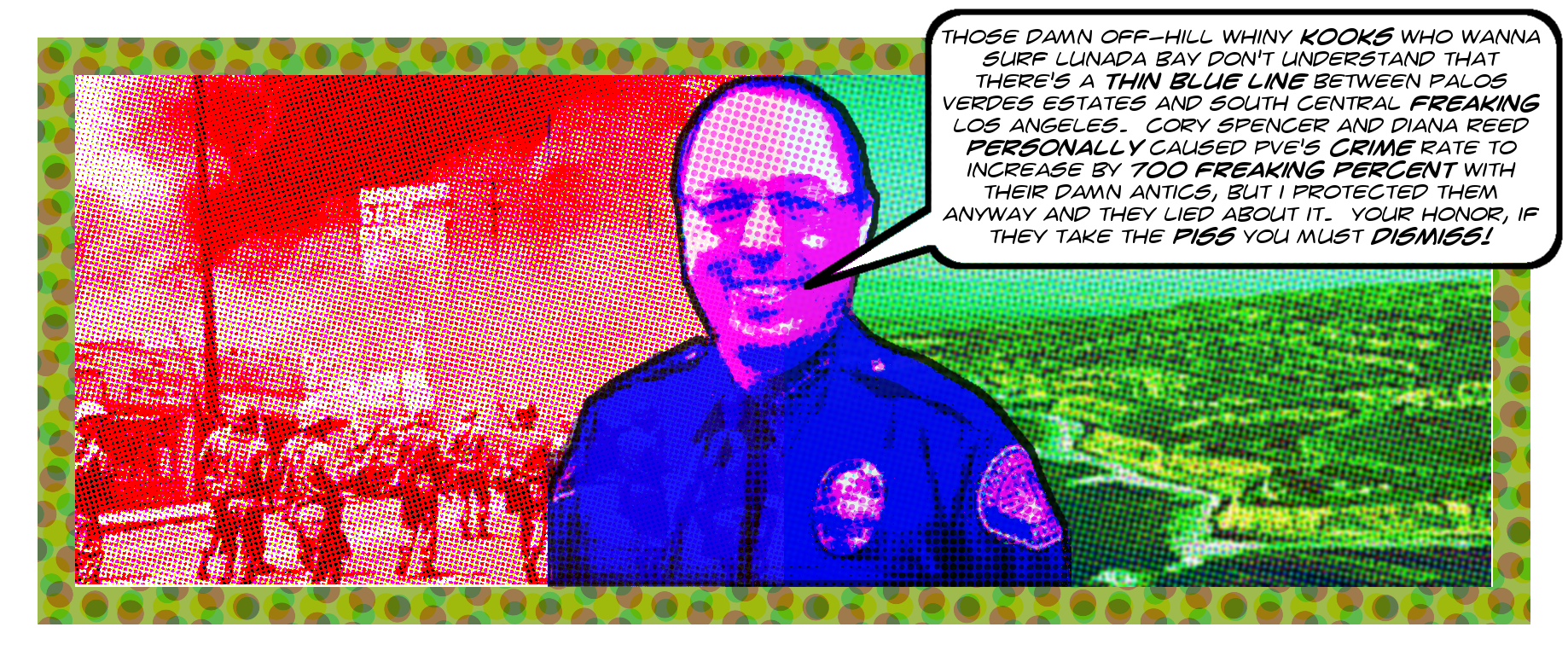 For background take a look at this excellent article from the Times on this lawsuit. Also see here to download all pleadings in this case.
Today the City of Palos Verdes Estates and its police chief, Jeff Kepley who, along with the Lunada Bay Boys themselves, are defendants in the monumental anti-localism case brought by Cory Spencer and his co-plaintiffs, filed a massive slew of papers with the court. The main item is this motion for summary judgment, asking the judge to obliterate the case against PVE and Kepley.
The rest of the paper filed consists of various exhibits and proposed orders in support of this motion, and is extremely interesting as it contains huge selections from the depositions of Cory Spencer and Diana Reed. There are links to all the new stuff after the break along with brief descriptions. There is presently a hearing on this motion scheduled for August 21, 2017, at 10:00 a.m in James Otero's courtroom 10C in the First Street Federal Courthouse.
The merits of the motion are beyond my amateurish capacity to discuss, although they make interesting reading if you're so inclined. The main argument seems to be that the plaintiffs didn't really suffer any harm, and the City didn't have a duty to do anything more than what they did to protect them. Also, the following freakish little argument did catch my eye. My general feeling is that the appearance of "gang-affiliated criminal groups from south Los Angeles" in government-generated discourse is irrefutable evidence that they're lying. But judge for yourself:

A number of the above-described events (as well as Plaintiff Spencer and Reed's alleged incidents discussed under the factual background above) took place during a time the City was experiencing a substantial increase in residential burglaries by organized gangs or gang-affiliated criminal group from south Los Angeles. It is typical for the City to have zero to three burglaries per month, but in December 2015 the City experienced 20 to 25 burglaries. In fact, a number of residents complained about the amount of law enforcement resources allocated toward patrolling Lunada Bay, as well as the tough stance Chief Kepley took against local surfers harassing or intimidating other surfers. Nonetheless, the City directed law enforcement resources to ensuring access to Lunada Bay and preventing harassment. Chief Kepley opined that given so few incidents at Lunada Bay and the burglary spree in the City that the Police Department efforts were appropriate and reasonable in scope and size.

Also, you may recall that in March the plaintiffs asked the Ninth Circuit Court of Appeals for permission to file a motion asking them to overturn Judge Otero's decision to deny certification as a class action. I didn't hear about it at the time, but one of the exhibits filed today is the Ninth Circuit's denial of the request for permission to appeal. Anyway, turn the page for links to and brief descriptions of all the new paper filed today.
Continue reading City Of PVE Argues That They Put Many Cops On Anti-Bay-Boy Patrol, Tying Up Resources And Allowing Criminals From South Central LA To Commence Unprecedented "Burglary Spree" — Residents Complained But Kepley Kept Cops On Bay Anyway, Which Is How Seriously He Took It. Therefore, Your Honor, Please Dismiss The Damn Case! Also 9th Circuit Won't Hear Interlocutory Appeal On Class Action Certification →