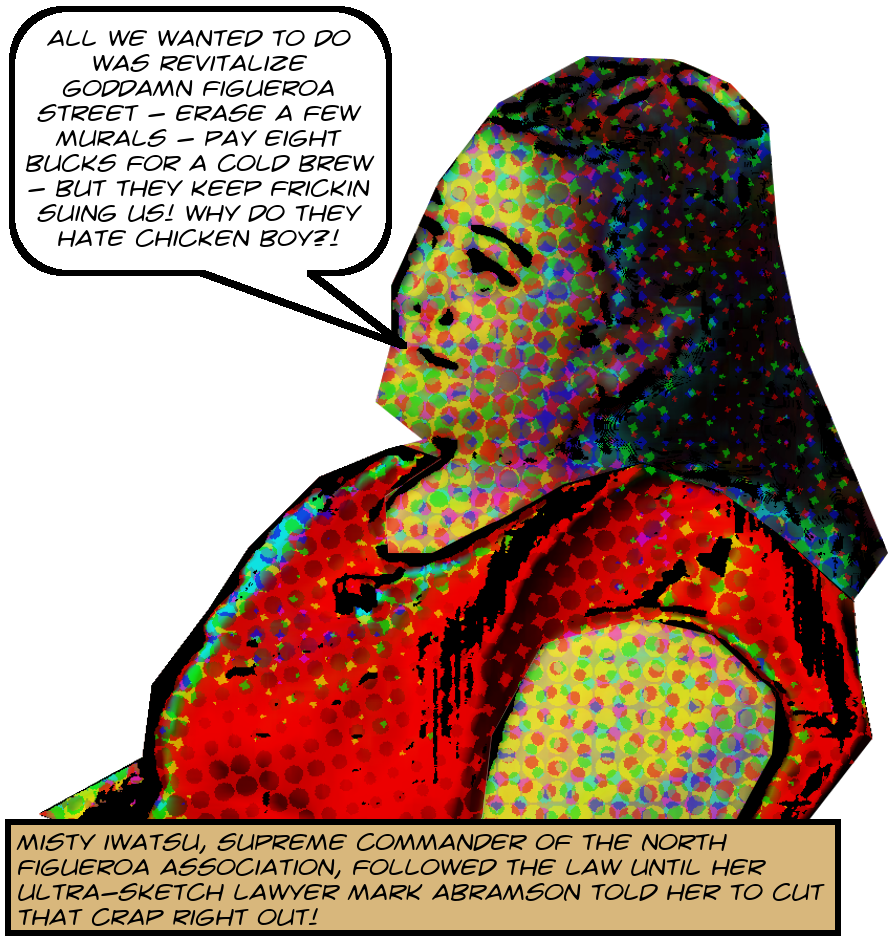 It's been a while since I've written about our old friends at the Highland Park BID but that's certainly not because I lost interest in them! You'll recall that in early 2018 they released a really rich set of emails in response to some requests made under the California Public Records Act. These records revealed, among other things, the BID's complicity in the ongoing hurricane-force gentrification of Highland Park, using tactics like mural erasure and harassment of street vendors. The emails also showed the BID's creepy Facebook stalking of local antigentrification activists, coordinated with weirdo CD1 staffer Bill Cody.
The Highland Park BID's executive director, Misty Iwatsu, is also the ED of the Lincoln Heights BID.1 Lincoln Heights isn't as under the gentrification gun as Highland Park, but it's going to be very soon. So in May 2018 I sent some CPRA requests to the LHBID, seeking to understand their role in changing the neighborhood and also to understand their BID renewal process, which was just beginning. But by the middle of that month Iwatsu's two BIDs had evidently had their damn fill of transparency.2 They hired ritzy Manhattan Beach lawyer Mark Abramson, who on their behalf immediately stopped complying with the CPRA.
And as usual I spent some time trying to convince the guy to straighten up and follow the law, but he simply would not do it. The previously smooth flow of records ceased. Abramson announced vague far-in-the-future deadlines for production and then blew through them, sent corrupted files and denied they were corrupted, and all the usual tactics that obstructionist agencies rely on. At some point it became clear that no one at either of these BIDs was planning to comply with the law, so on Monday, January 13, 2020, I filed a petition in L.A. County Superior Court asking the judge to compel them.
The public interest in accessing this material is huge even apart from the general public interest in having public agencies comply with the Public Records Act. The BID's role in mural erasure was covered in L.A. Magazine and The Boulevard Sentinel and local activists Restorative Justice for the Arts have organized in opposition. The Lincoln Heights BID is actually involved somehow in the planned gentrification of that neighborhood, which has also been covered in the press. And in the 18 months since the BIDs stopped complying we've been kept in the dark about whatever else these publicly funded entities are getting up to. This cannot be allowed to continue! Read on for selections from the petition!


In an effort to monitor the workings of Respondent and other BIDs, and disseminate his findings on his website, Petitioner has utilized the CPRA. The materials on Petitioner's website are available for free to the public. He has been quoted in the Los Angeles Times, his website linked to in various articles, and he has been contacted by documentary film makers, public interest attorneys, and students from Boalt Hall's Policy Advocacy Clinic who have utilized information on his website for their projects.
Petitioner, through the three CPRA requests at issue in this petition, seeks to understand the ways in which Respondents, whose districts are historically Latino neighborhoods experiencing rapid demographic change, engage with the business community and City officials regarding gentrification, public art, community activism, and BID renewal. These issues have received media attention from both local and regional sources.
Respondents, through their shared Executive Director, Ms. Iwatsu, initially responded promptly to Petitioner's CPRA requests. For example, on March 26, 2018, Petitioner made a request for emails matching various criteria. A true and correct copy of Petitioner's March 26, 2018 email is attached as Exhibit A. Just two days later, on March 28, 2018, Ms. Iwatsu responded, stating she was gathering the emails; she also listed search criteria for which the HPBID had no responsive records. The HPBID was then able to produce over 1,000 emails which it exported to MBOX and sent to Petitioner via DropBox with no significant delays or technical difficulties.
However, Respondents stopped meeting their statutory obligations under the CPRA after Petitioner published emails from the HPBID, obtained through the CPRA, exposing Respondent HPBID's complicity in the process of driving legacy Latino businesses from Highland Park, the erasure of Latino murals and other public art issues, and HPBID and the City's complicity in surveilling art activists' online and social media activities.
HPBID's non-compliance began mid-May 2018 with the hiring of attorney Mark Abramson to handle its CPRA requests. Once he was hired, Respondents' CPRA compliance with their statutory obligations has plummeted. He has institutionalized a system of unreasonable delay in the production of requested records. His dilatory tactics include ignoring Petitioner's emails, sending corrupt files, insisting on Petitioner traveling to Manhattan Beach to inspect records, and taking a minimum of 3–4 months to respond to simple requests (the type which had previously only taken a few weeks to process).
Notwithstanding the public's strong interest in these issues, and despite the need for openness from private, non-profit corporations providing public functions and municipal services, Respondents have disregarded their legal obligations and restricted public access to information. Petitioner seeks immediate production of withheld records.
[Detailed description of the content of the requests omitted]
Petitioner alleges on information and belief that Respondents will continue to refuse to permit members of the public, including himself, to inspect or obtain copies of the requested public records in violation of the CPRA.
Petitioner alleges on information and belief that the information he seeks from Respondents is maintained in Los Angeles County. The requested records are public records not exempted from disclosure.
Based on information set forth in this Petition, Petitioner believes, and therefore alleges, that Respondents' failure to produce and/or allow the inspection of records responsive to his requests resulted from an intentional failure to expend good-faith "reasonable effort," to comply with its statutory obligations in violation of the CPRA § 6254(b), which provides in pertinent part that, [e]xcept with respect to public records exempt from disclosure by express provisions of law, each state or local agency, upon a request for a copy of records that reasonably describes an identifiable record or records, shall make the records promptly available to any person[.]"
Government Code Sections 6259(a) and 6259(b) authorize the Court to compel Respondents to release the requested documents.
THEREFORE, Petitioner respectfully requests that:
1. This Court issue a peremptory writ of mandate directing Respondents to immediately conduct a diligent and comprehensive search for the requested records, and to thereafter promptly provide Petitioner the requested records or, in the alternative, an order to show cause why these public records should not be ordered disclosed;
2. The Court set "times for responsive pleadings and for hearings in these proceedings… with the object of securing a decision as to these matters at the earliest possible time," as provided in Government Code Section 6258;
3. The Court enter an order declaring that Respondents have violated the CPRA by their refusal to release the public records sought by Petitioner's requests, and by their failure to promptly respond to, and assist with, Petitioner's requests;
4. The Court enter an order declaring that for all future CPRA requests from Petitioner to Respondents, Respondents shall produce all responsive documents, subject to properly claimed exemptions, within 30 days, absent a showing of extraordinary hardship;
5. The Court enter an order awarding Petitioner his reasonable attorney's fees and costs incurred in bringing this action, as provided in Government Code Section 6258, Code of Civil Procedure Section 1021.5; and California's private attorney general doctrine; and,
6. The Court award such further relief as is just and proper.


Image of Misty Iwatsu is ©2020 MichaelKohlhaas.Org and don't, friend, you forget it!

There are actually two BIDs in Lincoln Heights. The only one with a website is the Lincoln Heights Industrial Zone BID, which is not the one we're talking about here.