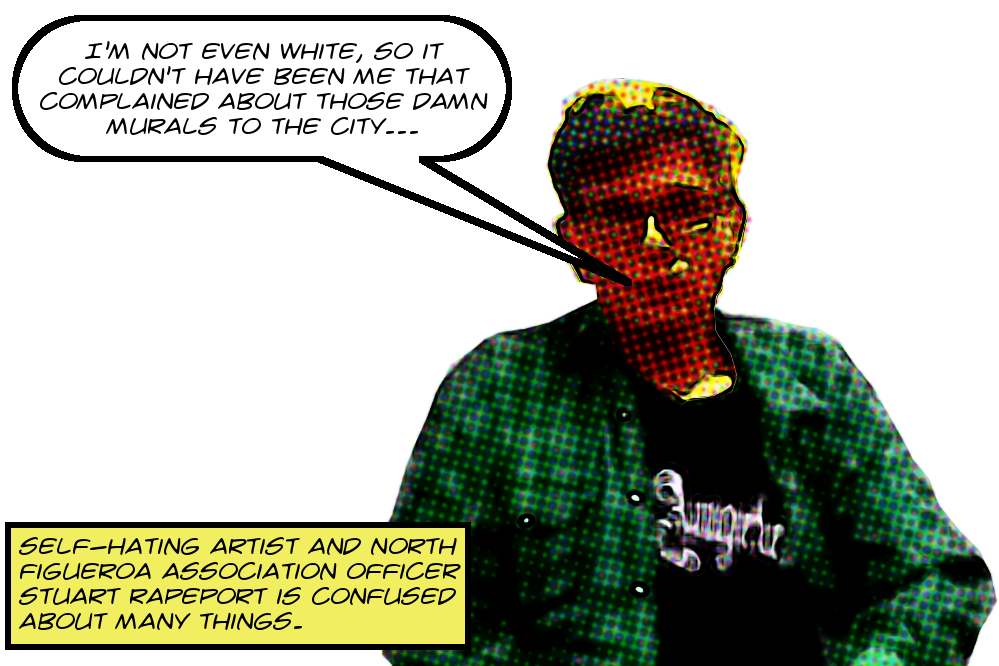 Yesterday LA Magazine published an excellent and comprehensive story about the Highland Park mural controversy. The single most important element of this singularly important article is the fact that for the first time the City of Los Angeles, in the person of Cultural Affairs staffer Felicia Filer, acknowledged that the Highland Park BID was in fact behind the illegal, immoral removal of John Zender Estrada's masterpiece of a mural:

Felicia Filer, public art director at the city's Department of Cultural Affairs, says a member of the Highland Park Business Improvement District (BID) filed a complaint with the city and was granted permission to paint over the wall. It was not registered with the department. "I do not know why the BID person took that action as the wall has been used as a graffiti yard since 1993," Filer wrote in email.

This confirms already-believable allegations against the damnable BID by local art activists, including Restorative Justice for the Arts and Mando Medina, who have been the subject of exceedingly creepy surveillance and stalking by both BID board members and ick-stick City staffer Bill Cody, the world's oldest field deputy.1
So please read the article, and turn the page for another excerpt, featuring a quote from Brenda Perez, an incomparable hero of this City as well as being one of the motivating forces behind Restorative Justice for the Arts.


Brenda Perez with Restorative Justice for the Arts says the disappearing public art has created a rift between community members and some local officials.
"They're creating a manufactured narrative of what they want Highland Park to look like and be presented as," Perez says. "These murals that tell our story are not as appealing to the new people who are coming in to Highland Park."


Image of self-hating artist and world's oldest Bernie Bro Stuart Rapeport is ©2018 MichaelKohlhaas.Org and I floofed it up outta a screenshot from this lil puppy right here.

All of whom seem to believe implicitly that they can't actually do anything wrong ever because they're mostly not white, or at least that seems to be Bill Freaking Cody's operating assumption.