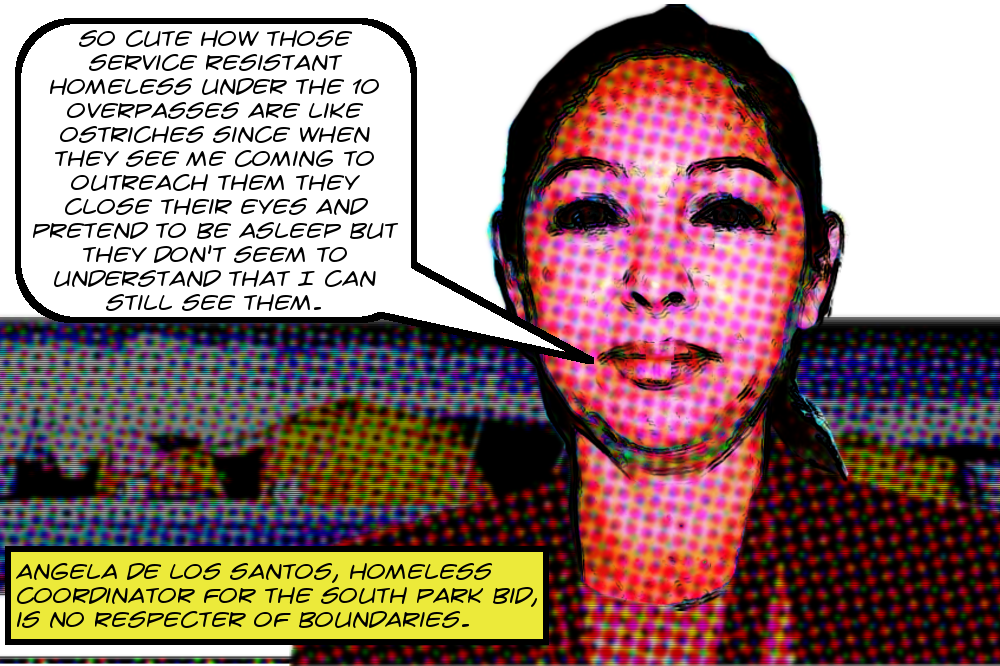 You may recall that I regularly write about the South Park BID and the seemingly endless parade of their wanton violations of the Brown Act. It seems like every meeting brings another violation and the last meeting involved at least two distinct violations. Thus it will come as a welcome change of pace, I am sure, to learn that this post is about the South Park BID violating the law, to be sure, since that's pretty much what they do over there, but at least it's not about them violating the Brown Act!
The law in question here is the Property and Business Improvement District Law of 1994, which states at §36625(a)(6) that "[t]he revenue from the levy of assessments within a district shall not be used to provide improvements, maintenance, or activities outside the district…" And yet, at the April 26, 2018 meeting of the South Park BID, funding activities outside the BID is precisely what was discussed. But I'm getting ahead of my story!
See, what happened is that on April 9, 2018 the South Park BID hired a homeless outreach coordinator, Angela De Los Santos, who was introduced to the BID on the 26th by executive Directrix Ellen Salome Riotto. Angela De Los Santos passed out a handout (which stated that there were only 18 homeless people in the South Park BID), talked about her duties for a while, and then took questions from the Board.
One of the questions was about "the underpasses just outside the South Park BID borders," and that's where things got interesting! You can watch the exchange here, although parts of it are hard to hear. Turn the page for transcriptions, discussions, and some more documentary evidence.

As you may have noticed, the exchange is hard to hear, and here's the part I managed to transcribe:

Unidentified Board member: The underpasses just outside the South Park BID borders, [unintelligible]?
ADLS: We have driven, and they're not very receptive to outreach right now. They're kind of like, they're awake and then when they see you they kind of close their eyes and [unintelligible] we occasionally [unintelligible]
UBM: [unintelligible] and all the tents lined up…

But I was there, and what they were discussing was whether or not Angela De Los Santos did any outreach1 to the people encamped under "[t]he underpasses just outside the South Park BID borders." And she said that she did do it and that, of course, as we saw above, is a violation of the state law authorizing the very existence of BIDs.2 She also propounded some fairly bizarro theories about how underpass-encampers, in their flagrant service resistance, will often resort to pretending to be asleep rather than move into a shelter.3
Now, what's anyone going to do about this violation? After all, breaking a law can have serious consequences for a BID in California. Probably nothing, I'm sorry to say.4 In Los Angeles BIDs are overseen by the office of the City Clerk. The City Clerk publishes this mendacious little description of its duties with respect to oversight:5 "THE [CLERK'S] OFFICE PROVIDES CONTINUOUS CONTRACT COMPLIANCE ASSISTANCE. Staff monitors the use of revenue in order to ensure that assessments paid by district members are used appropriately and in accordance with contractual, budgetary, statutory and City regulations and procedures."
As we've seen, the fact that the South Park BID is using assessment money to fund a homeless outreach coordinator to talk to people outside of the BID boundaries is absolutely not "in accordance with contractual, budgetary, statutory and City regulations and procedures." But I've tried and tried and tried to get the City Clerk's office to deal with problems like this. At best they refuse and at worst they ignore me. They often explicitly tell BIDs that they're not going to hold them accountable.
With Brown Act violations it's possible to turn BIDs into the Public Integrity Division of the Los Angeles County District Attorney, but I know of no such agency that accepts complaints about BIDs violating §36625(a)(6) of the Streets and Highways Code. Also, it's very likely impossible for a random third party6 to sue a BID for breaking this kind of law. Courts are very picky about only dealing with cases where the plaintiff has been harmed rather than cases where someone thinks someone else did something wrong in the abstract.
There are exceptions to this rule, but they have to be explicitly authorized by the Legislature and as far as I know they have not been in this case. So, like I said, probably there's nothing much to be done. Nothing but the usual exposure and, one hopes, shaming. This isn't nothing, but it's not ever enough.

Image of Angela De Los Santos is ©2018 MichaelKohlhaas.Org and was floofed up out of this Angela De Los Santos and also this encampment photo.